While 99% of the investment community focuses their attention on how shale has now revolutionized the oil industry, producers like Venezuela continue to struggle. With 2.37 million b/d at stake, you would think the investment community would pay very close attention to the outcome in Venezuela. But that's not the case at all.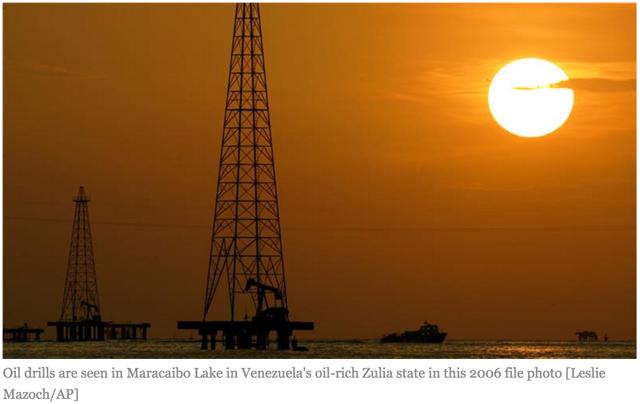 Click to enlarge
Like the inevitable collapse of the U.S. housing market, Venezuela's collapse has already been widely reported. Hyperbolic inflation and basic food shortages have forced the country into one of the most unstable economies in the world, yet oil production remains somewhat resilient.
The Wall Street Journal reported two days ago that we are finally starting to see Venezuela's oil production declining. The 120k b/d decline was a bit more dramatic than we expected, but the 2.37 million b/d of production probably remains high. Our discussions with traders point to the situation in Venezuela as being far worse than what the media is reporting.
We note that Venezuela is still in the midst of talks with China for additional oil for loan deals. Essentially, Venezuela is mortgaging its oil reserve for cash today. The Chinese clearly realize how much leverage they have in this situation. With Venezuela possessing the largest oil reserve in the world, it would be an absolute gold mine to lock in deals at this price.
The Chinese have probably realized that Venezuela is faking its production numbers. The numbers we are hearing are somewhere closer to 2 million b/d vs. the 2.37 million b/d. The difference is massive. We also have to factor in the lack of investment in Venezuela's producing fields, which is almost non-existent. Servicing firms like Schlumberger (NYSE:SLB) has announced that it is pulling some of its activities due to Venezuela's inability to pay. BP still has cargoes of light crude sitting at Venezuela's docks as Petróleos de Venezuela (PDVSA) is unable to pay for oil imports.
The cash flow problem is real, and Venezuela's citizens are struggling. The political situation needs to be overhauled if there's any chance for survival here. We don't think President Maduro will go down without a fight, and with PDVSA in his hands there could potentially be more catastrophes. If, for whatever reason, Maduro decides to take the ship down with him, Venezuela could see a severe temporary production outage like the one we saw in Canada. This will further help the market balance, and we already expect the market to be close to balanced for the second half of 2016.
All of this will result in much higher oil (NYSEARCA:USO) prices in future years, and that's exactly how we are currently positioned for the HFI premium portfolio.
We hope you have enjoyed our oil markets daily. Please click on the "Follow" button above and read our other energy write-ups. In addition, we also have a premium subscription platform that's tailored to long-term, value-oriented investors. We provide recommendations of stock ideas and portfolio composition. We look forward to you joining the HFI platform.
Disclosure: I/we have no positions in any stocks mentioned, and no plans to initiate any positions within the next 72 hours.
I wrote this article myself, and it expresses my own opinions. I am not receiving compensation for it (other than from Seeking Alpha). I have no business relationship with any company whose stock is mentioned in this article.