Over the last month, we have received a lot of positive messages from readers thanking us for our coverage on natural gas. Natural gas is a pretty specialized market, and most market participants don't have access to some of the data feeds we get. This is partly because there are too many physical hub locations for one casual investor to follow, and it's also very expensive for these data feeds.
Our Natural Gas Daily articles really took off when we started covering weather closely. As we explained in our dailies, weather is probably the most important factor in determining where natural gas prices will go. If LNG one day becomes a large part of U.S. gas demand, then the weather factor could change. But until then, weather is the be-all end-all in the natural gas world.
So far, in 2016, we saw one of the hottest winters on record. Heating degree days were two standard deviations below that of the norm, and surplus storage made a lot of market participants wary of gas prices. Prices fell to a low in March and rebounded sharply in recent days.
Markets tend to be forward-looking, so "future injection" projections are what determine where prices go. RBN Energy, a data source we use, has been projecting where they think storage levels will be by the end of the injection season (usually the first week of November). We think very highly of RBN as they provide unbiased and factual research reports. They publish a daily that highlights where they think storage levels will be given the "current" weather forecasts.
When they first started estimating, end-of-injection storage figures came in around 4.3 Tcf. Today, it's at 4.127 Tcf. The big difference is thanks to forecasts for a much hotter summer. Here's what the eight- to 14-day outlook looks like: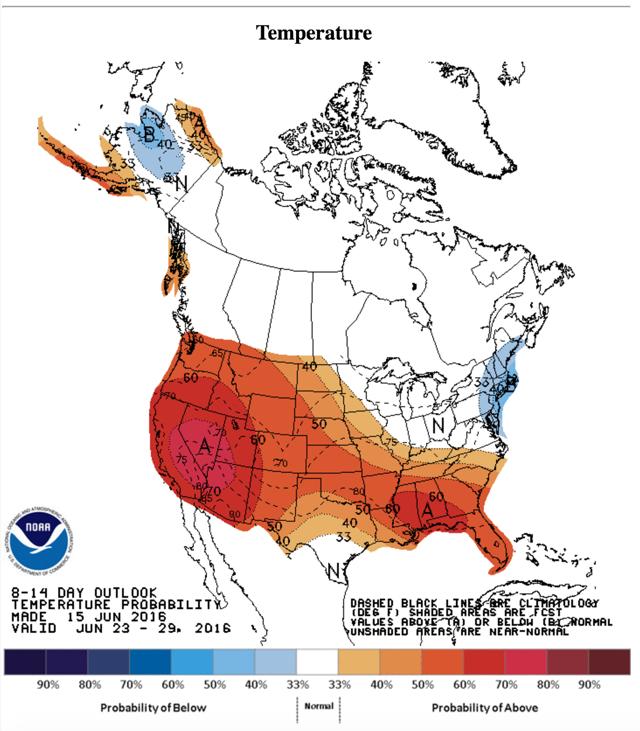 Click to enlarge
Markets usually respond to projections like this, so if you want to stay up to date, click on this link. We are also subscribers of other weather forecasting firms, and they are all currently projecting a very hot summer.
Luckily, for the natural gas bulls, a hot summer is exactly what we need when storage surplus is at a record high for this time of the year. While surplus figures are declining on a week-to-week basis, the market needs to see the potential for more reduction. Based on current projections, the surplus is expected to decrease another 140 bcf by July 8 relative to last year.
If the heat in July and August continues to outpace the norm, we suspect RBN and other firms will have to lower the end-of-injection storage numbers once again. This will likely push prices even higher. After the summer heat, everyone's attention will be on the winter. The colder the projections, the more likely gas (NYSEARCA:UNG) prices will go through $3/MMBtu.
Overall, the weather gods have been kind to the bulls. A hot summer would greatly help week-over-week injection figures, while a La Nina winter could greatly reduce storage figures. U.S. gas production continues to fall, and structural demand is on the rise. We remain very bullish on gas prices for the next 12-18 months.
Disclosure: I/we have no positions in any stocks mentioned, and no plans to initiate any positions within the next 72 hours.
I wrote this article myself, and it expresses my own opinions. I am not receiving compensation for it (other than from Seeking Alpha). I have no business relationship with any company whose stock is mentioned in this article.