By John J. Critchley, Jr.
First Solar Inc. is set to report earnings after the bell on Tuesday, Feb. 28. The consensus estimate of analysts covering the solar panel maker is $1.55, and the high and low estimates are $1.74 and $1.30, respectively. In the last 8 earnings announcements the company has beaten expectations 6 times, although the last 2 earnings reports have fallen short. This is not a positive trend and does not bode well for tonight's release.
Currently, 37 analysts have a rating on FSLR with 3 maintaining Buy ratings, 3 Outperform, 25 Holds and 6 Underperform/Sell. It is interesting to note that there are only 6 analysts with a negative rating on the company despite the massive underperformance (-77%) of the underlying over the past year. One possible rationale for this lack of sell recommendations by the analyst community is the price movement of FSLR may have left some wondering if the solar panel giant's selloff from highs of $163 hit early last year is overdone. Down over 77% from its apex hit last year, some analysts may believe the stock is oversold.
A contributing factor for the negative and turbulent price action may have been the fact that the largest solar company in the U.S has been in the news lately, and not in a positive manner.
On 10/25/11, CEO Rob Gillette announced he is leaving the solar company, an unexpected development adding to the negative sentiment of a stock that had already seen its value decimated this year. After this news, First Solar shares dropped 25% and close at $43.27.
Then on 2/23/12, FSLR fell after the environment minister in Germany, the world's biggest market for solar power, said he plans significant reductions in subsidies for the industry as part of a program to curtail spending. First Solar closes at $37.20, down 6.88%.
Options Plays
Trade idea #1 - A Long Options Premium Play
Confused on what to do with the earnings? Long or short? How about playing both ways?
As the chart below shows, even with FSLR trading nearly 77% off its all time highs, the 30 day implied volatility of the options is trading at a discount to the 30 day historical volatility. A compelling argument can be made that this divergence presents a compelling case to buy option premium in FSLR.
The red line represents the 30 day Implied Volatility (IV30) and the 30 day Historical Volatility (HV30) is represented by the blue line.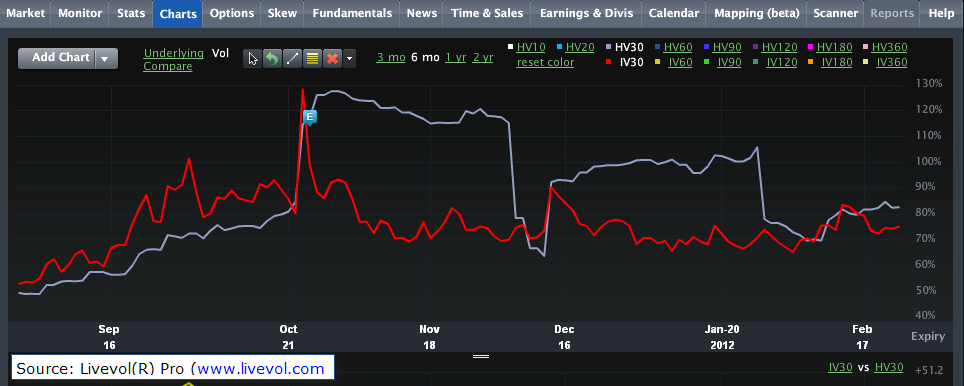 Let's take advantage of the difference between the implied volatility of the options and historical volatility of the underlying to initiate a position that takes advantage of any post-earnings move in the underlying. If you believe this scenario may play out, let's buy a straddle.
This is not a specific trade recommendation, but a trade analysis.
The play:
Buy the March 2 2012 weekly 37 straddle for $3.95 The implied volatility of this straddle is a misleadingly high 99% IV (Implied Volatility). Remember, however that the most important determinant of an options real value as it gets closer to expiration is the premium only, not the actual IV% reading. The premium over parity (POP) number of $3.95 is what is really paramount.
Net debit: $3.95
Why the 37 strike line? You are buying the At-the-Money straddle for $3.95. The breakevens for this straddle in the underlying are $40.95 and $33.05, respectively. These breakeven points represent a 9.2% move in the underlying. This percentage move seems reasonable especially in light of the fact that you are buying earnings premium and considering some of the other moves post-earnings in the technology sector as of late. (NFLX +22%, AAPL + 7%, SNDK - 12% etc)
Risk: The risk of this trade is $3.95 and may occur if the earnings report does not cause the expected movement in the underlying. Be forewarned. You may lose the entire premium. This play is for speculative monies only.
Trade idea #2 -An Upside Play
There is an enormous short interest of 23.26% and any earnings upside surprise could cause a massive short squeeze. If the premium in the straddle seems exorbitant and outside of your comfort zone, there is a less expensive way to play an anticipated upward move in the underlying.
This is not a specific trade recommendation, but a trade analysis.
The upside play:
Sell a collar. A short collar consists of selling a downside put and buying an upside call.
For an upside play, Let's Sell the March 2 2012 weekly 40 call/33 put collar for a $.11 debit.
The trade is:
Long March 3 2012 weekly 40 call
Short March 3 2012 weekly 33 put
Net debit: $.11
Why these strikes? The at-the-money (ATM) weekly straddle in FSLR is trading @ $3.95. This represents a 9.2% move in the underlying and is indicative of the market's expectations of the post earnings move in FSLR. Let's use these market expectations as guideline for what strikes to utilize for the short collar strategy.
Risk: You will have FSLR stock put to you @ $33. In other words, you will be long and own the stock at $33 if earnings are below expectations and FSLR trades below $33. A 10.2% downward move in FSLR in the next three days until the March 2 expiration.
Trade idea #3 - A Downside Play
If you are bearish and believe FSLR may have an earnings shortfall tonight, instead of selling the collar and initiating a long play, you can buy the collar. This will create short exposure in FSLR.
This is not a specific trade recommendation, but a trade analysis.
The downside play:
Buy a collar. A long collar consists of buying a downside put and selling an upside call.
The trade is:
Short March 3 2012 weekly 40 call
Long March 3 2012 weekly 33 put
Net credit: $.11
Risk: You will be assigned FSLR @ $40. In other words, you will be short the stock at $40 if FSLR trades above $40. An 8.8% upward move in FSLR in the next three days until the March 2nd expiration.
Stay tuned.
Notes: Prices quoted where the prices at time of submission and do not reflect current market prices.
Disclaimer
We are not liable for any trading decisions made by any reader. No advice is given or implied. The information offered in this article is for demonstration purposes only and should not to be either construed as an offer or considered to be a recommendation to buy or sell any options.
Your use of this information is entirely at your own risk. It is your sole responsibility to evaluate the accuracy, completeness and usefulness of the information. You must assess the risk of any trade with a professional broker, or financial planner, and make your own independent decisions regarding any trades mentioned herein. This is not a solicitation to buy or sell any options, or to purchase or sell any credit spreads. Trading options only carries a high degree of risk, is not suitable for all traders/investors, and you may lose all of your premium money invested in the options. If you have never traded options before, we strongly recommend that you read a little background information made available by the government. Only you can determine what level of risk is appropriate for you. Also, prior to buying or selling an option, a person must receive a copy of Characteristics and Risks of Standardized Options.
Disclosure: I have no positions in any stocks mentioned, and no plans to initiate any positions within the next 72 hours.
Disclaimer: Past performances do not guarantee future results. Please consult with your own independent tax, business and financial advisors with respect to any trade. We will not be responsible for the consequences of anyone acting on this purely demonstration material.