Golar LNG (NASDAQ:GLNG) sees opportunity everywhere in the LNG market. Their investments include the LNG shipping market, the FSRU (Floating Storage and Regasification Unit) market, and the FLNG (Floating Liquefied Natural Gas) market.
Because of the diverse nature of these operations as well as a very close relationship with their affiliate Golar LNG Partners L.P. (NASDAQ:GMLP), of which they own approximately 30%, it can be tough for the average investor to determine the outlook for this particular company.
With this in mind, let's go through the major components of the company piece by piece in an effort to gain a better understanding of their operations and the big picture.
But before we do that, I would like to remind those readers familiar with my work, that much of this analysis will be based of my previous macro LNG forecasts which came in two parts; supply and demand. For those unfamiliar, it might be a good idea to check them out to gain an understanding of how I view the future of this segment, and why.
Overview
GLNG's current fleet comprises of sixteen LNG carriers (including the Golar Grand which has been chartered back from Golar Partners until October 2017) and one FSRU. In addition, there is a further new build commitment for a FSRU which is due for delivery in the fourth quarter of 2017.
Sounds simple enough so far, but just wait. There are contracts for the conversion of three LNG carriers, the Hilli, the Gimi and the Gandria (all constructed in the 1970's), to FLNGs, with estimated deliveries from 2017 through to 2020. The Hilli is in the process of being converted and the Gimi and the Gandria are currently in lay-up awaiting delivery for conversion.
Upon the Hilli's completion in Q3 of 2017 it is expected to be employed by Perenco, SNH, and the Republic of Cameroon relating to a floating liquefied natural gas export project offshore Kribi, Cameroon, for a term of 8 years.
Additionally, GLNG reported: "We have a heads of terms agreement with Ophir for the provision of the Gimi or an alternate FLNG to provide liquefaction services. The provision of services is expected to be structured as a 20-year tolling contract, with the Gimi or an alternate FLNG commencing commercial operations in the first half 2019 in Equatorial Guinea, but we cannot assure you that this project will ultimately proceed as planned or employ any of our GoFLNG vessels."
Aside from a couple charters, the majority of their vessels (10) are participants in a spot charter structure known as "The Cool Pool". In their 20-F Golar describes it like this: The Cool Pool should allow the Pool Participants to optimize the operation of the pool vessels through improved scheduling ability, cost efficiencies and common marketing. Pool earnings (gross earnings of the pool less costs and overhead of the Cool Pool and fees to the Pool Manager) are aggregated and then allocated to the Pool Participants in accordance with the number of days each of their vessels are entered into the pool during the period."
There's The Rub
For those new to shipping, in my macro analysis I focused a bit of attention on LNG spot rates, why they got so low, and how long they will stay that way. Recently I wrote another piece, sort of a shipping 101 about Charter Structure, focusing on different types and how they respond in different markets.
For those familiar with my work, you already know what I am going to say. The depressed macro environment, which should remain for years to come, and high spot rate exposure has created a cash burn scenario during a time of increasing financial leverage.
Notice the crash in rates and increasing availability of vessels.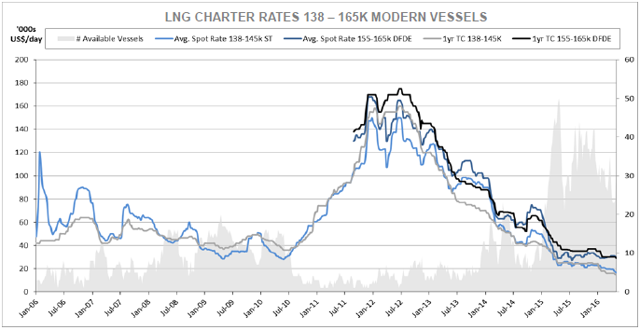 Click to enlarge
Source: Awilco
Now compare that to the stock price of GLNG since the start of 2012, as that rate decline gained momentum and then bottomed.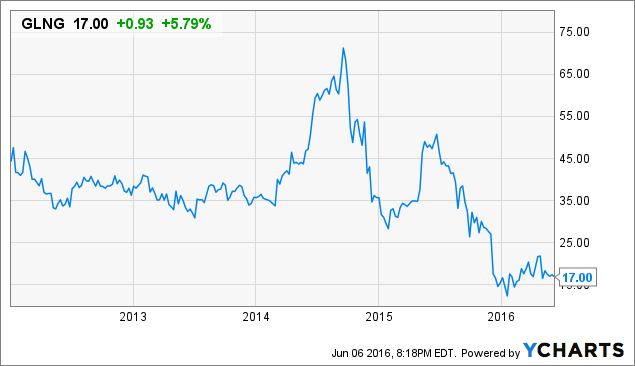 The 65% drop in stock price and recent dividend cut from $0.45 to $0.05 is a reflection of this situation.
Let's not forget that Q1 saw utilization drop from 42% in Q4 down to 24% in Q1 2016, with "no significant improvement in 2Q 2016 anticipated."
I have seen company predictions, including Golar, suggest that 2017 may be a turning point for the market. I remain skeptical of that as outlined in my article "Are Some LNG Companies Ignoring Oversupply Concerns?"
Wow, Bearish Much?
The truth is that I can be nothing but bearish right now based on these simple facts. But, there are some potential positive catalysts on the distant horizon. So let's not overlook those.
While an influx of vessels is responsible for the depressed spot market, I am looking just a few years down the road and things should change. The market for new builds has fallen off a cliff since Q3 of 2015. If rates remain depressed for a significant amount of time, this will continue to discourage new building, potentially creating a classic supply side shortage. The initial beneficiaries of that outcome would be those engaged in the spot market.
For example, the last oversupply cycle first developed around 2004 before reaching historic lows in both rates and utilization in 2010. But, due to a lack of newbuild orders placed between 2008 and 2010, this trend then reversed such that the demand for LNG shipping was not being met by available supply in 2011. This paved the way for spot and short to medium term charter hire rates together with fleet utilization to reach historic highs in the years after.
This supply side issue that is hurting spot rates will require a demand side solution, as the global fleet is young and these vessels are very expensive making early scrapping a less likely option. If demand for LNG materializes faster than I anticipate, the 2020 recovery timeline could be shortened by a year of so, making for a spot rate recovery right around the time when several new projects will be contributing to the revenue stream.
From a current standpoint, vessel supply remains ample, but the spot and one year time charter rates haven't budged much, hanging around the $28,000-$30,000 range over the past months. There is a growing likelihood that this range could represent a bottom with each passing week.
Those rates are pretty bad, but on the bright side things could have got much worse. Unfortunately, this charter rate range would still place their LNG vessels well below OPEX, which for 2015 averaged $56,374/day (not including financing). Now consider 2015 average daily TCE rates were only $14,900, due to abysmal utilization and low rates. Remember, Q1 2016 utilization came in much lower than 2015, with lower average rates. Yikes! But enough of that because this was supposed to be the good news section.
Moving on, the recent agreement between Golar GenPower and Exxon for a Brazilian project as well as the MoU between Schlumberger and Golar LNG, demonstrate the current interest, future potential, and serves to reaffirm Golar's standing in the segment. The conference call hinted that more agreements are being discussed with several parties.
Also, the Cameroon contract for the FLNG's and the potential contract for the FSRU on order (both in 2017) could provide a much needed boost before a spot rate recovery begins to manifest.
Finally, GLNG looks to benefit from its ownership of GMLP and their fixed charter schedule, and should continue to receive about $53 in distributions. But here's a nice catch.

Click to enlarge
Looking at the latest 20-F from Golar Partners we can see that any increase above the current $0.5775 payout will entitle the holders of IDRs to a substantial increase.
GLNG states in its latest 20-F: "Golar Operating LLC, or the General Partner, our wholly-owned subsidiary was also formed in September 2007 to act as the general partner of Golar Partners under the limited partnership agreement of Golar Partners, and under that agreement the General Partner received a 2% general partner interest and 100% of the IDRs in Golar Partners."
With the latest drop down from GLNG to Golar Partners this increase isn't so far fetched and something the parent might be pushing for behind closed doors.
Conclusion
Well let's be honest. The short term outlook for GLNG isn't good. It has a debt/asset approaching 70% according to my rough math, and the environment is set for further cash burn due to horrific rates and utilization as it spends significant amounts of money on conversions and new builds. These are not cheap conversions and the last one scheduled has yet to see a contract. The increasing leverage has also caused net interest charges to rocket up from $7.4 million in Q4 2015 to $9.6 million in Q1 2016.
Which brings me to my next point. There has been some talk of more conversions as a way to mitigate the damage being done by LNG vessel spot exposure during this low rate environment. I would ask management to reconsider. The speculative nature of these conversions coupled with the high cost and duration of the project would place a great deal of strain on this company, all for a vessel to come online at roughly the same time rates are set to recover.
But if the market recovery begins to take shape as expected, this company could represent one of the better ways to play the recovery. That is if their balance sheet isn't damaged to the point of having to utilize the recovery phase to just stand up again. Much of that depends on increasing utilization, hopefully seeing rates rise just a bit, bringing down OPEX costs, cutting management costs, and dealing with a large amount of debt coming due in 2017.
There is no escaping from the fact that this company will most likely see losses continue in 2016 and well into 2017, no matter what management does in the meantime. The best they can do is try to slow the bleeding. Even still, equity dilution might be the next step following this painful share price decline and slashing of the yield. I mention equity dilution because though they have $93 million in cash on hand, they are required to keep $50 million due to covenants. Investors should be prepared for dead money, at best, for a while as the market at large often dictates the fortunes of companies with heavy spot exposure.
Note: Value Investor's Edge subscribers receive a 48-72 hour advantage on all macro reports and trade ideas from James Catlin as well as exclusive research by J. Mintzmyer.
I welcome all questions/comments and invite you to follow me on Seeking Alpha as I continue to cover all aspects of maritime trade. Thank you for reading.
Disclosure: I/we have no positions in any stocks mentioned, and no plans to initiate any positions within the next 72 hours.
I wrote this article myself, and it expresses my own opinions. I am not receiving compensation for it (other than from Seeking Alpha). I have no business relationship with any company whose stock is mentioned in this article.