On May 25, Plains All American Pipeline LP (NYSE:PAA) held its annual investor/analyst day presentation. As the largest crude oil pipeline MLP, the PAA results have been severely affected by the slow down in U.S. onshore crude oil production. There are two topics out of the event that are of material importance to PAA and Plains GP Holdings LP (NYSE:PAGP) investors.
Let's cover the interesting but irrelevant topic first and then go into the potential for PAA and PAGP investors to actually make some money.
MLP and GP Consolidation
The Wall Street analyst crowd is hot on the topic of MLP/GP simplification. The idea is that if an MLP can eliminate the incentive distribution rights payments - IDRs - to the GP, cash flow will be freed up that can be better used by the MLP to improve investor values. A look at the PAA distributions paid to LP unit holders and to the GP in relation to current market valuation shows how difficult a simplification for Plains would be.
Over the last four quarters through 2016 Q1, PAA paid $1.72 billion in distributions to PAA LP unit holders and the GP distributions totaled $609 million. So it looks like a lot of cash could be freed up with a GP consolidation. Now let's look at market valuations:
PAA market cap: $11.0 billion
PAGP market cap: $7.2 billion
However the publicly traded PAGP owns just a 38% interest (35% economic interest) in PAA GP LLC, the actual GP of PAA. Using the PAGP market valuation, the GP interests are worth about $19 billion. So it would take an additional 170% dilution of PAA to roll up the GP interest to save 26% of the distributions being paid by PAA. That math is not very attractive.
The 62% of PAA GP LLC not in public hands is closely held. About 50% is owned by EMG Investment, LLC (an affiliate of The Energy & Minerals Group), KAFU Holdings, L. P. (an affiliate of Kayne Anderson Investment Management Inc.) and Oxy Holding Company (Pipeline), Inc. (a subsidiary of Occidental Petroleum Corporation). The remaining 12% is owned by Plains management. Over the longer term, ownership of the PAA GP interest has been extremely profitable for this small group of owners. It is hard to think of a scenario where they would give up the GP payments streams without receiving significant compensation.
During the Investor Day, management stated that Plains was evaluating the potential for a simplification transaction between PAA and its general partner. The presentation slides included this bullet point:
Process is important as it is essential that we not only do the right thing, but that we follow a process that demonstrates thoughtful, prudent and balanced governance practices.

Generally means the process will take longer than it would seem.

Includes assessments of PAA's future performance, opportunities and financial needs under various industry scenarios as well as a range of alternative structures.
To then shut down the discussion management stated:
"Until a specific course of action is approved or the process has concluded, it would simply be counterproductive to provide disclosures beyond what we have stated publicly."
Here's my translation of what the Plains management is saying: Plains management understands that there is no "simplification" process that would be acceptable to the GP stakeholders. So they say they are studying the issue and it will take a long time to come up with a plan. This is a polite way of saying that management believes that business will pick up on its own and the Plains MLP/GP model will work out fine. They are going through the simplification review process to buy time to let the business naturally recover.
Investment Potential
The investor day was build around this theme: " Significant Capabilities Leveraged to Recovery"
The basis of the theme is that Plains All American Pipeline has put together the largest, most integrated network of crude oil transport assets in North America. The management belief is that Plains can fill the excess capacity on their system and grow EBITDA without the need to spend a lot on growth capex. If this plan works, the numbers are compelling. This next chart shows the PAA network and how the company can provide service to all of the major oil plays.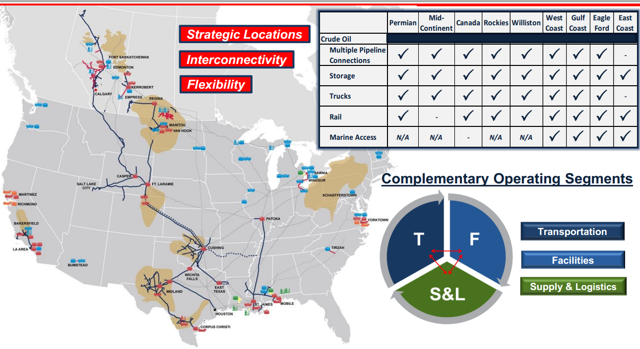 Click to enlarge
With this network, Plains can move oil from the wellhead all the way to the refinery. This means that the company has the potential to collect several different fees on a barrel of oil as it makes its journey from source to destination. Plains costs also are very competitive and the company can generate significant profits when it buys oil at the wellhead for its own account and then sells it to a refinery.

Click to enlarge
Another piece of the growth puzzle is the current amount of open capacity on the PAA system. This chart shows that the company has significant pipeline capacity onto which they can load and transport incremental revenue generating barrels of oil and NGLs.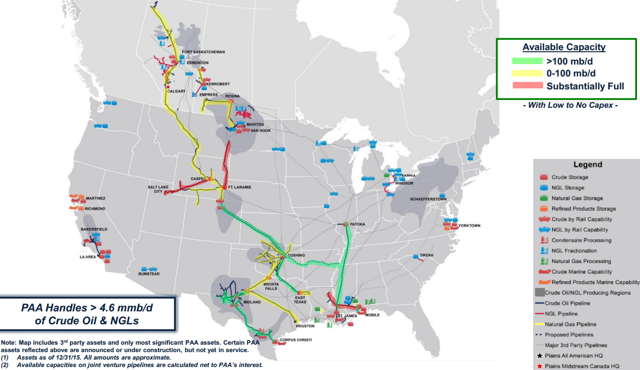 Click to enlarge
With these available resources, the PAA management team made a hypothetical illustration that by filling its pipelines to capacity and taking advantage of pricing opportunities in its Supply and Logistics business, Plains has the potential to increase annual EBITDA by up to $1 billion. That $1 billion represents a 46% increase on the company's 2016 EBITDA guidance of $2.175 billion.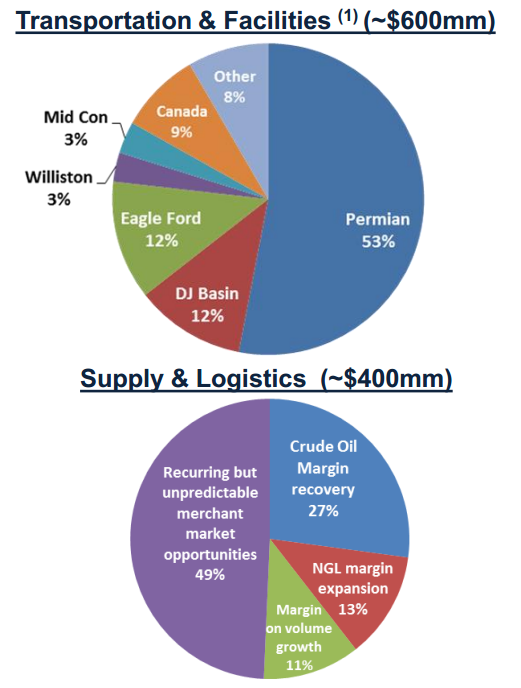 Plains has two ways to generate the EBITDA growth. First, the company believes it will get more than its share of new oil barrels as production ramps back up. Plains management stated that it can undercut other pipeline companies by offering multi-segment transport pricing that generates more revenue per barrel while charging lower segment fees than competing, non-networked pipelines.
Second, Plains has the lowest pipeline operating costs and management believes they can pick up more barrels to transport when take-or-pay, higher cost contracts on competing pipelines start to expire. It was noted that from 2010 through 2019 50 new crude oil pipelines were completed or are under construct to soon be completed. Competition will be fierce for uncommitted barrels needing transport, either from a resumption of drilling and production growth, or barrels coming off contracts looking for a cheaper ride to the refinery.
Investment Considerations
The PAA and PAGP investment story is not about MLP/GP simplification. That path just does not make financial sense unless distributions are significantly reduced anyway. What the Plains management needs to do is to find customers that will fill up the capacity built over the last several years. The crude oil midstream business is now more competitive for fewer barrels of oil. The best news for Plains would be continued items like the recent up ticks in active rigs and E&P companies discussing their plans to start working on drilled but uncompleted wells - DUCs. I did not cover the details, but the natural decline rate of wells in the U.S. shale plays will at some point - sooner or later is the question - require a resumption of active drilling to counter the declines and resume a growth profile.
The Plains All American crude oil and NGL networks are well positioned to benefit from both increased energy commodity pricing and growing production. However, for 2016 the company projects just 86% DCF coverage of the LP and GP distributions. It would be a big positive if, by the end of 2016, the realized coverage ratio for the year comes in higher than the guidance. I also think that many MLPs including Plains will start to look for higher ongoing DCF coverage before they increase quarterly distributions. Even if PAA's coverage gets back up to 1.05 times, the distributions may stay level as management decides to retain excess cash flow for growth projects and/or debt reduction.
Currently PAA yields 10.5% and PAGP is paying 9.1%. Investors can expect to live with the current distribution rates for an extended period of time, possibly well into 2018. In the meantime, for Plains to thrive we need to see a combination of higher crude and NGL prices, increasing drilling activity and having those results show up on the PAA income statement.
Disclosure: I am/we are long PAGP.
I wrote this article myself, and it expresses my own opinions. I am not receiving compensation for it (other than from Seeking Alpha). I have no business relationship with any company whose stock is mentioned in this article.