GlobeImmune (NASDAQ:GBIM) is a compelling biotech company focused on a rather unusual method of fighting disease and cancer. Utilizing heat-inactivated yeast containing a target protein (Tarmogen), an antigen-specific cellular response is generated resulting in, if successful, a reduction in the number of abnormal cells containing the same target antigen.
This unusual pathway has a number of possibilities which have been explored by the company's product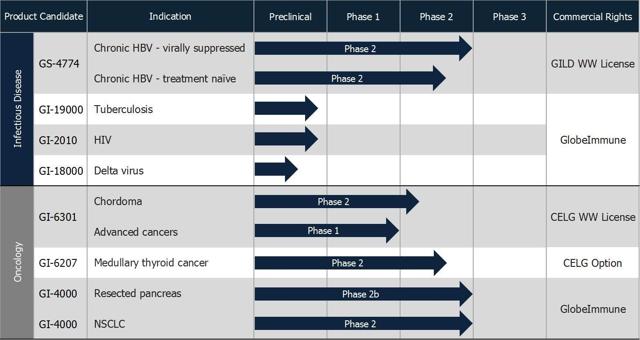 Click to enlarge
Of greatest interest to shareholders will be the two ongoing strategic collaborations with Gilead (NASDAQ:GILD) and Celgene (NASDAQ:CELG). For a company valued at ~$12m as of mid-June 2016, the potential value and scale of these partnerships is simply staggering.
Celgene
First entering a collaboration in mid-2009, Celgene and GlobeImmune have continued to investigate Tarmogen at highly advantageous terms with the most recent update on July 31, 2015.
Dependent on the success of meeting regulatory milestones:
1. Celgene will award GlobeImmune up to $85m for its GI-6100 program currently in pre-clinical testing with full development costs to be borne by CELG.
2. GlobeImmune will receive up to $60m for its GI-6200 program currently in Phase 2, again with full development costs borne by Celgene.
3. A further $85m will be awarded to GlobeImmune dependent on success of the GI-6300 program, in Phases 1 and 2 with full costs again shouldered by Celgene.
On top of this potential $230m windfall, if commercialization is undertaken, GlobeImmune is on the line to receive a further $60m for each program and tiered royalty rates in the mid-teens.
Full success with Celgene would therefore be valued at $410m+ with ongoing recurring royalties, all accruing straight to the bottom line with GlobeImmune not responsible for any further costs. For a $12m company, this would needless to say be incredibly transformative for the share price.
Gilead
Gilead with its highly lucrative HCV portfolio is in many ways the current star of the biotech world. I find it always enjoyable reading Seeking Alpha writers (e.g. here, here and here) try to discern how GILD will finally spend its vast and growing cash pile ($21bn). Achillion (NASDAQ:ACHN) appears almost to have gone out of its way to enter into a partnership with GILD through its use of Sovaldi in conjunction with ACH-3102 to achieve intriguing results. Yet, GILD has remained aloof to ACHN's overtures. Little GlobeImmune, however, does have an ongoing relationship with this behemoth.
Based on results from its GS-4774 trial on treatment naive patients, GlobeImmune is eligible to receive up to $130m in regulatory and development milestones and a further $40m in sales milestones.
Combined, this could yield further revenues of up to $170 million for GlobeImmune. Unfortunately for the company, the first Phase 2 trial results on virally suppressed patients were a disappointment. However, the market also heavily overreacted by effectively writing off the value of the entire company.
With Tarmogen reliant on a healthy immune system, initial results on patients with weakened immune systems should not be considered a rejection of the platform. With GS-4774 results on treatment naive patients due later in 2016, this will provide a considerably better indication of Tarmogen as a treatment vector. Indeed, the CEO has repeatedly expressed his belief this presents a softer target for success.
Why This Matters
Up to $580m in milestones for a micro-biotech should be intriguing for any investor seeking undervalued companies. Yet, this isn't what makes GlobeImmune so compelling and isn't what attracted me to invest.
On May 18, 2016, GlobeImmune received a notice of failure to satisfy a continued listing rule on NASDAQ. Its minimum stockholders' equity fell below $2.5 million with GlobeImmune required to submit a plan to NASDAQ within 45 calendar days (July 1st, 2016) on how it will regain compliance.
For companies caught in this situation, there are a number of specific avenues that can be taken.
GlobeImmune could simply wind-down and liquidate. With valuable IP and assets, which would be barely recognized in such a situation, this is highly unlikely to occur, leading me to assign a 15% likelihood of occurrence. The majority of that probability is based on GlobeImmune undertaking unsuccessful negotiations (such as a breakdown of trust) with interested parties which leave it with no option but to undertake this default option.
GlobeImmune could dilute its shares - Ordinarily, this would seem the most likely outcome. However, examining the history of the company, this appears to go completely against its organizational culture. From its IPO in 2014 to today, GlobeImmune has maintained a share count of approximately 5.75 million. Compare this with a peer such as MannKind (NASDAQ:MNKD), which has diluted its shares four-fold since its own IPO. Again, this would not ordinarily mean much as there can be a first time for everything. To this, I would counter with what GlobeImmune did on its own most traumatic day in May 2015 upon receiving negative results from its first GS-4774 trial. Rather than a rights offering to maintain its workforce count as MannKind has perhaps done on numerous occasions, GlobeImmune let go of the majority of its staff retaining just 2.5 full-time employees (As an aside, the CEO is on half-pay, but you can be sure he is working more hours than that). This would have been undoubtedly hugely painful for GlobeImmune, but was designed purely to protect shareholder value. A NASDAQ compliance notice seems small in comparison, which means I would only place a 5% likelihood of this occurring now.
GlobeImmune could take over another company - GlobeImmune currently has $8.5m in cash, enough to last until mid-2017. It is incredibly unlikely for this route to be undertaken, which would diminish cash reserves and hinder GlobeImmune's ability to fulfill its contractual obligations. It's safe to value this probability at zero.
GlobeImmune could receive a buyout - The simplest way for GlobeImmune to avoid a NASDAQ delisting would be to negotiate a favorable buyout outcome. It appears GlobeImmune is well on the way already having appointed the reputable Cantor Fitzgerald to explore the strategic optionality back in August 2015. I would place this probability as high as 80%. There are enough reasons why this merits its own chapter.
Why a buyout is highly likely within two weeks
Hopefully, by now, we've established that GlobeImmune is a highly undervalued stock which merits a fundamental re-evaluation. Unfortunately, the stock market is not fair. The entire premise of seeking value in the marketplace is to spot such opportunities in the hope the market will eventually recognize the intrinsic worth of a company. In GlobeImmune's case, this has simply not happened, and the company can no longer wait.
With the NASDAQ delisting notice, GlobeImmune has to confront an uncomfortable truth. It's been undervalued and that won't change. Not only that, but also GlobeImmune had 45 days from May 18th, 2016, to react to this reality. No longer can its relationship with Cantor Fitzgerald be treated as something to keep on the side, but now it is undoubtedly front and center of the board's thoughts.
It is incredibly easy to issue a rights offering. To give an indication, on just May 31st, Gevo (NASDAQ:GEVO) announced a strategic partnership with Cowen & Co. (NASDAQ:COWN) before engaging in a rights offering on June 10th. This is not an atypical example. The fact GlobeImmune has not done this in 10 months with Cantor is glaring. Clearly, they are after something else.
Reading between the lines of the company's publicly available 10-Qs, I do indeed believe offers have already been made but were rejected or are currently under negotiation. I believe now, with July 1st just two weeks away as of today, these negotiations are highly likely to draw to a successful resolution.
This may be in the form of a traditional takeover to take advantage of GlobeImmune's IP and product portfolio. However, there is also a strong possibility of a reverse merger being undertaken. As the days draw towards July 1st, I increasingly feel this is the most likely resolution.
Reverse mergers and the attractiveness of "NOLs"
Reverse mergers are complex transactions (I have personal knowledge of this having been involved with an unrelated one over the last year). They do offer certain advantages in that they can enable a company to circumvent expensive and time-consuming regulatory filings and directly list on the stock market. A NASDAQ listing also has inherent advantages over the OTCB market. For small companies, these can be useful in their own right.
GlobeImmune has something even more valuable however: its accumulated losses. Over the last decade, as of March 31, 2016, GlobeImmune had an accumulated deficit of $226,333,853.
Due to the peculiarities of the American taxation system, these losses can count against future profits up to 20 years in the future for tax write-off purposes. What this means is that, as of today, on GlobeImmune's next $226m in profits, the company will have a corporate tax rate of 0% rather than 35%. This alone is worth $79m.
A well-structured and carefully designed reverse merger can take into account the full value of these NOLs and allow the NewCo to take advantage of this lucrative tax arrangement. A complex subject, readers can read this if they'd like to read more about NOLs.
Valuing NOLs is a difficult topic, and there exists an entire branch of incredibly intelligent fund managers who seek to discover value from NOL shells for the benefit of their shareholders. Probably, the most famous NOL, WMIH Corp. (OTCQB:WMIH), valued at $480m at the time of writing has NOLs worth up to $2.1bn, a current ratio of 22%. Even this I believe undervalues WMIH, and I agree with the premise of this Seeking Alpha article. Regardless, let's take it as a benchmark. At this ratio, GlobeImmune's NOLs are worth $17.38m or $3.02 per share.
This however assumes that GlobeImmune is merely a prospective reverse merger target. I believe the reality could very well be that a private company has already identified GBIM as an ideal target and is likely to completely take over within the next two weeks. If a company is confident that it will realize $226m in profits over the next decade, then the value of GlobeImmune's NOLs is exactly 100%, or $79m, worth an astonishing $13.73 a share.
The reason I believe the latter figure is more likely is due to a rather interesting tidbit of information that has fallen my way. Viamet, a promising pharmaceutical, cancelled its IPO on 23rd May. This IPO would have raised $86m, but was cancelled just days after GlobeImmune received its compliancy notice. This may be complete coincidence, however, it is worth stating that these two companies happen to share a board member: S. Edward Torres. At the very least, this indicates an open channel of communication between the two entities and is certainly worth consideration.
For private companies such as Viamet, GlobeImmune represents a compelling reverse merger interested in reducing its effective tax rate. Furthermore, with a short window of opportunity till just July 1st, we are likely to see any interested parties act fast.
Conclusion and risks
As ever, with any micro-cap, it is particularly imperative for readers to perform their own due diligence and only to shoulder risks they are willing to take. While I personally believe a dilutive offering or liquidation is unlikely, they are real possibilities and should be taken into consideration. I personally believe the risk/reward ratio is compelling here, and the two-week wait till July 1st is worth the wait, however, I consider this article merely a starting point for discussion. I'd be delighted to read the readers' thoughts below the line.
Disclosure: I am/we are long GBIM.
I wrote this article myself, and it expresses my own opinions. I am not receiving compensation for it (other than from Seeking Alpha). I have no business relationship with any company whose stock is mentioned in this article.
Editor's Note: This article covers one or more stocks trading at less than $1 per share and/or with less than a $100 million market cap. Please be aware of the risks associated with these stocks.