For today's episode of "The Most Interesting Thing(s) I Saw In The Market Today" I will be focusing on the recent weakness in Whole Foods Market (NASDAQ:WFM). This is a company that I've been long in for some time now. I've been a believer in John Mackey and Co. for years. These guys/gals were visionaries of the current health foods movement and although recently competition in the space has picked up massively, I believe WFM still maintains best in breed status within the health food/organic space, especially in terms of brand equity. But, being first to market visionaries means very little if operations slack. WFM has built a wonderful business, offering not only a high quality product, but a unique and enjoyable experience as well. But investing isn't about the past, it's about the future. Public sentiment is in WFM's favor with regard to consumer trends, but there are no guarantees that WFM will win out in the health foods space, maintaining/reclaiming market share, especially with large, competent competitors like Wal-Mart (NYSE:WMT), Kroger (NYSE:KR), and even Amazon (NASDAQ:AMZN) looming on all sides. In today's piece I will examine the recent sell-off that shares of Whole Foods Market have experienced and discuss whether or not I believe this is a buying opportunity.
Having been an avid reader of Seeking Alpha for some time now, I've learned that readers appreciate when writers are up front about their holdings, especially concerning the focus ticker stocks of each article. So, with this in mind, I'll start with piece giving a quick synopsis of my WFM history. Like I said in the opening paragraph, I am long WFM. It is a relatively small position in my portfolio, a non-core holding, that represents roughly 1.5% of my portfolio. I maintain a portfolio of roughly 50 positions, many of which are weighted in the 1.5-2.5% range, meaning that my WFM exposure is relatively average. My Core positions tend to hover in the 5% range.
Over the last year or so I've also traded around my long-term position, going in and out of WFM on strength and weakness. I've always maintained my constant 1.5% position because I do want long-term exposure to this company, but I've been willing to increase this stake, doubling down several times with a mind to sell in the short term. When this stock dips below $30/share, I tend to be a buyer. $28/share seems to be strong support. When these more speculative, tradable positions rise to the $32.50 range, I've sold them. If you look at this year long chart, you'll see that investors have had 2 opportunities to make a similar trade since last November, both times locking in a quick, roughly 10% return.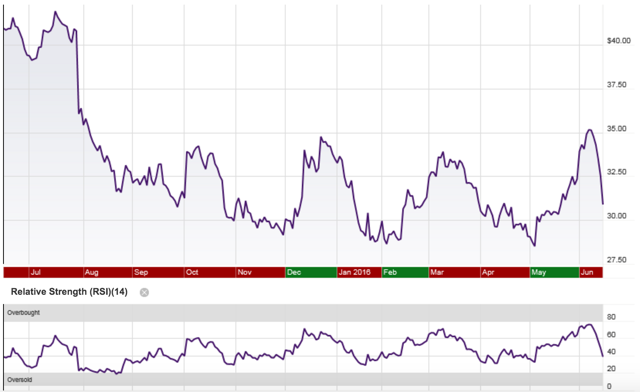 Please note, that I admit that this trade reeks of speculation, but it seems as though investors may be able to ride a similar wave again, as recent FDA news which I will discuss in a moment pushes the stock down towards support. This trading in and out business isn't something that I typically focus on when managing my portfolio. However, I do try to take advantage of support/resistance trends when I spot them, especially when they apply to companies that I feel comfortable holding for the long-term should I be wrong in my speculative reasoning…i.e. if WFM ever feel through the $28 support and remained lower for longer, I wouldn't have a huge issue with 4% exposure and the company's growing, 2% dividend for years if I had to hold rather than locking in a loss.
I always take my good news before the bad, so before I get to the FDA issues, I'll continue on with my previous thought about highlight WFM's dividend. As many of you know, I am a dividend growth investor. This allows me to not only focus on capital gains through share price appreciation, but portfolio income, and more importantly, long-term portfolio income growth. WFM isn't a dividend aristocrat; however, the company has paid an annually increasing dividend for 6 years. Since cutting its dividend in 2008 the company has posted multiple, strong, double digit dividend increases, allowing its annual payment to increase from $0.20/share in 2011 to $0.52/share in 2015. 2016 payments are on track to tally $0.54/share, meaning that dividend growth is slowing, but still headed in the right direction. The company maintains a low, 35% payout ratio, and a relatively strong balance sheet. The dividend is also well covered by free cash flow/share, which was $2.45, opposed to the $0.52 dividend. WFM has recently added debt to the balance sheet, which is a bit concerning (before it had zero long-term debt obligations, which I was drawn to); however, with rates so low I can't blame management for taking on debt assuming it won't be too difficult to produce a higher rate of return on those funds than interest due. I expect WFM to continue paying an increasing shareholder dividend alongside its buyback program which has been effective over recent years, reducing outstanding share count by approximately 13.5% since 2011.
Source: F.A.S.T. Graphs
But now the come to the bad news. WFM has been a rather volatile stock for years as competition in its space has risen. There was a time when Whole Foods simply dominated the organics space, which was viewed as fringe and out of the ordinary. Nowadays, just about everyone is aware of organics and they are well sought after and widely available. This is obviously doing damage to WFM's margins and as well as its and same store sales growth. WFM is still growing its footprint, opening new locations across the country; however, same store sales is the #1 metric tracked for this space and it must succeed here. Because of this competition and fears of further slowing sales figures, WFM's multiple has come down quite a bit over the last couple of years to where it sits today, at roughly 20x forward earnings, or just about in-line with its peers. WFM no longer demands a premium valuation in the market, but I can't help but wonder if this is short term thinking and a folly. Outside of Amazon, I don't believe WFM's other competition has the same growth potential to offer investors. That said, it doesn't matter much what I think. I'm just one man with a handful of shares. The market's fear is apparent when it comes to WFM, with nearly 13% of the float short. This sort of short interest leads to further volatility, which is why we see such a violent move on news that I believe would otherwise be brushed aside.
And finally, 1000 words in, we get to the most recent, controversial news. The FDA has published a letter written to the upper management at WFM, stating a number of "serious violations" that occurred during an inspection of one of the company's food manufacturing facilities. Please read it for yourself and form you own opinion before making any sort of investment based on the news. Here's what I thought: after reading through the reports myself, I can't help but imagine that this isn't such a big deal. Obviously there are issues here that management needs to deal with swiftly, but do condensate issues and employee mistakes during the production process really justify an 11% hit to the stock price? If this was a Chipotle (NYSE:CMG) type situation, I would get it. But, as far as I can tell, no one has gotten sick because of these mistakes. I'm not saying that these sort of mishaps are acceptable by any means, I'm just trying to put it all in perspective and rationalize a $1B loss in market cap. Really, the risk seems to be to me, a loss of consumer trust and a potentially tarnished brand name.
What is that worth? Well, I guess it could be quite a lot. Time will tell. Now, I think the health foods movement still has wheels and I imagine that through premiumization, WFM will maintain an edge on its competitors. Before I touched WFM's apparent brand equity, which is one of the primary reasons that I've invested in this company. I like owning best of breed companies. Although I remain bullish, I have taken serious notice of the violation issues because if WFM were to lose some of its respect as a wholesome grocer, this would be a problem. Customer loyalty is important to a business like this because if market share continues to erode and same store sales number continue to slump, undoubtedly, so will the stock price.
I hope the company gets out in front of these issues and quickly remedies them. I look forward to the company's own PR response and I will do my best to take note of the public's reaction via media/social media outlets moving forward in the near term. I will continue to monitor the stock price and if the slide continues into the $28/29 price range, I will likely pick up a few shares. At $27/share the company would yield 2%, which might serve as a logical target for interested investors. Long-term, I don't believe this current FDA issue is a major problem. Now, if more and more of these violations arise, then I will re-examine my position and likely move on. I try to take advantage of isolated issues when investing, using them and the irrational market response to create long-term gains. To me, this 11% sell-off seems to fall into that irrational, short-term-driven basket.
I look forward to your responses. Stay tuned for tomorrow's episode. Until then, best wishes all!
Disclosure: I am/we are long WFM.
I wrote this article myself, and it expresses my own opinions. I am not receiving compensation for it (other than from Seeking Alpha). I have no business relationship with any company whose stock is mentioned in this article.