After a long year as a public company, Medovex (NASDAQ:MDVX) is finally starting to realize some of the original promise. The investment thesis about a year ago was that investors had an opportunity to invest at prices lower than a famed investor in the medical device sector.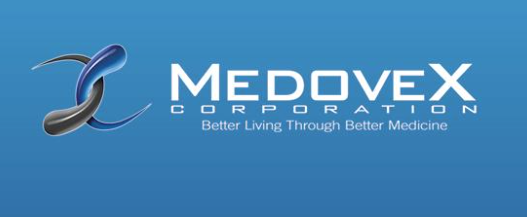 The stock has seen a recent surge as the company gets close to approval for a medical device in the European Union. Even at a current price of nearly $2, investors can purchase at roughly the same price as Steve Gorlin. Below are a few reasons why this might be a good idea.
DenerveX On Verge Of Approval
The DenerveX System is designed to relieve back pain associated with Facet Joint Syndrome (FJS). The condition occurs when joints in the back of the spine degenerate or are injured and subsequently cause pain.
As highlighted in the original research, the current treatment options are either temporary or very costly. Spine-health continues to state that most of the treatments provide little in the way of long-term help. The DenerveX System is a one-time solution that is both long term and economical in comparison to a spinal injection or a spinal fusion.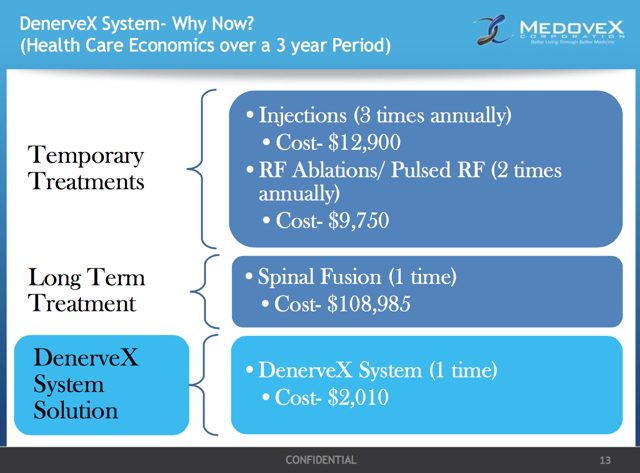 Click to enlarge
It is estimated that over 9 million patients suffer from FJS in the U.S. alone providing for a substantial target market.
The medical device has recently received positive results on final laboratory tests on live tissue and an extensive 12 subject live tissue laboratory test using the stringent Good Laboratory Practice standards.
The company needs to complete the final set of testing and verification in order to obtain the CE mark and launch the product in the EU and other countries that accept the CE mark such as Iceland, Norway, Switzerland and Turkey. In essence, all of the material parts of Europe.
Along with the expected commercial launch, Medovex has already signed key manufacturing and distribution agreements including a distribution agreement with Innosurge in the Scandinavia countries of Denmark, Sweden, Norway, and Finland. Previously, PRIM Group agreed to distribute the product in Spain.
One big milestone was receiving reimbursement payment codes from Germany. The President of Medovex made the following statement about this key milestone that immediately allows for hospitals and outpatient centers to receive reimbursement for the DenerveX System:
Germany is often recognized as a leader in early clinical adoption of new and cost effective technologies, being on the forefront of establishing reimbursement guidelines, and with other countries often following its lead. Reimbursement is perhaps the most foundational element supporting adoption for a medical technology.
Naturally obtaining the CE mark or FDA clearance is still a big hurdle to clear, but obtaining payment codes can be more difficult. Medovex is clearly lined up for distribution once obtaining approvals.
Legendary Medical Device Investor
Steve Gorlin remains very involved in the company having recently converted a loan into 571,429 shares at $1.75 per share. As part of the deal, Steve agreed to remain co-Chair of the Board of Directors for another two years.
For those not familiar, Mr. Gorlin has successfully invested in Medivation (NASDAQ:MDVN), Medicis, EntreMed, and MiMedx (NASDAQ:MDXG) that turned into billion dollar companies. Medicis is an interesting example of his investment timing with the sale for $2.6 billion back in 2012 to Valeant Pharmaceuticals (NYSE:VRX) that is under so much scrutiny now.
All of his investments haven't been huge successes so Medovex is far from a guaranteed winner. CytRx Corp. (NASDAQ:CYTR) still hasn't rewarded investors nearly 13 months later and DARA BioSciences took a buyout from London listed Midatech Pharma (NYSE:MTP) for roughly $1.20 per share to only see the stock plunge after the approval of the merger last December.
The key to the Medovex story is that the investment theme isn't only about Mr. Gorlin. Famed orthopedic surgeon Dr. Andrews is still a part of the company as a BOD member and consultant on the design of the DenerveX. As well, Larry Papasan remains the Chairman after serving as the President of Smith & Nephew Orthopedics (NYSE:SNN) for over 10 years.
Finances Need Help
While working on final approvals for the DenerveX System, Medovex is burning cash at a concerning rate. For Q1, the company lost $1.8 million though $0.7 million was related to stock-based compensation and amortization expenses. The crucial cash burn was roughly $1.1 million.
With cash balances low, Medovex raised $1.2 million in a private placement offering back in April. The amount allows the company to proceed with final testing needs and provides time to place the Streamline business up for sale that ironically the company bought only last year.
Selling the Streamline business that includes the IV Suspension product will help provide financing, but at the same time reduce the goal of Medovex developing a diversified portfolio of medical devices.
The company paid nearly $10 million in shares and cash for Streamline so any cash deal anywhere close to that amount would be a huge boost in the financing of commercially launching DenerveX.
After the April financing, the company has roughly 13 million shares outstanding leaving the market value at only $25 million for a medical device company with a key spine product near commercial launch in the EU.
High Risk
The stock action over the last year should highlight all an investor needs to know about investing in a small medical device company. Anybody buying the stock in the initial six months after the IPO saw Medovex collapse to where the recent rally still leaves the stock down over 50%.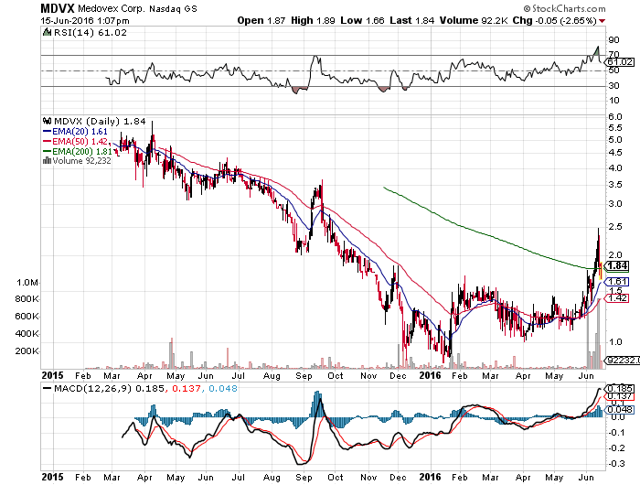 Click to enlarge
The other risks of intense competition haven't changed much in the last year. Companies like Stryker Corporation (NYSE:SYK) have significantly more capital to develop a competing, if not superior device.
The Glyder Device by Zyga now has the CE mark allowing for commercialization in most of Europe. The surgical implant provides minimal relief for a 12-month period. Signs exist that this product is an improvement over the options on the market like a spinal injection, but the results don't appear to exceed the outcomes from the 174 patient trial conducted by Medovex that produced pain relief for 70% of the patients over multiple years.
Neither company has obtained FDA approval.
Outside of competition, Medovex must shore up the funding with the best solution being a sale of Streamline for an amount at least similar to the $10 million purchase price. Either way, the company has a significant investor to help with fund raising though any cash contributions will be highly dilutive at current stock prices.
Takeaway
Medovex has an innovative product closing in on commercialization. The medical device company has a founder and multiple BOD members with strong investment track records and experience in the sector.
The company faces an uphill battle for regulatory approvals in Europe and the U.S., but the stock is a better risk than normal with the backing of Steve Gorlin and the proximity to at least approval for sale in the EU. As with any small biotech or medical related stock, any investment is only appropriate for a small position in a diversified portfolio.
Disclosure: I/we have no positions in any stocks mentioned, and no plans to initiate any positions within the next 72 hours.
I wrote this article myself, and it expresses my own opinions. I am not receiving compensation for it (other than from Seeking Alpha). I have no business relationship with any company whose stock is mentioned in this article.
Additional disclosure: The information contained herein is for informational purposes only. Nothing in this article should be taken as a solicitation to purchase or sell securities. Before buying or selling any stock you should do your own research and reach your own conclusion or consult a financial advisor. Investing includes risks, including loss of principal.
Editor's Note: This article covers one or more stocks trading at less than $1 per share and/or with less than a $100 million market cap. Please be aware of the risks associated with these stocks.