Today's industrial production figures came in weaker than expected. Analysts expected a 0.2% decline versus the previous month. Official data, however, came in 0.4% weaker.

Click to enlarge
(Source: DailyFX)
I always say that month-on-month data is useless. And I keep wondering why traders and investors keep looking at it. The real deal is understanding the year-on-year development of a coincident indicator like industrial production.
On a year-on-year basis, industrial production declined about 1.4%, which was predicted correctly by the ISM Manufacturing index. The ISM index peaked in 2014 and signaled growth slowing. Industrial production has ignored almost every ISM increase and kept declining since the ISM printed the first month with a value below 50.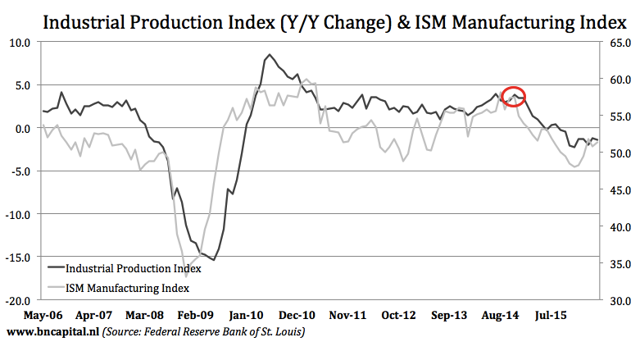 Click to enlarge
Consumer goods production is performing a bit better, but is showing clear signs of weakness. Growth is once again close to 0%. Note that consumer goods production has been at these levels many times before, even in very strong years like 2013.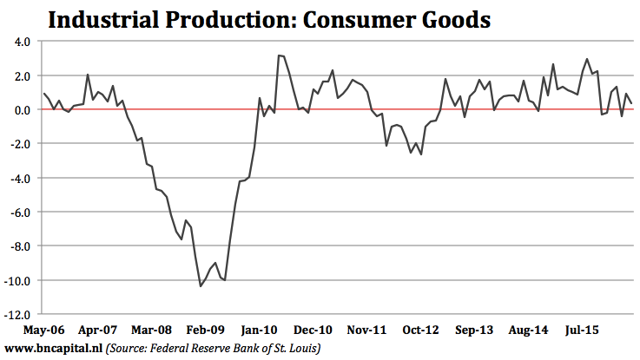 Click to enlarge
Consumer durables are at the 0% growth mark for the first time since 2011. Growth has been around 5% consistently in the last few years, but has slowed significantly this year.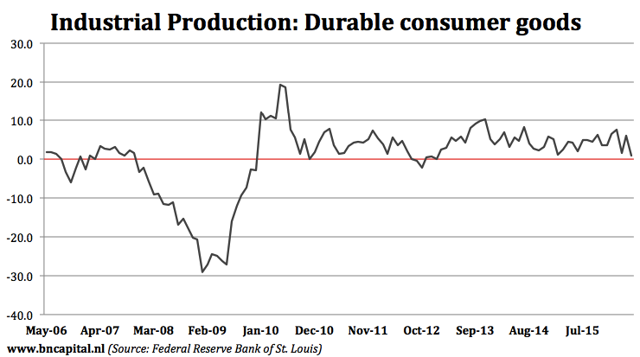 Click to enlarge
Capacity utilization is currently at 2010 levels. Only 75% of all capacities are currently used. Just like total industrial production, we also see a clear downtrend when it comes to utilization. The peak was predicted by the ISM index and occurred in the third quarter of 2014.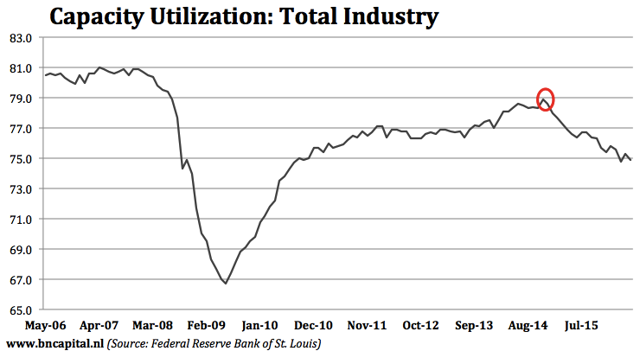 Click to enlarge
Yesterday, I wrote an article covering the official retail sales. Both retail sales and industrial production seem to accelerate to the downside. The ISM index will tell when a new uptrend will start. For now, however, it looks like things are getting worse.
Disclosure: I/we have no positions in any stocks mentioned, and no plans to initiate any positions within the next 72 hours.
I wrote this article myself, and it expresses my own opinions. I am not receiving compensation for it (other than from Seeking Alpha). I have no business relationship with any company whose stock is mentioned in this article.