On June 15, Pioneer Natural Resources (NYSE:PXD) announced that it was going to purchase 28,000 net acres in the Midland Basin, which includes 1,000 BOE/d in net production (~70% crude), from Devon Energy Corporation (NYSE:DVN). Almost all of that acreage is currently held by production.
This is a great move for both parties. Pioneer Natural Resources' impressive hedging program is materially bolstering its operating cash flow, which is expected to come in at $1.5 billion this year, up $100 million from management's previous guidance (assuming crude and natural gas prices average $45/barrel and $2.45/Mcf, respectively, in 2016). That enables the company to take advantage of low energy prices in regards to bolt-on acquisitions like these, and is why Pioneer Natural Resources is planning on adding five additional horizontal rigs in the northern portion of its core Midland Basin operations.
Devon Energy Corporation gains from shedding assets that don't fit in with its long term objectives, as the company pivots towards developing its own large core acreage positions. This is especially true after its purchase of additional STACK and Powder River Basin acreage in December 2015. After the news, Devon Energy Corporation's management team noted that the company will raise the upper end of its $2 billion - $3 billion guidance from its non-core divestiture program. That includes the planned sale of its 50% stake in the Access Pipeline up in Alberta, which should be announced relatively soon.
On top of shedding this asset to Pioneer, Devon Energy is also selling additional properties in the Midland Basin to raise a total of $858 million. This brings the total haul from Devon's divestiture program up to $2.1 billion once everything is said and done.
To fund its purchase, Pioneer Natural Resources plans on issuing out ~6 million shares (5.25 million in a public offering, with the right of the underwriters to purchase an additional 787,500 shares) in a secondary offering that will raise around $1 billion before fees and taxes. As its 2016 capex budget was revised upwards by $100 million to $2.1 billion, Pioneer Natural Resources will be able to cover its additional acquisition and its outspend this year without having to eat into its balance sheet. This comes on top of the $500 million Pioneer Natural Resources will receive from the sale of its Eagle Ford midstream operations in July 2016.
Acreage addition
For $435 million, Pioneer Natural Resources gains 28,000 net acres in the Midland Basin, one of the three basins that makes up the Permian Basin. Most of that is in the core portion of the play, with 15,000 net acres is located in the Sale Ranch area in Martin and Midland counties. That is where Pioneer has drilled and completed its strongest Wolfcamp wells. At strip prices, Pioneer's standard 9,000-foot lateral well tapping into the Wolfcamp B interval in the Sale Ranch area is expected to yield a 50% BTAX IRR with a NPV of $10 million (with the standard discount rate of 10%). This assumes it costs $8 million to drill and complete those wells, and that those wells are very productive.
Below is a picture of Pioneer's focus areas, and keep in mind the guidance given in the map was before its recent strategic maneuvers.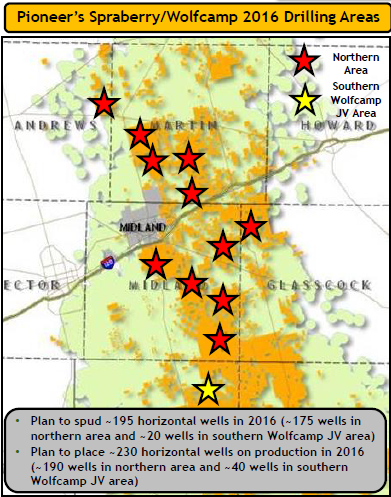 Source: Pioneer Natural Resources June 2016 Presentation
Since the middle of 2014, Pioneer has completed 41 wells in the Sale Ranch region. To boost its drilling economics, Pioneer Natural Resources has steadily increased the horizontal reach or lateral of its Wolfcamp wells. Originally, management was using 7,000-foot laterals as its standard guidance. Now that standard has been revised upwards to around 9,000-9,500 feet, with room to move as high as 12,000 feet or more in the years ahead. Solid well productivity is enabling Pioneer to bring wells online in the Sale Ranch area with an EUR (estimated ultimate recovery) rate that exceeds 1 million BOE.
Looking ahead, Pioneer now is guiding for its 7,000-foot, 9,500-foot, and 12,000-foot lateral wells in the Sale Ranch region to yield an EUR of 1.1 million BOE, 1.55 million BOE, and 1.9 million BOE, respectively. That is after its optimization program continued to yield wells with production curves significantly above previous assumptions. With a very hefty oil cut (~80%), those wells stand to gain materially from a crude pricing recovery. With its recent acquisition, Pioneer gains another 70 potential well locations prospective for the Wolfcamp B interval.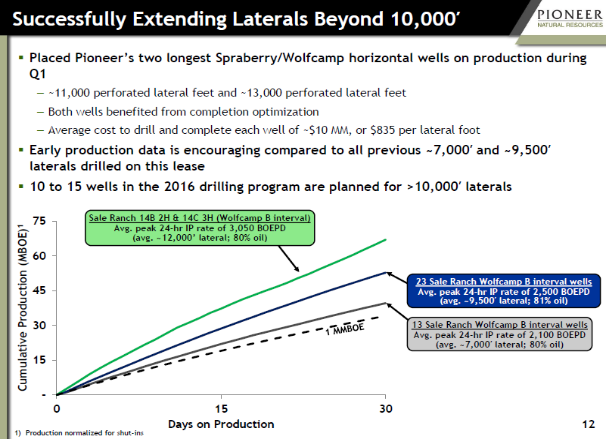 Source: Pioneer Natural Resources June 2016 Presentation
Including the other 13,000 net acres Pioneer is acquiring, the upstream player is bolstering its position in Martin, Reagan, Upton, Glasscock, Dawson, Upton, Midland, Andrews, Howard, and Gaines counties. These are all consider core and core-lite oil & gas producing counties in the Midland Basin and are prospective for various Wolfcamp and Spraberry intervals. It will be interesting to see how this deal impacts Pioneer's Lower Spraberry drilling inventory, which is one of the most prolific horizons in the area. More information on the deal will be released during Pioneer's Q2 earnings presentation and conference call.
Ramping up development
Due to West Texas Intermediate prices moving closer towards $50/barrel since their early-2016 lows, Pioneer wants to ramp up its drilling activity. In the lower portion of its Midland operations, Pioneer's JV in the southern Wolfcamp/Spraberry region is winding down activity and plans to not have any rigs operating in the area during the second half of 2016.
However, in the northern portion of the Wolfcamp/Spraberry play, Pioneer is currently running 12 horizontal rigs in the area. That will steadily increase to 17 as the company adds one rig in September, followed up by two in October and another two in November. Most of the additional capex required to run those rigs and the associated increase in production will be realized next year.
Final thoughts
This is a move that will greatly benefit both parties, even if Pioneer Natural Resources' stock price takes a minor hit in the short term due to its secondary offering. Devon Energy Corporation will be able to pay down a significant amount of its debt without shedding assets that are core to its long term trajectory, while Pioneer Natural Resources is able to tack on additional acreage around its core and core-lite operations. Investors looking to read more about Pioneer Natural Resources and why it is an investment worth taking a look at should check out its impressive drilling, liquidity, and hedging program in this article here.
Disclosure: I/we have no positions in any stocks mentioned, and no plans to initiate any positions within the next 72 hours.
I wrote this article myself, and it expresses my own opinions. I am not receiving compensation for it (other than from Seeking Alpha). I have no business relationship with any company whose stock is mentioned in this article.