There aren't very many things that strike me as being more American than cracking open a cold, crisp can of your favorite beverage. Given that many retail investors prefer to invest in products they know and understand, it isn't a surprise to see that beverage makers are incredibly likely to be a part of most investor portfolios.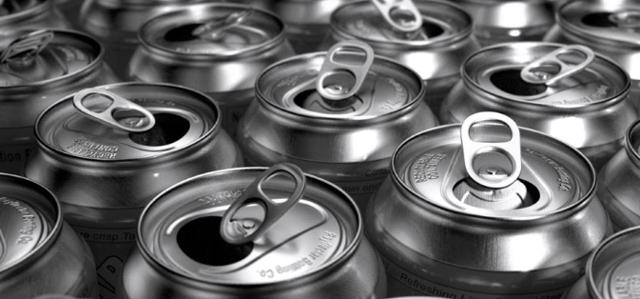 Click to enlarge
Unfortunately, since everyone has the same idea and retail ownership is high, these stocks are often incredibly expensive. Whether your poison is soda (Coca-Cola (NYSE:KO), Pepsi (NYSE:PEP), Dr. Pepper Snapple (NYSE:DPS)) or beer (Heineken (OTCQX:HEINY), Molson Coors (NYSE:TAP), Anheuser-Busch (NYSE:BUD)), you're going to pay out the nose in the market today to own any of these names.

In the grand scheme of valuation and the big picture, it is hard to pick a clear winner going forward on just a numbers perspective. Valuations are similar, and as these are all mature companies in slow growing markets; the winners will be the ones who manage to steal small levels of market share from their competition. Picking out the winner of such a battle before it even begins? Difficult to impossible. If you told investors five years ago that Coca-Cola would be the worst-performing investment of the six, you likely would have gotten head scratches, cries of "Buffet is never wrong!", and been kicked out of whatever venue you were in. Yet here we are. Investors need to pick their battles, and this is a tough one to win.
Now, what if I told you that there is a company that supplies all six of these behemoths to hedge your exposure, yet still trades cheaper on 2017 projections? A business that has made two large recent acquisitions that are set to diversify the company's holdings even further? Sound enticing? Read on.
Crown Holdings
Crown Holdings (NYSE:CCK) is a leading manufacturer of packaging products for consumer goods, specifically specializing in aluminum. Most food and beverage manufacturers have outsourced their canning and bottling operations in order to reduce the heavy capital expenditures and overhead costs needed to maintain these types of operations. This trend started decades ago, and is all but complete today. Specialization is generally a good thing, and outsourcing these operations usually leads to incremental savings on the bottom line while allowing management to focus on their core products instead.
Segment results for Crown Holdings can be found below. Of note, the results below only include the impact from the Empaque acquisition (discussed later) from February 18, 2015 to year-end and exclude a marginal amount of income from non-core operations (such as aerosol can manufacture).

48.7% of revenue and 57.9% of segment income was derived from American and European beverage markets, of which the manufacture of aluminum and steel cans for the aforementioned is a primary component. AsiaPac operations currently condense both food and beverage manufacturing, but given the high rate of growth in aluminum beverage cans (due to low market penetration), I'd expect the company to eventually break out AsiaPac just like they do in the Americas and Europe. Overall, it is safe to say that roughly two thirds of the business relies on the beverage can business. Growth there has been solid; mature markets like North America and Continental Europe continue to see low single digit growth (boosted by a slow-moving shift towards aluminum because of recyclability and consumer preference), and Asia in particular is growing in the high single digits annually as penetration rates of cans grows, along with general adoption of beers and sodas.
Mivisa / Empaque
In 2014, Crown Holdings acquired Mivisa, the largest food can producer in the Iberian Peninsula and Morocco. Purchase price was $733M, which was a touch more than 1x annual revenue. The transaction price was fair compared to comparable sales in the industry and was immediately accretive to free cash flow. The deal further diversified revenue away from the beverage business (increasing Crown Holdings' food-derived revenue by more than 30%), while also remaining highly complementary to the core business: making aluminum containers of various shapes and sizes.
Empaque was bought in 2015, with a much steeper price tag ($1.2B, or 1.7x revenue). This acquisition gave Crown Holdings a foothold in an incredibly important market. Mexico has the world's largest soft drink per capita consumption, eclipsing even the United States. They aren't too shabby when it comes to beer consumption either. While reform movements have pushed foreign investment forward in Mexico (along with slumps in traditional heated markets like Brazil), there is still an air of protectionism present in Mexico. Buying a local company was simply the better move than trying to make in-roads the traditional way. Crown Holdings needed exposure to this market, and they got it at a solid price.
2016 Investment
Crown Holdings is constructing a brand new facility in Nichols, NY to supply specialty cans to the beverage market. Specialty cans are basically any of the new beverage containers you see by the big beverage-makers that aren't your typical sizes. This has been a high growth area of the market and Crown Holdings wants a bigger piece of that pie. The facility should be up and running by the start of fiscal 2017.
Beyond that, the company is adding five billion in beverage can capacity in facilities in Mexico, Cambodia, and Turkey, which are strategically positioned to allow the company to better address the high growth areas of the world that currently are supply-constrained. These are all the moves of a company with growth prospects, not a dead money value company with no upside. Nonetheless, there will be additional above average capital expenditure needs in 2016 to bring these facilities online, which might put some pressure on free cash flow ($560M by my estimates for 2016).
Valuation
While 2016 free cash flow is likely to slump somewhat y/y, primarily due to the aforementioned investments and continued acquisition and integration-related costs related to Empaque and to a lesser extent Mivisa, 2017 should be an incredibly solid year for the company. $640M in free cash flow is likely, putting free cash flow yield up towards 5.1%. Earnings per share should come in the $4.35/share range, putting the company at 12.1x my 2017 earnings estimate. This number is relatively in-line with current Street consensus.
As a result, Crown Holdings trades cheaper than all the previous big household names we looked at, all while being tied to the same supply chain. If these companies succeed, so should Crown. Correlation here is strong, and there is little risk of weakness in the company's margins if the secular trends hold (growth in soda/beer).
There are several reasons to not worry about Crown slipping while the rest of the industry succeeds. Gross margins here are well-protected and have historically not varied much (15.19% in 2014, 15.50% in 2013, 15.07% in 2012), and are unlikely to change much in the future (and actually are likely to increase due to higher margin businesses that were acquired and capital investment in higher margin product production). While cans are a commoditized product, location can significantly drive sales. Cans take up significant space and transport costs can weigh heavily on what is a cheap product on a cost per container basis to the customer, so location is significant factor when it comes to competition. As a result, market share in developed markets is quite stable.
Historically, the company has traded closer to 16x trailing earnings, putting fair value at the end of 2017 up towards $69.60/share. Assuming $1B in debt retirement by the end of 2017, the company would trade at 4.6% free cash flow yield at $69.60/share - once again, back at historical averages.
Risks
Investors here likely have a few key concerns that jump out quickly:
Debt. The company just took on $2B worth of acquisitions in 2014 and 2015. Leverage is high as a result; 4.15x GAAP net debt/EBITDA at the end of 2015. This should come down quickly as the company uses free cash flow to pay down debt. $1B in debt pay-downs through 2017, along with EBITDA expansion towards $1.35B, should put that same ratio towards 2.8-3x by the end of fiscal 2017. Given the protected and steady nature of returns in this business, I don't find the leverage present here to be worrying at all to shareholders.
Shareholder Returns. You'll notice I have all of free cash flow going towards debt. Shareholder returns are non-existent, and will likely remain that way for several years as debt is brought back down to more acceptable levels. The company has never paid a dividend, and share repurchases have been minimal (although the company did retire $250-300M annually in shares from 2011-2013). If you're an income investor, you'll need to look elsewhere, or be innovative in how you own this one (using options to generate cash flow, periodic asset sales, etc.).
Takeaway
Overall, if you're a total return investor, I think you're much more likely to benefit in the long-term holding Crown Holdings versus the much larger companies it tends to supply. The market today is, at best, fairly valued, and at worst, a little ways ahead of itself. Picking winners isn't as easy as it used to be, and investors have to allocate capital efficiently. You can pick them much worse than this one.
Disclosure: I am/we are long CCK.
I wrote this article myself, and it expresses my own opinions. I am not receiving compensation for it (other than from Seeking Alpha). I have no business relationship with any company whose stock is mentioned in this article.
Additional disclosure: Long CCK via selling $50 Put Options
Editor's Note: This article discusses one or more securities that do not trade on a major U.S. exchange. Please be aware of the risks associated with these stocks.