Shares of Abercrombie & Fitch (NYSE:ANF) rallied almost 3% in trading on Wednesday, 6/15, after Deutsche Bank lifted its rating on the stock from Sell to Hold. We like the call, and believe shares have found a bottom. We do not expect much more than LSD growth out of this company as we expect a continued challenging teen retail landscape, but we also believe the valuation is compressed enough to make the stock a promising value option.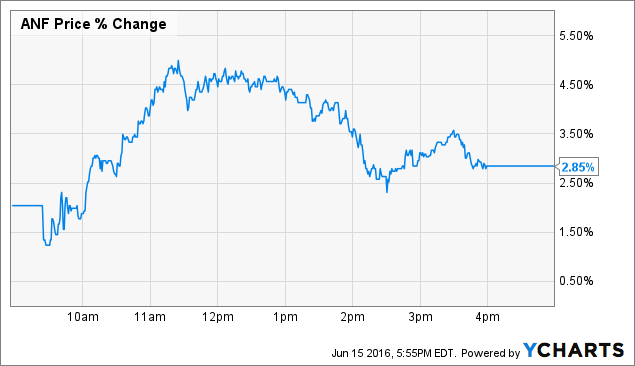 ANF Price data by YCharts
It is important to note that the company is coming off a pretty ugly Q1 wherein comps were negative in both domestic and international markets. We really don't expect things to turn around here, but do expect stabilization in future years. Amazon (NASDAQ:AMZN) and other non-store retailers will continue to steal market share, but we believe ANF has a moat against such competition in that it sells unique Abercrombie and Hollister clothes not available elsewhere. Traffic will continue to be a headwind, but we think revenue declines will stabilize as the company expands its DTC footprint.
We also like the story of the company rebranding to be more luxury and less fast-fashion as this will lead to gross margin expansion. Gross margins expanded 410 basis points MRQ behind higher AURs and are guided to be slightly up this year. Moreover, we think moving towards luxury provides another moat against AMZN. We believe less durable, less expensive products are more at-risk to online substitution than more durable, more expensive products.
The attractive thing about ANF is that it is trading at 3.2x EBITDA, a dramatic discount to its mall peers. Teen retail peer American Eagle (NYSE:AEO) is trading at 5x EBITDA while The Gap (NYSE:GPS) trades at 4x EBITDA. Mall department stores Macy's (NYSE:M) and Nordstrom (NYSE:JWN) both trade around 5.5x EBITDA. Moreover, the current situation seems to be a mirror image to what happened 52 weeks ago. In the summer of 2015, ANF sported a dramatically lower EBITDA multiple than its peers before the valuations somewhat converged at the beginning of this year. Since then, however, the valuations have once again separated. While peer valuations are slightly down from early 2016, ANF's EBITDA multiple has fallen from close to 6.5x to 3.2x.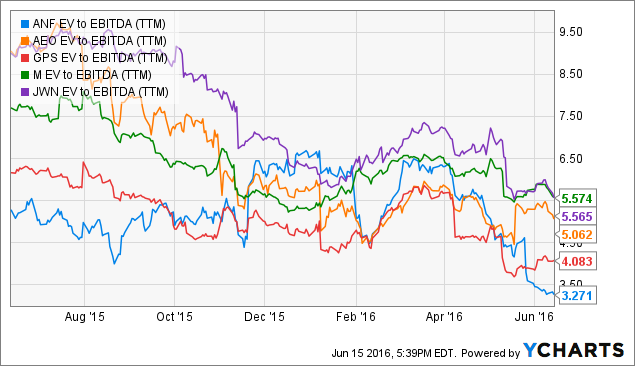 ANF EV to EBITDA (TTM) data by YCharts
We think the stock is setting up here for multiple expansion back to a 5-6x EBITDA multiple range. The 3.2x EBITDA multiple is also the lowest it has been in the past year, and this cheap valuation gives investors a nice safety cushion. We also believe revenues are fairly stable here around the $3.4 to $3.5 billion range. We think a reasonable scenario over the next five years is marginally positive LSD comps with a declining store base and margin expansion. Our five-year sales projections can be found below:

Click to enlarge
While there has been a lot of variability, the company has historically netted around 10% cash flow margins. While we do expect margin expansion from luxury rebranding, we model for flat 10% cash flow margins over the next five years to be conservative. Assuming capex grows gradually over the next several years from this year's guide for $162.5 million in capex, we think free cash flow is pretty stable around $175 million per year. Using a low-growth 1% perpetuity rate and high-risk 12% discount rate, we arrive at a fair value of roughly $25 per share.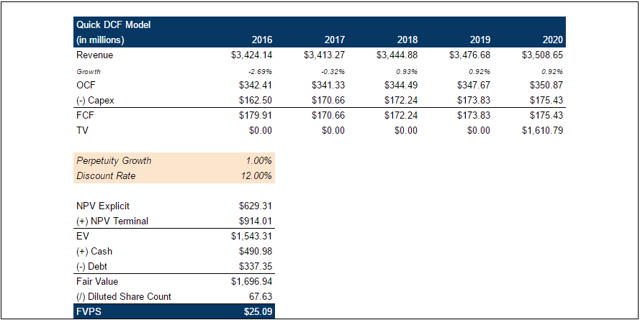 Click to enlarge
This fair value represents more than 30% upside from current market value. We think this is a significant enough margin of safety to constitute ANF as a value play at these levels.
Disclosure: I/we have no positions in any stocks mentioned, but may initiate a long position in ANF over the next 72 hours.
I wrote this article myself, and it expresses my own opinions. I am not receiving compensation for it (other than from Seeking Alpha). I have no business relationship with any company whose stock is mentioned in this article.