The Vanguard High Dividend Yield ETF (NYSEARCA:VYM) offers investors a better yield than most domestic equity ETFs. In some cases it even offers a better yield than bonds. The 3.08% current yield on the ETF is materially higher than the 2.41% yield on a 30 year treasury.
I believe one reason VYM should have a better year than the S&P 500 is because shareholders in the underlying companies are less willing to sell their position when the market is falling. The rationale for holding onto their shares would be the strong dividend yield that supports a buy and hold strategy. Companies without dividends or with very weak yields may gain less support from investors seeking growth and stable income.
Outperforming the S&P 500
So far this year VYM is off to a good start for beating the S&P 500. The market has been down and the market has been up but VYM has been ahead throughout the period: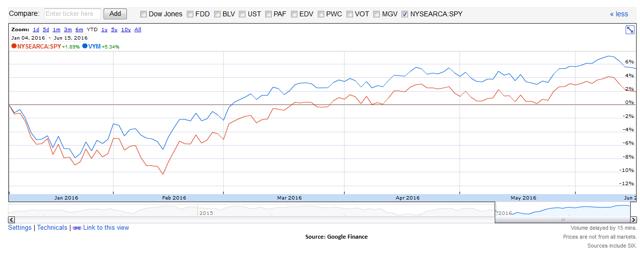 Click to enlarge
While VYM has a nice lead, given the very high correlation, the falling treasury rates in June should provide a boost to the portfolio.
The following chart from the treasury demonstrates the treasury yields so far in June: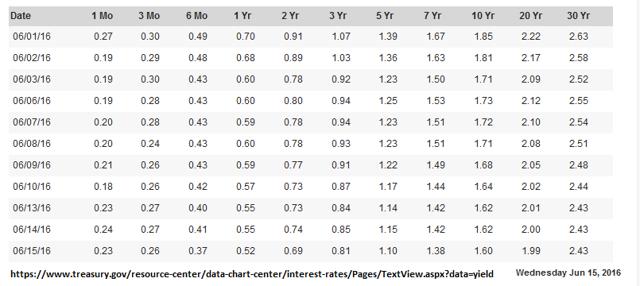 Click to enlarge
Yields are getting hammered with the 2 year down by 22 basis points, the 3 year down by 26 basis points, and the 30 year down by 20 basis points. The lack of yield on treasuries is creating the world of TINA.
Investors are now stuck with the acknowledgement of "There is No Alternative" for income investing. The investors can go into corporate bonds and take credit risk or they can go into equities and take even more risk. The major problem with low treasury rates is that it encourages excessively high equity valuations as it pushes investors into equities even when they are not comfortable with the underlying risk. As if the market wasn't volatile enough, there is now an incentive for more investors to pile in.
My Expectations
I expect quite a bit of volatility over the summer. I expect low rates to encourage more investors to go searching for higher yield investments and therefore I expect VYM to have a slight advantage over the rest of the market. In a nutshell the prediction is a small beat on the S&P 500 combined with some significant volatility.
Can't Do a Buy Rating
While I expect VYM to outperform the S&P 500, I can't hit it with a buy rating when equity prices are this high. There is just too much risk built into the share price currently and I'm stuck having very few buy ratings so far this summer.
Expense Ratio
The expense ratio is a mere .10%. That is very appealing for the cost conscious long term investor. When it comes to investing, who wants to throw away their capital on high expenses ratios or trading costs?
Macroeconomic Risk
The major risk factors that are rearing their heads are the risk of the Federal Reserve shoving short term rates higher (intentionally inverting the yield curve), a decline in corporate earnings due in large part to declines in commodity prices, and pressure on corporate earnings from higher wages in low skill positions.
After the latest Federal Reserve meeting on 06/15/2016, it sounds like the Federal Reserve may be backing off on their constant chatter about raising rates. That would be positive for share prices of VYM since it reinforces the argument that there is no alternative. On the other hand, it would also be problematic for the long term investor because they couldn't expect to earn a reasonable interest rate on treasury holdings.
This isn't just a domestic issue. Low interest rates are a global issue. Take a look at the readings on interest rates for Japanese bonds over the last year: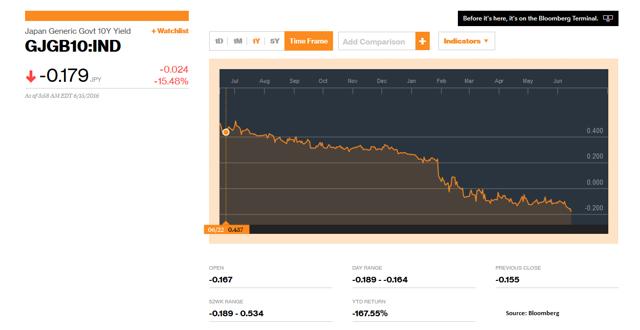 Click to enlarge
The yield on a 10 year Japanese government bond declined from about 40 basis points a year ago to negative 17.9 basis points. Who doesn't want a bond where they are guaranteed to receive a negative return on their investment?
One of the reasons the Federal Reserve doesn't' have much ammunition for raising domestic rates is because the exceptionally low international rates create an incentive for foreign investors to buy U.S. treasuries. That creates a problem for the U.S. economy because it further strengthens the dollar.
The strong dollar results in weaker inflation (we're running below the 2% goal of the Federal Reserve) and it encourages outsourcing jobs to cheaper locations. We officially have only 4.7% unemployment due to people dropping out of the labor force. The unemployment rate is great, but the reason for it is not. If the labor market were genuinely healthy it would encourage a higher participation rate.
Conclusion
I expect VYM to outperform the S&P 500 by a small margin as investors seeking higher yield find themselves pushed away from treasuries and towards equities. The equities with stronger dividend yields should demonstrate slightly stronger appreciation due to the demand for income.
I'm not going so far as to put a buy rating on it because I believe the risks are getting too high at the current price levels. While low interest rates are certainly capable of providing some material support for share prices, it isn't the same kind of durable support that could be triggered by rapidly growing GDP.
Disclaimer: Information in this article represents the opinion of the analyst. All statements are represented as opinions, rather than facts, and should not be construed as advice to buy or sell a security. This article is prepared solely for publication on Seeking Alpha and any reproduction of it on other sites is unauthorized. Ratings of "outperform" and "underperform" reflect the analyst's estimation of a divergence between the market value for a security and the price that would be appropriate given the potential for risks and returns relative to other securities. The analyst does not know your particular objectives for returns or constraints upon investing. All investors are encouraged to do their own research before making any investment decision. Information is regularly obtained from Yahoo Finance, Google Finance, and SEC Database. If Yahoo, Google, or the SEC database contained faulty or old information it could be incorporated into my analysis.
Disclosure: I/we have no positions in any stocks mentioned, and no plans to initiate any positions within the next 72 hours.
I wrote this article myself, and it expresses my own opinions. I am not receiving compensation for it (other than from Seeking Alpha). I have no business relationship with any company whose stock is mentioned in this article.