We just had the massive tech buyout of LinkedIn (NYSE:LNKD) which could rekindle the M&A market. There's already speculation that this buyout could help finally get a buyer interested in Twitter (NYSE:TWTR) and Pandora (NYSE:P). Recall that I took to task the Pandora buyout last week - as there's been years of buyout rumors floating around.
Another company that could get renewed buyout interest, and has been popular on the buyout rumor mill, is Lululemon (NASDAQ:LULU). Yet, it's not VF Corp (NYSE:VFC) or the likes that could make a run at Lulu. It's the founder, Chip Wilson, who has recently been getting more activist investor-like, with there being the possibility that he might work with financiers to raise money to take Lulu private.
Where's Chip today?
Chip stepped down from the company's board in 2015 and has since started another luxury athletic and leisure clothing company. He recently voiced new concerns over Lulu going in the wrong direction. But whatever they're doing appears to be working. The stock has rallied 60% from its November 52-week lows and is now at 52-week highs.
Chip sent a letter to Lulu shareholders earlier this month. In his letter, he takes to task Lulu's stock performance relative to Under Armour (NYSE:UA) and Nike (NYSE:NKE), saying the company has lost its way and needs to start executing a new strategy to regain the company's competitive advantage.
The thing is, Chip dumped his 14% stake in Lulu in the summer of last year - at around $60 a share. He's had a real love-hate relationship with the company he founded for years. In 2014 he stepped down from being chairman and in 2012 was forced to give up the title of Chief Innovation Officer.
Known for being outspoken, Chip once said that "Frankly some women's bodies just actually don't work for wearing Lululemon pants…," so he loves attention and controversy. Despite giving up on Lulu last year, it looks like he might be gearing up for a proxy battle to try and rekindle talk of taking the company private. His standstill agreement that he inked with Advent International when he sold his shares to the private equity company recently expired, so anything is possible. There's been talk of a founder led buyout in the past as well. But much like Pandora - the buyout rumor mill is just about worn out with this one as well - it is time to focus on the fundamentals.
Lulu fundamentals
Lululemon is a leader and pioneer in the global athleisure market - notably yoga pants. With that, there's a lot of competition popping up in the yoga space, including private companies Sweaty Betty and Lucy, as well as other big players getting more involved, such as L Brands (NYSE:LB) Victoria Secret.
Nonetheless, Lulu thinks it has the answer - rather, answers. It starts with men's clothing, then expands into becoming more of a high fashion brand with a strong digital presence. A mouthful, but succinctly, that's what Lulu is up to. Interest in yoga pants appears to be waning but Lulu is staying strong - note the decline in yoga pants searches compared to Lulu.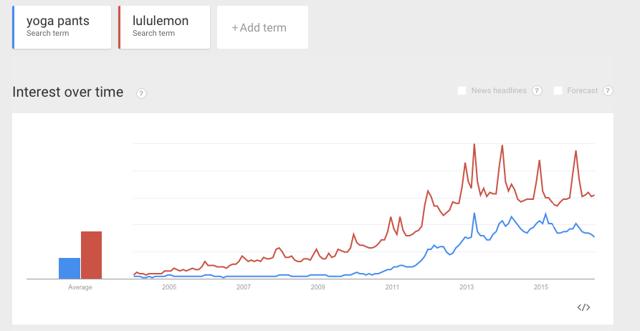 Click to enlarge
Lulu has a lot of things going for it, one of which isn't Chip Wilson. Lulu has managed to keep pricing power as it expands into other areas of high fashion, like coats. Its cult like following gives it a strong retail base to continue to up-sell too. Then there's the men's business which appears to be gaining more traction as it really pushes its ABC (anti-ball crushing) technology. Notice the rise in searches for menswear at Lulu: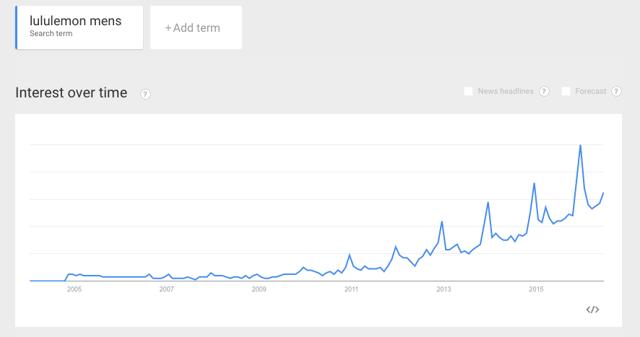 Click to enlarge
I took to task Lulu just last year for selling stuff for cheap and the ensuing margin compression that comes with that. Lulu has since straightened up and is now focusing on the luxury athleisure market. Lulu's recent quarterly earnings were strong, with revenues up 17% and its inventory buildup problem from last year largely gone. Admittedly, Lulu has done a fair job of navigating the rising competition and is looking to set itself apart - which is a much better strategy than Chip's plan of competing more aggressively with Nike and Under Armour.
At 28x forward earnings, it's not the screaming buy relative to Nike and Under Armour that it was, but it's certainly worth a closer look. It's safe to ignore Chip Wilson for now as well he's much like American Apparel's Dov Charney - eccentric and overly attention hungry, but harmless as long as they're kept out of the boardroom.
Disclosure: I/we have no positions in any stocks mentioned, and no plans to initiate any positions within the next 72 hours.
I wrote this article myself, and it expresses my own opinions. I am not receiving compensation for it (other than from Seeking Alpha). I have no business relationship with any company whose stock is mentioned in this article.