Goldcorp (NYSE:GG)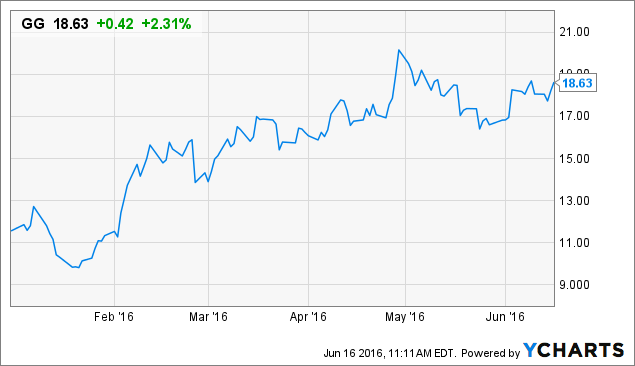 GG data by YCharts
Recent Stock Price: $18.52
Shares Outstanding: 832 million
Market Cap: $15.41 billion
52-Week Range: $9.46 - $20.24
The Federal Reserve's announcement that it will not raise interest rates and a cut in its forecast for U.S. economic growth is boosting the price of gold (NYSEARCA:GLD) and gold miners (NYSEARCA:GDX), including large-cap miner Goldcorp, which is now up 60% year-to-date. This isn't surprising, as gold miners obviously benefit from higher gold prices as it boosts their margins and cash flow.
I'm bullish on gold following this announcement and think the yellow metal and the miners could have much further room to run in 2016. To me, this signals that the Fed is less confident in the economic recovery than it was before it raised rates the first time earlier this year. So, gold is drawing the interest of more investors on this news.
However, that doesn't mean Goldcorp is necessarily a buy here. I think the company has a lot of work to do to catch up to some of its peers, and I'd avoid shares for now, as I'll explain below.
As you'll see in the below chart, the stock has made good gains this year, but has actually underperformed the benchmark gold miners index by a pretty wide margin. It's also underperformed peers Barrick Gold (NYSE:ABX), Yamana Gold (NYSE:AUY) and Newmont Mining (NYSE:NEM).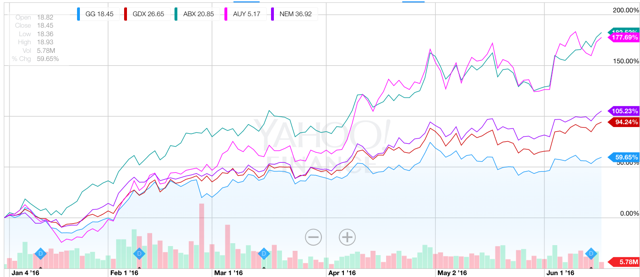 Click to enlarge
(Credit: Yahoo Finance)
What's the Issue?
Goldcorp just hasn't performed up to expectations and there isn't much to get excited about. In the first quarter of 2016, the company failed to impress investors. It produced 783,700 ounces of gold at $836 all-in sustaining costs per ounce. With average realized gold prices of $1,203 in the quarter, the company should have been very profitable.
This sounds like a good performance at first glance, however, the company was actually free cash flow negative in the quarter (-$101 million) and produced only $80 million in net earnings and $59 million in operating cash flow. According to the company, it was impacted by a net cash outflow from increases in working capital of $206 million, as the company increased its accounts receivable for concentrate sales and decreased its accounts payable.
Its debt increased in Q1, while its cash fell; Goldcorp ended the quarter with $401 million in cash and equivalents, compared to $2.72 billion in debt (a $250 million increase as it drew down on its revolving credit facility in Q2).
In addition, second quarter gold production is expected to be 15% lower as the company shuts down its Penasquito mine for 10-days for preventative maintenance, and as it shuts down is Pueblo Viejo mine for two weeks for planned maintenance; all-in sustaining costs should rise in Q2 as a result, so I'd expect weak Q2 results, even with higher gold prices.
Guidance for 2016 calls for 2.8 - 3.1 million ounces of gold production, which is a significant drop from the 3.46 million ounces produced in 2015; all-in sustaining costs are estimated between $850 - $925 per ounce, which is in the same range as last year's $894 per ounce. Its effective tax rate is also expected to increase to 40% - 45%, up from 36% in 2015. Goldcorp's guidance leaves a lot to be desired.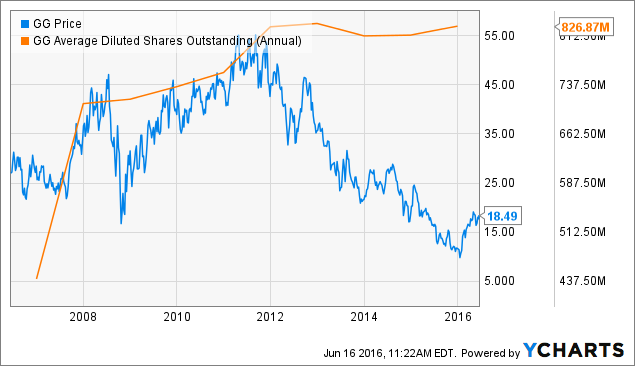 GG data by YCharts
As previously mentioned, Goldcorp recently bought out Kaminak Gold in a $520 million deal; the deal is expected to close in August. I felt the acquisition was a much better deal for Kaminak shareholders, as they got taken out at a 33% premium, bringing its year-to-date performance to over 200%.
I also felt there were a few risks with Kaminak's Coffee project that needed to be considered. For one, the project will require at least $300 million in initial capital to reach production (which is also several years away from happening), and will require further exploration work as the majority of Coffee's resources are "inferred" resources, which means they may not even exist.
This acquisition will also increase Goldcorp's already rising share count, as each Kaminak share will be exchanged for .10896 common shares of Goldcorp when the acquisition closes.
So, What Gold Miners Are A Buy?
If you don't want to bother picking out individual gold miners, I'd recommend just buying the Market Vectors gold miners index instead. This ETF contains a basket of mining stocks; while Goldcorp makes up 6.62% of the ETF, its other top holdings are Barrick Gold (9.33%), Newmont Mining (8.19%) Agnico Eagle (NYSE:AEM) (5.56%), and Franco Nevada (NYSE:FNV) (5.4%).
For investors seeking even more leverage to the price of gold (but comfortable with some more risk), I'd recommend checking out the Market Vectors junior gold miners ETF (NYSEARCA:GDXJ), which contains smaller gold miners and exploration companies that carry more upside. That ETF is up 76% year-to-date, outperforming the GDX by 13%. Its top holdings include First Majestic Silver (NYSE:AG), Alamos Gold (NYSE:AGI), B2Gold (NYSEMKT:BTG), Pan American Silver (NASDAQ:PAAS), Hecla Mining (NYSE:HL), and IAMGOLD (NYSE:IAG).
To be honest, it's much harder to pick individual gold miners here as many of the top gold miners have already doubled or tripled this year as gold soars. But, there are still a few good stocks to pick up if you look hard enough.
I listed my top 10 overall gold stock picks in late-2015; most of these picks have outperformed the two indexes listed above, and I'm still bullish on many of these picks, despite large gains. I'm looking to add to my existing positions in Endeavor Mining and Kirkland Lake Gold, while initiating a new position in Klondex Mines. I would recommend proceeding with caution and buying shares on any pullbacks. Be patient, and there should be better opportunities to buy these stocks.
Disclosure: I am/we are long FNV, AGI, GDXJ.
I wrote this article myself, and it expresses my own opinions. I am not receiving compensation for it (other than from Seeking Alpha). I have no business relationship with any company whose stock is mentioned in this article.