Here is the important part of the announcement that shareholders have been waiting for:
If approval is obtained at the court hearing on June 28, 2016, Lonestar expects that the shares of Lonestar Resources US, Inc. will commence trading on the NASDAQ Global Market on Tuesday, July 5, 2016 under the ticker symbol "LONE."
The company is finally near the end of its journey to move its domicile to the United States. This appears to have taken about a year from start to finish and came more than three months after the shareholders approved this move. Since all of the company's operations are in the United States, this move appears to make good economic sense.
Lonestar Resources (OTCQX:LNREF) is an unconventional oil and gas producer focusing on the Eagle Ford with some conventional production nearby (that is now up for sale) and some Bakken acreage that may be worth exploring in the future.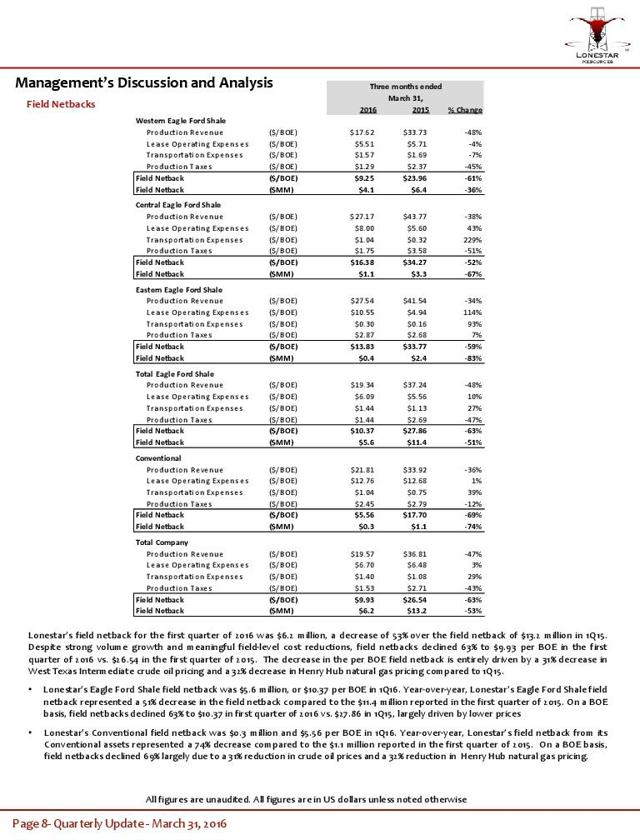 Click to enlarge
Source: Lonestar Resources First Quarter, March 2016, Update
The company has some of the lowest operating costs in the business and is definitely a low-cost leader. Plus, Lonestar has a great hedging program that nearly doubled the price of oil that the company received to more than $60 per barrel of oil. Overall, the hedging program added $17.01 BOE, which is a remarkable achievement.
So, how did this company manage to lose money with great costs like that? There were two key factors, depreciation and interest expense. This company is financially leveraged and really did not have the time to fully develop the properties before oil and gas prices collapsed. So the company is in the process of paying for some loans obtained when commodity prices were better with production at lower pricing. Management has previously announced the intention to joint venture and sell the conventional assets to keep the company growing and augment liquidity.
Finance expenses were $10.24 BOE, which is down 13% from the previous year. Interest expense actually increased a small amount, but production increased more, enabling the interest costs to be spread over more production and so decrease on a BOE basis. As long as the management continues to find ways to fund growth without borrowing more money, this company could work its way out of this challenge. Those very low operating costs give the company some room to carry about half of those interest costs and still have overall good costs, so the challenge is to increase production enough to cut the interest charge per BOE in about half. With overall production up 18% in the first quarter despite some of the lowest oil prices in years, management is well on its way towards meeting that goal.
Lonestar has a depreciation expense of $25.48 BOE. Because this company was launched fairly late in the industry cycle, management has not had to take many cost ceiling adjustments. However, those older wells cost more and were less productive than the newer wells, so the depreciation expense is correspondingly larger. Management had stated that the well cost was down to $4.1 million, but then it drilled a longer lateral (nearly double some of the older wells) and costs went up a little. Still these new costs are about half of what the drilling costs were just a few years back, and the initial flow rates are far better. But the depreciation only changed about 1% because of the lack of write-offs, and the number of new wells needed to begin to materially affect the depreciation rate.
The general and administrative expense at $4.11 BOE is down about 10% from the previous year, but is still running a little high for the industry. As discussed before, this executive team is very experienced and very good at building companies. Had oil prices not collapsed, this company could have been a lot larger sooner. Still management has been very adept at handling the financial leverage strategy during the commodity price downturn. Not many companies can claim that accomplishment. Leases have been purchased at what is probably a good time, and management has traded well results with neighbors and service companies to keep up with the latest operational improvements. So, while finances may be a little bit tight, this management appears to be navigating the waters to a (hopefully) better environment.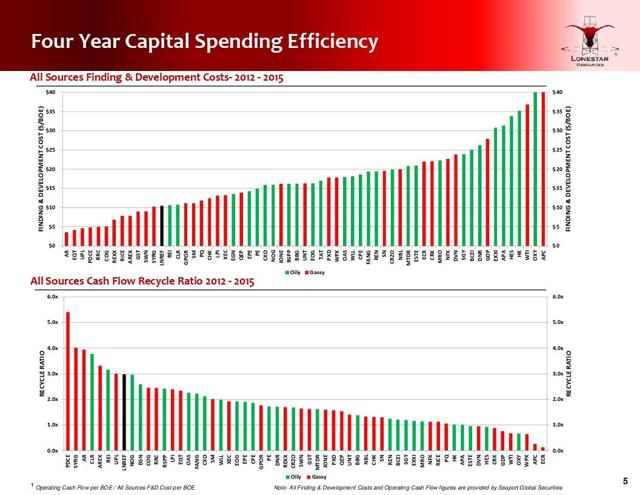 Click to enlarge
Source: First-Quarter 2016 Conference Call Slide Presentation
The company definitely has some of the lowest finding and development costs in the industry, and the management has a goal to drop those costs more. Even though the results are skewed because this company started operations around 2014, (whereas many competitors had higher cost wells dating back to 2012), the result of about $10 BOE is impressive. In yet another operating area, the company is a very low cost and formidable competitor.
Cash flow for the first quarter was $17.7 million. However, $9.8 million came from a favorable adjustment to accounts payable. Since the accounts payable balance is now about equal to a full quarter of revenue, the company may be slow paying the vendors. The latest industry conditions may allow that.
The company's borrowing base was recently reduced to $120 million, of which $86 million was outstanding. So there is credit available to pay bills if that becomes necessary. The company has also stated that it intends to sell all of its conventional production to increase liquidity and decrease financial leverage. These two events should assure that the company has adequate liquidity to carry out its plans, though no assurance can be given that the proposed sale will be completed.
Since total long-term debt is approximately $300 million. Continued growth of production (and cash flow) is a priority. The latest oil price rally will help cash flow. Although the long-term debt to cash flow ratio is very tight and will likely remain tight. The latest rally in commodity prices will help, and the company has most of its oil production hedged for the rest of the year. The capital budget will only use cash flow that is available. Management is currently forecasting a flat to 10% production growth. However, the latest wells are outperforming expectations, so significant growth is more likely. Management has access to $100 million joint venture funds to drill more than the currently anticipated six to seven net wells (9 to 10 gross), which would provide another avenue of growth.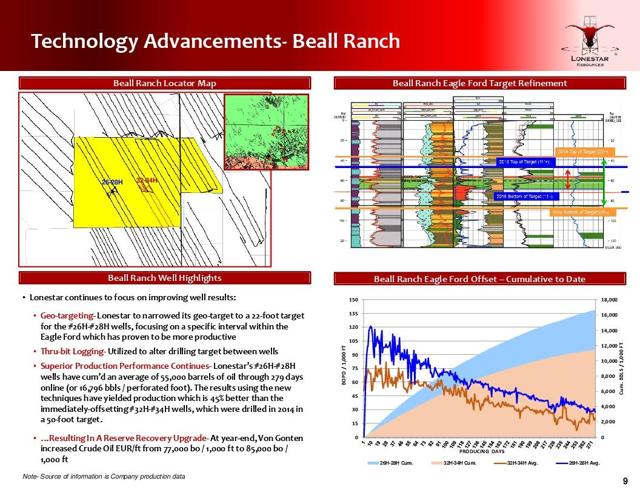 Click to enlarge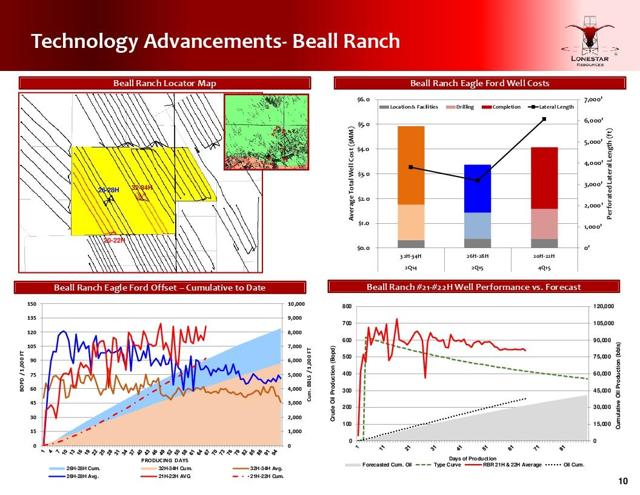 Click to enlarge
Source: Lonestar Resources March 2016 Conference Call Slides
The company was using the strip pricing for May 12, and calculated a 31% IRR, which is fairly decent for the current environment. But with some planned improvements during the year, these results could improve more, resulting in production beyond the current level production to 10% growth and increased profitability. The top slide shows a 45% improvement already. So the company has a very realistic pathway to work itself out of the higher debt levels (and relatively low cash flow).
There is always the risk that oil prices may not cooperate and have a sustained drop, and many competitors with this much financial leverage are bankrupt. Although the company has a hedging program at a reduced level in 2017 to help mitigate the possibility of lower oil prices and leverage problems. The hoped-for operational improvements may not materialize, although right now the pace of operational improvements throughout the industry is absolutely breathtaking.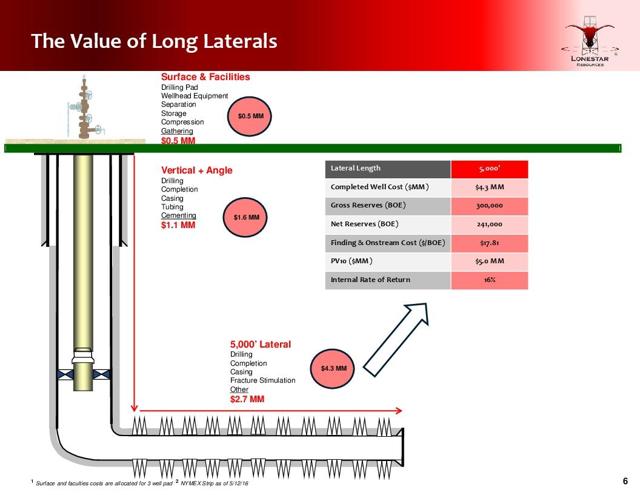 Click to enlarge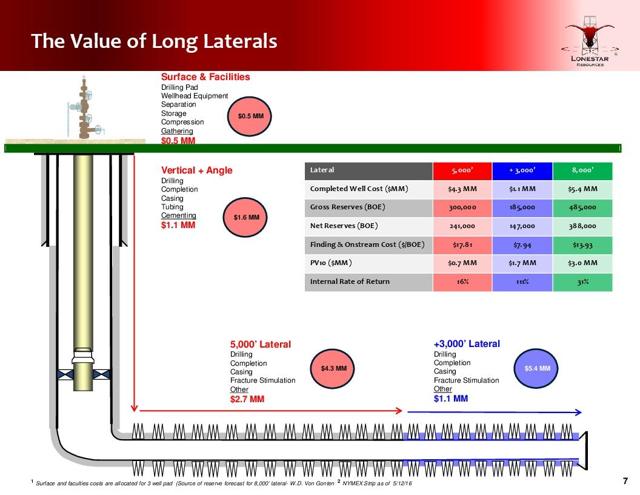 Click to enlarge
Source: Lonestar Resources March 2016 Conference Call Slides
Here is another look at those production improvements. That 111% return for the lateral is very significant as it nearly doubles the IRR of the project. That is a very large increase in profitability of every future well drilled. Plus, the company management is looking at results on some of the other leases that other operators have obtained and may switch well locations to increase profitability even more. There are several areas that the company is not drilling, but neighboring operators have obtained outstanding results that management is studying. The capital budget is flexible, so if potential results would require an increase in borrowing, management may do that.
Summary
Management has kept the operating costs remarkably steady and very low for a significant amount of time.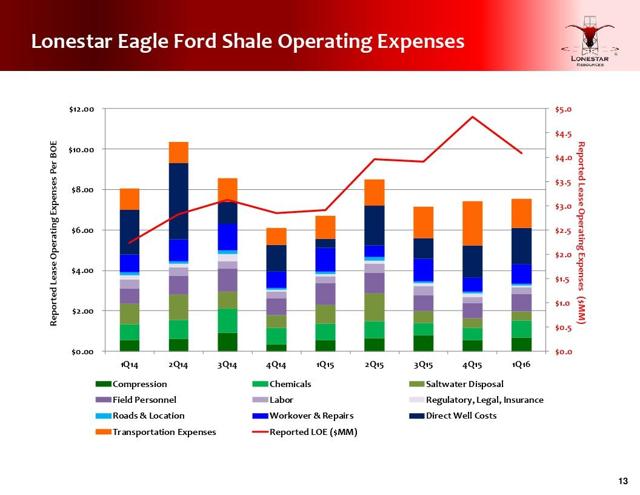 Click to enlarge
Source: Lonestar Resources March 2016 Conference Call Slides
Since management is currently experimenting with longer laterals and different fracking methods (as well as comparing results with other operators and service company information), these costs per BOE shown above can be expected to hold steady or even decline some. That is a remarkable accomplishment.
The company does have a debt challenge though, but this management is very experienced and has a $100 million venture to fund growth. Some of that money has already been spent on wells that are producing. Should the recent oil price rally be sustained, the joint venture will undoubtedly drill more wells. Even if production remains flat the rest of the year (worst-case scenario), it will still have grown from the average production of the year before. Quarterly production figures can be lumpy because the company does not yet operate that many wells, so the completion of several new wells can distort quarterly production. This is especially true in unconventional drilling where new wells frequently have high initial decline rates.
Plus, the company has some major financial support:
"The Company is supported by a major shareholder in EWPO, a specialist energy and utilities investment trust that is listed on the main board of the London Stock Exchange.

As at September 30, 2015, EWPO had net assets of approximately £293 million and gross assets of £464 million. EWPO is managed by Ecofin Limited, a US$1.6 billion global funds management company specializing in the energy, utilities and infrastructure sectors.

EWPO's investment objectives are to achieve a highly secure dividend yield and realize long-term growth for the benefit of shareholders, whilst taking care to preserve shareholders' capital. EWPO considers that its investment objectives of long-term value creation are aligned with other Shareholders.

EWPO currently has a 55.5% interest in the issued share capital of Lonestar Resources Limited, which is one of its largest investment, accounting for approximately 6% of its total assets at 30 September 2015."
Major shareholder support like this helps to minimize some of the financial risk that traditional balance sheet measures would often indicate. This fact, combined with the unusually deep management of the company, will lessen some of the more obvious risks. The company is still obviously a speculative stock, but it has some very large advantages that other speculative stocks do not have.
The management of the company was hired by the major shareholder to put together a significant company promptly. While an obviously aggressive strategy has been in place since inception, the company management was not crazy enough to go "all out" during the price collapse. Now that the industry conditions have stabilized, expect management to resume building this company along the original plans outlined by the major shareholder. The unusual amount of experience that this management has will be a huge advantage in putting together a significant oil and gas company in place promptly as originally foreseen.
Therefore, in five years, this company could easily be earning $2 per share. While that may well require net income of $80 million to $100 million, this management was hired to build a company. The latest commodity price downturn has slowed the process, but definitely not stopped it. So once industry conditions level or commodity prices increase a little, this company will be growing by acquisitions as well as by the drill-bit. There are some very experienced managers that have run and sold far larger companies than this one. They will not be settling for 15% growth annually no matter what the forecast.
Management has already secured a joint venture that has drilled wells in the current environment. Even though this joint venture stopped drilling during the low commodity prices of the first quarter, there are signs of the joint venture considering resuming drilling activity. Plus, management will find other ways to grow. The financial leverage that has stopped other companies and even placed them in bankruptcy has slowed Lonestar down a little, but it is still growing. Most companies with the financial leverage of this company are barely surviving at best. The financial risk is there; it's just in some very experienced hands. As far as speculative investments go, this company is an interesting speculation that has a much better-than-average chance of success for an aggressive company.
Disclaimer: I am not an investment advisor, and this article is not meant to be a recommendation of the purchase or sale of stock. Investors are advised to review all company documents, and press releases to see if the company fits their own investment qualifications.
Disclosure: I/we have no positions in any stocks mentioned, and no plans to initiate any positions within the next 72 hours.
I wrote this article myself, and it expresses my own opinions. I am not receiving compensation for it (other than from Seeking Alpha). I have no business relationship with any company whose stock is mentioned in this article.
Editor's Note: This article covers one or more stocks trading at less than $1 per share and/or with less than a $100 million market cap. Please be aware of the risks associated with these stocks.