Apple's (NASDAQ:AAPL) iPhone is facing intensified competition from Samsung (OTC:SSNLF) and Chinese manufacturers such as Huawei and Xiaomi (Private:XI) and may face the first ever year-over-year decline in sales for fiscal year 2016. Recent rumors that Apple will move the iPhone to a three-year refresh cycle suggests that Apple's management will respond to this pressure in exactly the wrong way. I disagree.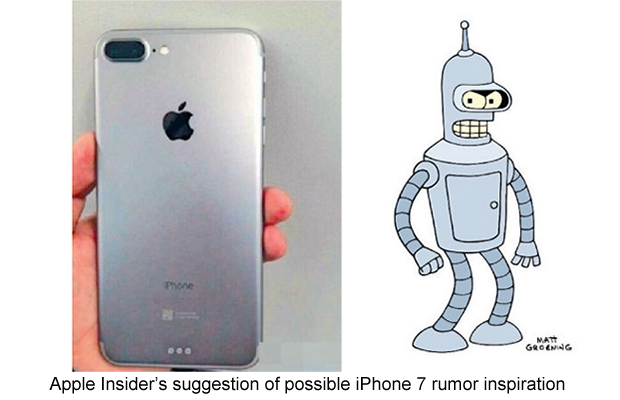 Source: Apple Insider
More Disparaging Than Predictive
When the Nikkei reported that Apple would move the iPhone to a three-year refresh cycle appeared on May 31, I found it so ludicrous that I decided to simply ignore it. I had already written about the Nikkei's gratuitous trashing of the iPhone 7 a couple of weeks before. I didn't think that this latest rumor was even worth writing about.
Like so many rumors, if there's an audience that wants to believe it, it tends to take on a life of its own. The May 31 Nikkei rumor has now been so oft repeated on the Internet that it's being treated as if it were solid fact. The latest example of this is the naive and uncritical regurgitation of the rumor yesterday by Don Reisinger of Fortune.
Like so many recent rumors, the Nikkei report is more about disparaging Apple and its products than making accurate prognostications. Let's look at the rumor in a little more detail, and the reader will see what I mean.
The Nikkei reports start off:
Apple will likely take three years between full-model changes of its iPhone devices, a year longer than the current cycle. In a typical two-year term, fall 2016 was supposed to see a major upgrade. But the changes on the model to be launched this autumn will be minor, such as improved camera quality.

The move is largely due to smartphone functions having little room left for major enhancements. A slowing market is another factor.
The article insists that the iPhone 7 will look almost like the iPhone 6s, and offer minimal improvements. The article completely ignores Apple's most important technological innovation in the iPhone, Apple's custom designed systems on chip (SOC). Instead, the rumor suggests that Apple is dependent on its suppliers for innovation. Reisinger basically repeats this with the same utter lack of understanding of Apple's semiconductor innovation.
Why do the rumors consistently ignore Apple's innovation in semiconductors? This would seem to be a glaring omission, considering that Apple took the industry by surprise when it introduced the first 64-bit ARM smartphone processor in 2013 (for the iPhone 5s).
Most importantly, Apple doesn't just license designs from ARM Holdings (NASDAQ:ARMH), but does its own ground up designs that consistently outperform its industry peers. Apple has been producing fresh SOC designs every year, regardless of whether the iPhone is an "s" generation. The next SOC for the iPhone 7 will likely put Apple ahead of the pack again. With competitors such as Samsung and Huawei also scratch-designing their own SOCs, Apple couldn't possibly put this element of the iPhone on a three-year refresh cycle.
Ignoring the Obvious
Why does the media consistently ignore this element of Apple's engineering prowess? Let me suggest an answer. It's because Apple has become one of the most powerful and influential semiconductor companies in the world. I made this point over a year ago here on Seeking Alpha. At the time, I pointed out that Apple's semiconductor business, treated as a standalone business, was growing far faster than the industry, and faster than the top three semiconductor companies, Intel (NASDAQ:INTC), Qualcomm (NASDAQ:QCOM), and Texas Instruments (NYSE:TXN).
As of the last article, I only included data through fiscal year 2014 for the companies involved. Including results for fiscal 2015, Apple accelerated its growth, while the industry (including Apple) declined overall, as I show in the following charts.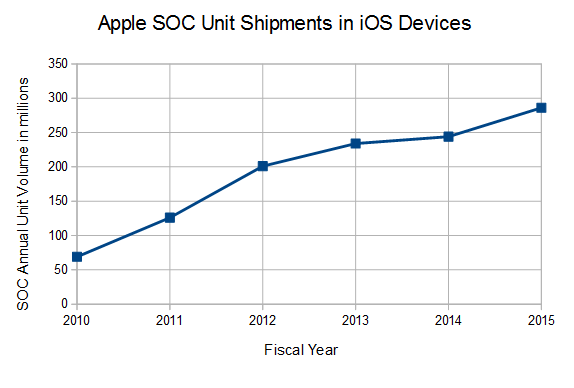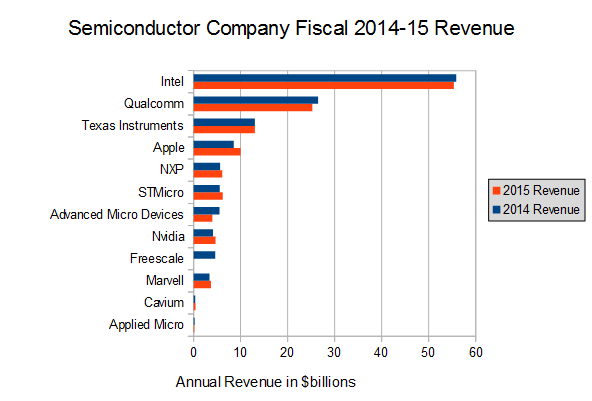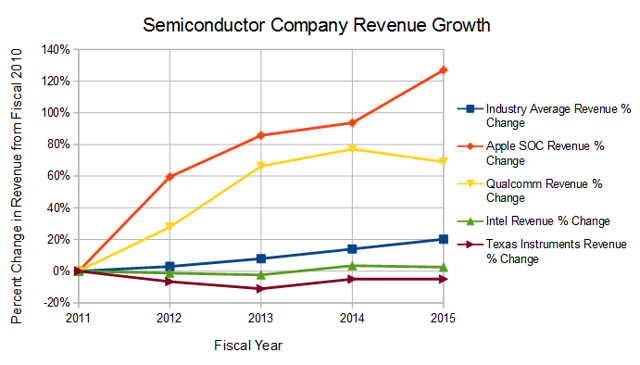 Click to enlarge
Keep in mind that for Apple's semiconductor shipments, I'm only counting iOS devices, because Apple reports its iOS device unit shipments. I assume an equivalent revenue of $35 per chip, probably very conservative. If Apple TV and Watch were included, Apple's numbers would be even higher.
The Next Revolution
Another possible explanation for the rumors may be to blunt what is likely to be another revolution is mobile SOCs that will debut with the iPhone 7. This is the use of a new chip packaging technology pioneered by Apple's foundry partner TSMC (NYSE:TSM) called Integrated Fan Out (InFO).
I can imagine the reader's eyes glazing over at this, but bear with me. This is important. What InFO does is allow even more functionality to be integrated into the SOC package, by providing a way to integrate multiple separate chips along with the SOC. TSMC has all but made it an open secret that it is working on InFO for Apple's next SOC, slated to go into the iPhone 7. This will be the first ever use of InFO in a high volume mobile device. InFO will allow an overall reduction in the size and thickness of the current circuit card assembly (CCA) in the iPhone. For reference, I show the CCA front and back from the current iPhone 6s.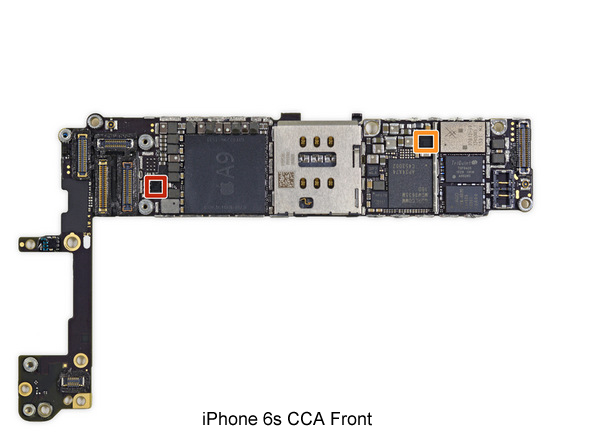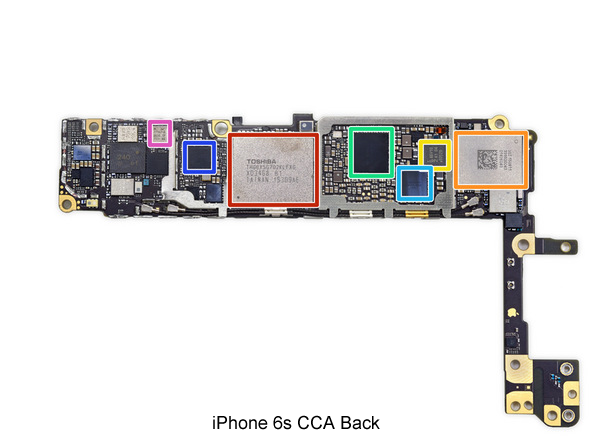 Source: iFixit
Imagine that circuit card assembly getting thinner, by virtue of not having to have components on both sides. Power consumption for the iPhone 7 will probably be reduced as well, partly through the use of InFO, partly through greater integration of functions into the SOC itself.
Every year, Apple's SOCs have integrated more functions, allowing for the use of fewer external chips. InFO will accelerate this process of parts count reduction. Reduced power consumption will allow the battery to be smaller as well. The net effect will probably be a reduction in the volume and weight of the phone that could be more than incremental.
A thinner phone will require significant redesign of the internal structure in order to avoid a repeat of "bend gate." Apple addressed this issue with the 6s generation, and will be sure not to ignore it for the iPhone 7. All in all, I consider these changes to add up to a significant generational redesign, regardless of what the exterior of the phone looks like.
Investor Takeaway
In addition to the rumors that the iPhone 7 will be little changed have been rumors that the next iPhone in 2017, which would be an "s" year, will be greatly changed with the inclusion of Apple's first ever OLED screen. Looked at objectively, one would think that the obvious conclusion to draw is that Apple is abandoning the "s" generation approach for an annual design refresh. But somehow, this just gets completely twisted around.
Apple is already doing annual design refreshes for the critical components of the iPhone: the operating system and processor. So why is Apple supposed to fall back to a three-year cycle? Because it can't afford a one-year cycle? Come on.
The sensible conclusion is that Apple is moving to a one-year cycle. Naturally, every year the magnitude and types of innovations will not be the same. I made fun of the limited innovations in iOS 10 this year, calling this an "s" year for iOS, but changes will not be consistent from year to year. Apple is still releasing a new version of iOS every year, not every three years. The same goes for SOCs.
Apple's one year cycle refresh for the iPhone is bad news for its competitors, good news for its investors. I remain long Apple and recommend it as a buy for investors with a 3-5 year investment horizon.
Disclosure: I am/we are long AAPL, QCOM.
I wrote this article myself, and it expresses my own opinions. I am not receiving compensation for it (other than from Seeking Alpha). I have no business relationship with any company whose stock is mentioned in this article.
Editor's Note: This article discusses one or more securities that do not trade on a major U.S. exchange. Please be aware of the risks associated with these stocks.