Since writing my last public article on MGT Capital (NYSEMKT:MGT), when I favored selling out, I've continued to look at the company and its frenzied deal making. The release of the recent 10-Q helped a lot and since that time I favor the short side. I don't think the company's assets are without any value but in my opinion they aren't even close to being worth $80 million-plus which is what a share price of $3.42 implies.
Parts of this article have already appeared in slightly modified form on Off The Beaten Path.
There are a lot of press releases and company filings coming out, so let's cut through the noise and discuss the key items.
It's important to note that Stockbeast was paid to run a promotion from the 9th of May until the 5th of July.
In that timeframe the company engaged in a number of transformative acquisitions that I've put on a timeline:

Click to enlarge
Now let's examine what MGT Capital was worth before the promotion started and what its value should be now.
Value of the MGT Capital Assets
Before the stock promotor was hired, May 6, it closed at $0.36. At the time that roughly translated to a market cap of $5 million. I've cut out and pasted a piece of the balance sheet from the 25-5 10-Q below: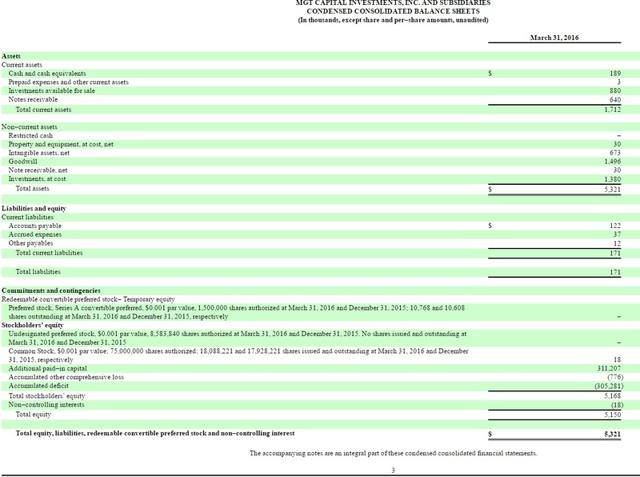 Click to enlarge
The assets are an unrelated collection of assets. MTG holds an investment in the Draftday (NASDAQ:DDAY) common, a publicly traded stock, and is listed as being worth $793K but it has actually run up around 40% since the close of the quarter. I'm skeptical whether the Goodwill is worth anything. On a cash flow from operations basis the company lost $1.3 million last quarter. There is only one reason why the value of the MGT Capital assets could reasonably be valued above $5.3 million. That's if you count the value of its NOLs which add up to $57 million but that they are currently reserved against as there is little hope they will be utilized (see note 14 in the 10-K).
These tax assets may have been particularly attractive to McAfee, who's a convinced libertarian. No rational buyer would pay full value for those NOLs but I think they play a part in why this deal got done. The majority of them expire as soon as 2023 which is not ideal given the current lack of profitability.
Value of the D-Vasive Assets
The D-Vasive assets were just acquired in a transaction valuing them at $300K-plus ( 28 million x $0.36 ) or about $10 million. I got there by calculating the value of the deal as the acquired party agreed to it. It is possible the sellers of D-Vasive gave the "acquirer" MGT Capital a bit of a discount because the transaction effectively takes them public and gives them access to $57 million worth of NOLs. In my experience observing similar reverse merger transactions the party going public will give up $4-$5 million in value to get it done. Taking into account, some potential value of the NOLs I'll assume MGT Capital underbid by 50% and the D-Vasive assets are really worth $20 million. Any more really does not make sense as the company could simply have IPOed independently instead of sold itself to MGT Capital. The StreetSweeper is much more negative and reports the D-vasive app can only be given away for free and its not flying out the door.
Roundhouse
On May 13, 2016, the company acquired 6% membership interest in The Round House LLC for a cash consideration of $150K. There's no reason for me to assume this isn't a fair price so I'll attribute $150K of value here. It doesn't really move the needle.
Demonsaw
Then there's the Demonsaw transaction on 26 of May. This is a quote from TechCrunch that DemonSaw put on its own website (emphasis is mine):
Demonsaw makes security easy for the individual. It empowers them, allowing them to control their own information and set up their own security as they deem necessary. There are no third parties involved in the transfer of messages or data. There's no logging, no tracking, no installs, etc. Demonsaw is totally free and ad-free too.
It's a cool Napster type of program but does that still have the same appeal with great legal competition like Spotify and Netflix (NASDAQ:NFLX) and illegal competition from Popcorn Time and torrent sites out there? It's freeware so it could grow fast but it's unclear to me where the revenues are going to come from. Furthermore this no revenue company lists as many as two people under "team." They appear to be a couple of very smart and savvy guys but there are only two of them. Did I mention there is no revenue? You could call this an acqui-hire but it came at a cost of 20 million shares. At the end of May 26 that still amounted to $2.36 per share or approximately $47 million. I valued D-Vasive on the basis of the price it got acquired at but with no revenues and no path to revenues at Demonsaw I have a hard time attributing any value to Demonsaw. If I'm wrong about that please tell me how it should be valued. I'm putting zero value on this for now.
Value of the combined company
If I add up the three values I get to a grand total of about $25.3 million in value. A number that pro-forma the acquisitions will be distributed over ~70 million outstanding shares or $0.36 per share.
The company can engage in all kinds of transactions, and they may even have created some value for shareholders with these acquisitions but there's at most somewhere in the $25 million ballpark of value here and I'm probably being very generous. You can only trade a little against a little. The current valuation of $3.38 per share is unsustainable in my opinion.
It doesn't make sense
You can't turn a $5 million company into a $80 million company overnight by making acquisitions. For that to happen the people you are buying from would need to be really stupid. Ironically, it's exactly these people who are brought on board to much fanfare - John McAfee and the Demonsaw guys. My guess is they aren't stupid and MGT Capital isn't exactly worth $80 million.
Catalysts
-Paid promotion of Stockbeast runs until July 5th.
- Combined company filing their first joint financial report showing 70 million of shares outstanding and combined earnings that will be hard pressed to justify any valuation near the current.
Disclosure: I/we have no positions in any stocks mentioned, and no plans to initiate any positions within the next 72 hours.
I wrote this article myself, and it expresses my own opinions. I am not receiving compensation for it (other than from Seeking Alpha). I have no business relationship with any company whose stock is mentioned in this article.
Editor's Note: This article covers one or more stocks trading at less than $1 per share and/or with less than a $100 million market cap. Please be aware of the risks associated with these stocks.