Since the financial crisis, a wave of banks began establishing internal restructuring units where toxic and non-strategic assets are placed to be wind down. During the crisis, investors feared these toxic, difficult-to-value assets might possibly contaminate "good" assets by consuming limited capital. A simple solution to the problem is "ring-fencing" the non-core assets by creating a separate internal unit dedicated to reducing the bank's exposure. The solution dates back to the late 1980s when Mellon Bank dumped its bad assets into a separate entity called Grant Street National Bank. More recently, banks like Citigroup (NYSE:C), Deutsche Bank (NYSE:DB), and UBS (NYSE:UBS) have created internal wind-down divisions. Even insurance firms like MBIA (NYSE:MBI) and AIG (NYSE:AIG) have participated in the acts.
The intuitive explanation for why banks would establish an internal restructuring unit is to increase transparency for shareholders. The policy implication is relatively clear: Separate the toxic assets from the good assets so that investors have more confidence about the bank's core business. Mckinsey & Co. writes as follows: "Establishing an internal bad bank […] provides a clear signal to the market and increases transparency into the bank's performance-particularly if the results are reported separately." In effect, banks are separating bad assets so that investors would focus more on the good part of the bank.
Naturally, we must ask whether "bad banks" actually work. In other words, we want to ask whether investors should favor a bank with a unit clearly separated wind-down division over one that does not, all else equal. After all, the process of establishing a whole another unit must have been costly and the decision was probably not random, considering that banks also had the option of inconspicuously winding down the same assets. Should investors interpret bad banks as a sign of confidence from the bank?
The following table lists six large banks that have established internal bad banks over the past several years, along with the name of the restructuring unit and the date of creation.
| | | |
| --- | --- | --- |
| Bank Name | Title of Internal Restructuring Unit | Date of Creation |
| Bank of America (NYSE:BAC) | Legacy Asset Servicing | Feb-11 |
| PNC Financial Services (NYSE:PNC) | Distressed Assets Portfolio | Mar-09 |
| Citigroup | Citi Holdings | Jan-09 |
| Credit Suisse (NYSE:CS) | Non-core Unit | Jan-14 |
| Deutsche Bank | Non-Core Operating Unit | Dec-12 |
| Royal Bank of Scotland (NYSE:RBS) | RBS Capital Resolution | Feb-09 |
To test whether bad banks do provide economically significant impacts, I conduct a simple differences-in-differences test. I match each bank in the table above with another control bank whose assets are similar in size as the bank with a non-core unit. The control group naturally must not have had established a non-core unit. In total, I have six banks in my bad bank sample and six banks in my control group. I then compute the monthly returns of the stock for both the bad bank sample and the control group, and compare their trends, starting one year before the creation of the bad bank and two years after.
I also compute the monthly stock volatility for both groups over the same time period. If bad banks do indeed lead to economic consequences, then I would expect the monthly returns of the bad bank sample to be higher than the control group after the creation of the bad bank. I would also expect, the volatility to become lower since volatility should proxy for investors' confidence in the bank.
The results were as follows: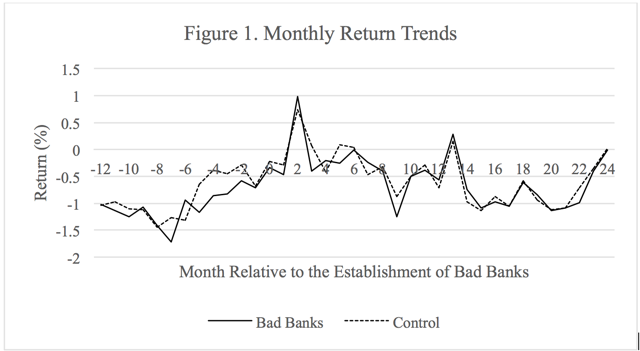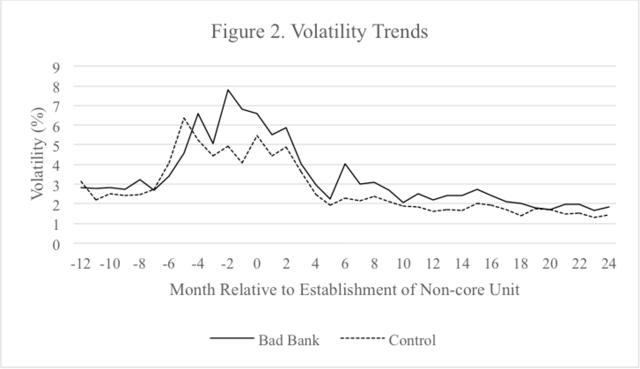 Figure 1 suggests that there are no significant benefits in returns for establishing an internal bad bank unit. Hence, this non-result suggests that investors do not have good reason to pay a premium for banks that have such wind-down unit: It offers no strategic benefit compared to the control group. One interesting result, however, is figure 2. In that chart, we see that the bad bank sample experiences a strong volatility shock three months prior to the establishment of the units while the control groups experience no such change. This difference suggests that bad banks are not created randomly; instead, the internal restructuring unit appears to be a temporary solution posed by the management in response to an exogenous rise in volatility.
Bottom line, it's easy for investors to mistakenly interpret the existence of an internal restructuring unit as a signal of confidence from the bank, a gesture to shareholders that the bank is well-equipped and dedicated to disposing the toxic assets on its balance sheet. Or perhaps one might suspect that with the bad assets separated from the good ones, the bank will be able to better focus its resources to generate greater returns to stakeholders. Unfortunately, the results here suggest that bad banks are simply an ad hoc strategy designed to reduce temporary volatility shocks, but one that has little to no impact on the bank's long-term stock return.
Disclosure: I/we have no positions in any stocks mentioned, and no plans to initiate any positions within the next 72 hours.
I wrote this article myself, and it expresses my own opinions. I am not receiving compensation for it. I have no business relationship with any company whose stock is mentioned in this article.