Long-range forecasts are obviously not as accurate as the short-term ones. Trends could set themselves up for either a hot summer or cold winter, but a lot of other variables like the arctic oscillation, and the different jet streams play into how cold or how hot weather would be.
National Oceanic and Atmospheric Administration (NOAA) is no different and its forecasts are subject to a tremendous amount of change over time.
NOAA just published its updated 3-month outlook, and here it is: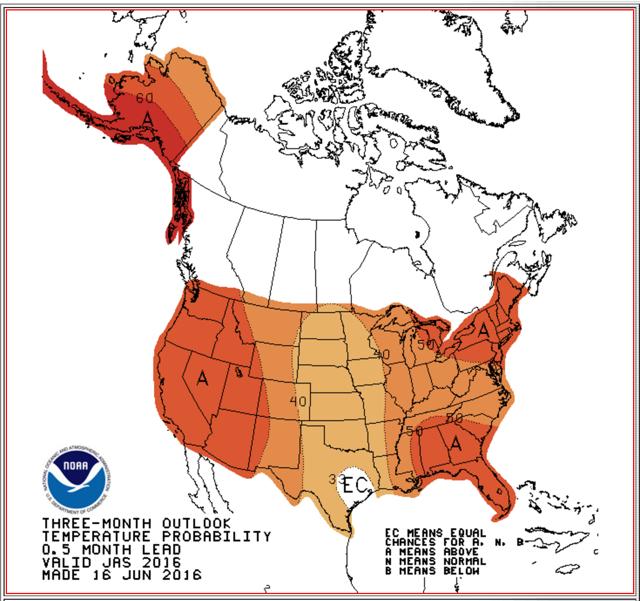 Click to enlarge
From the outlook, this is bullish for cooling demand. While for natural gas bulls, you want to see the dark red over Texas, dark red over the East Coast will have to suffice. Texas uses the most natural gas out of any state in the US, so temperatures going over 100 there is very nice for cooling demand.
We follow a lot of the power burns around the US thanks to Geckoi Capital, and the current trend remains that utilities will be burning more gas into the summer. Coal prices have recently recovered with oil prices, so the incentives to burn gas increased. Coal production in the US is also in freefall, which could potentially accelerate the coal-to-gas plant switch.
Looking at the 8-14-day outlook, it looks to be a normal start of Summer for the East Coast, while extreme heat takes over the West.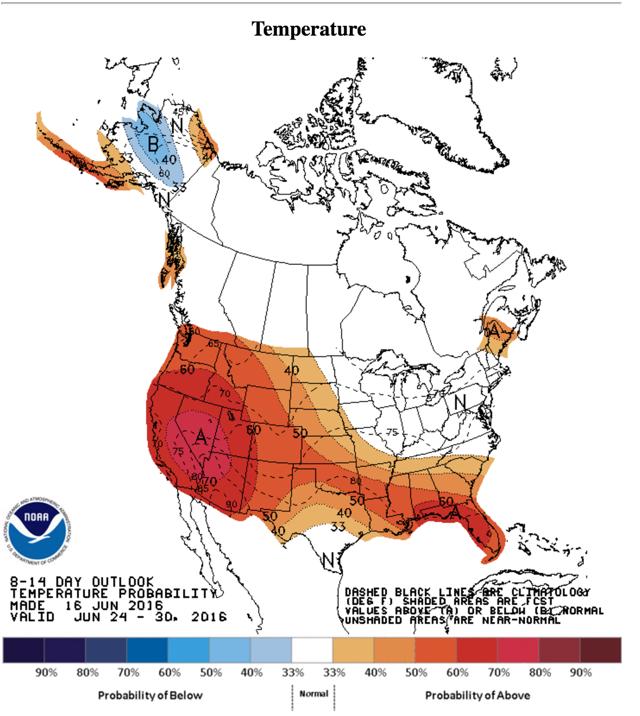 Click to enlarge
Current natural gas injection figures for the next three weeks have the potential to crush the 5-year minimums (meaning low injections), and surplus will be considerably reduced in these cases.
Natural gas prices have recently leveled off after a 30% rise from sub $2/MMBtu levels, and the recent projections are likely baked in. Gas prices move a lot on these projection estimates as it materially changes the end of injection storage figures. Be sure to read our natural gas storage report to see the latest update.
So far, summer is looking hot despite cooling demand coming in lower than 2015 levels. However, power burn and natural gas demand are structurally increasing, which has helped significantly in lowering the year-over-year surplus figures.
As always, if you enjoy our natural gas (NYSEARCA: UNG) daily, please click on the "Follow" button above and read our other energy write-ups. In addition, we also have a premium subscription platform that's tailored to long-term, value-oriented investors. This is where we update readers on our HFI portfolio on a weekly basis and give subscribers insights into how we are currently thinking about the positions.
Disclosure: I/we have no positions in any stocks mentioned, and no plans to initiate any positions within the next 72 hours.
I wrote this article myself, and it expresses my own opinions. I am not receiving compensation for it (other than from Seeking Alpha). I have no business relationship with any company whose stock is mentioned in this article.