The residential solar industry is rapidly transitioning away from lease/PPA products towards loans. Residential lease/PPA products peaked in 2014 at 72% of sales and subsequently declined in 2015 to 62% of sales. Given the current trend, the lease/PPA model is expected to decline even more in the coming years. The industry transition towards residential loans is only natural considering the greater cost savings associated with loans.
This industry shift is clearly bad news for SolarCity (NASDAQ:SCTY) given the company's strength on the third-party ownership front. In fact, SCTY was one of the original companies to popularize the solar lease/PPA model. SolarCity's superior financing capabilities will matter less should the third-party ownership model continue to decline in popularity. Despite the challenges emerging as a result of this industry shift, the company is not in as bad a position as many believe. SolarCity has fully embraced this industry shift by replacing its MyPower loan product with more standard 10- to 20-year loan products.
Long-Term Assumptions No Longer a Major Cause for Concern
The validity of SolarCity's long-term lease/PPA assumptions has long been debated among investors. In fact, the company's retained value metric for its lease/PPA products is still arguably the main point of contention between bulls and bears. As SolarCity is now focusing more heavily on loans, many of the risks associated with the company should lessen. SCTY's lease/PPA business will likely decrease in importance as loans become more popular.
With loan products, SolarCity will not have to worry about renewal risks, obsolescence risks, and default risks. After all, loans will allow customers to own the solar systems, which removes much of the risk on SolarCity's end. In addition, the company will likely be far easier to valuate given the relative financial simplicity of loans. This should in turn help decrease SolarCity's stock volatility. While loans eliminate a whole set of problems for SolarCity, they also present many new challenges for the company.
More Competitive Environment
Residential solar loans should be a far lower margin business for SolarCity as the company will be competing more on price. As it is easier for customers to make price comparisons with simple loan products, SolarCity will likely find itself competing more heavily against all types of installers. Currently, SolarCity's competition is mainly composed of large integrated companies like Vivint Solar (NYSE:VSLR) or Sunrun (NASDAQ:RUN). In addition, SCTY's financing advantage would largely disappear on the loan front as companies do not have to finance enormous sums of money to support the loan model. This stands in sharp contrast to the third-party model, which requires companies to pay all the costs upfront.
Despite the more cutthroat environment of the residential solar loan market, SolarCity should still be able to hold an edge in this arena. For instance, the company has one of the most competitive cost structures in the industry. There are also many advantages that come with scale outside of financing in residential solar. For instance, larger companies like SolarCity are able to buy hardware at cheaper prices. Moreover, SolarCity's brand name should give the company a price premium even on the loan front.
Much of SolarCity's Success Hinges on Its Gigafactory
The ability to mass manufacture modules is another benefit that comes with scale. Unfortunately for investors, SolarCity has yet to demonstrate that it can manufacture cost-effective modules on a truly large scale. In fact, the completion date of the Gigafactory appears to have been pushed back by a few years. However, SolarCity appears to be capable of manufacturing such modules as is evidenced by the production at its pilot plant.
Local residential solar companies, in particular, will have a hard time competing against a module manufacturing SolarCity even on the loan front. If SolarCity is able to manufacture high-efficiency modules at scale as the company had originally intended, the company will have an even bigger cost advantage over its competitors. On the flip side, a failure to produce cost-effective, high-efficiency modules could be catastrophic for the company.
With the residential solar market becoming more competitive than ever, SolarCity likely needs its Gigafactory to be a success in order to thrive in the long run. With the industry transitioning towards loans at a much faster pace than many had anticipated, success on the module manufacturing front is more important than ever. Major solar player SunPower (NASDAQ:SPWR) is already offering a fully-integrated residential solar product, which should put even more pressure on SolarCity.
SolarCity's Gigafactory will be a large part of its success moving forward.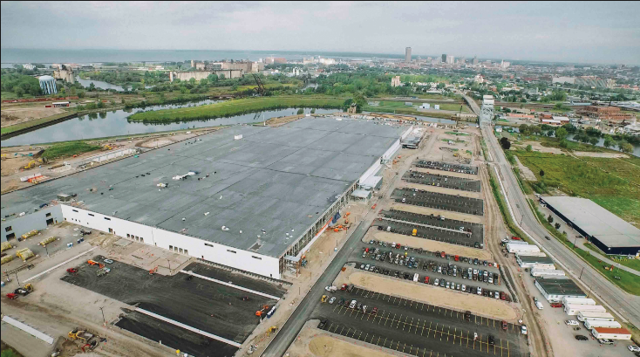 Click to enlarge
Source: Technology Review
Conclusion
While residential solar loans are starting to grow in popularity, the residential solar lease/PPA will likely always have a place in the industry. This means that the industry transition towards loans is not nearly as bad for SolarCity as many are making it out to be. Furthermore, SolarCity's advantages do not completely disappear in the loan market. While there are certainly many risks associated with SCTY, most notably in its manufacturing ambitions, the company is well positioned. SolarCity's increasingly diversified business model, large assets, and growth potential make it undervalued at its current market capitalization of $2.1 billion.
Disclosure: I am/we are long SCTY.
I wrote this article myself, and it expresses my own opinions. I am not receiving compensation for it (other than from Seeking Alpha). I have no business relationship with any company whose stock is mentioned in this article.