This article analyses some of the key facts and trends revealed by 1Q16 results reported by Boardwalk Pipeline Partners, LP (NYSE:BWP).
BWP is a midstream master limited partnership("MLP") that transports, stores, gathers and processes natural gas and natural gas liquids ("NGLs") for its customers. It operate s approximately 14,525 miles of natural gas pipelines, including 435 miles of NGL, olefins and brine pipelines, and offers the most extensive ethylene distribution system in Louisiana. Fixed-fee ship-or-pay contracts account for~90% of revenues, and natural gas producers account for ~50% of revenues. BWP has underground storage caverns with an aggregate working gas capacity of approximately 205 billion cubic feet ("Bcf") and liquids capacity of approximately 24 million barrels. The assets are located near shale gas supply sources with significant reserves (e.g., Barnett, Eagle Ford, Fayetteville, Hayensville, Woodford). Its general partner, Loews Corporation (NYSE:L), is well capitalized and has historically aided in financing acquisitions and projects.
Revenues, operating income, net income and earnings before interest, depreciation & amortization and income tax expenses ("EBITDA") for the 9 most recent quarters are shown below:

Click to enlarge
Table 1: Figures in $ Millions, except % change and per unit amounts. Source: company 10-Q, 10-K, 8-K filings and author estimates.
The trends in operating income and EBITDA per unit appear encouraging. For the past 3 consecutive quarters each metric increased vs. the comparable prior year period.
Operating income in 1Q16 reflects$6.3 million of additional revenues related to settlement of a rate case with the Federal Energy Regulatory Commission (FERC) pursuant to which BWP had, in October 2014, requested an increase in certain tariffs.
Large amounts of contracted transportation capacity expired in 2013, 2014 and 2015. Increased production in the Marcellus and Utica shale formations reduces demand for gas to be transported to the Northeast on BWP's Texas Gas system. Therefore, some of BWP's transportation contracts that expired in 2014 and 2015 were not renewed, while others were renewed at lower rates. Remaining available capacity was marketed and sold on a short-term firm or interruptible basis, which is also at lower rates. Declining basis differentials across BWP's pipeline system was another factor driving down transportation revenues because less value was derived from transporting natural gas from one location to another. But in its recent report, management noted transportation demand has been increasing and growing customer interest (especially from electric utilities) in converting interruptible service to firm service.
Declining basis differentials negatively affected BWP's Parking and Lending ("PAL") and storage operations in 2015. Revenues were lower because less value can be derived from moving natural gas delivery dates between time periods. But conditions improved in 1Q16 and operating revenues increased 13.8% vs. 1Q15. For a brief description of what are firm and interruptible transportation services, as well as PAL see " Glossary of MLP Operational Terms".
Meaningful growth in EBITDA requires taking advantage of market opportunities; these, in turn, require BWP to invest significant amounts in growth projects that will make parts of its system bi-directional and utilize idle pipeline capacity in order to take advantage of an increase in demand to transport gas and NGLs from north to south, instead of south to north. BWP expects approximately $1.6 billion of growth projects to be completed by 2018: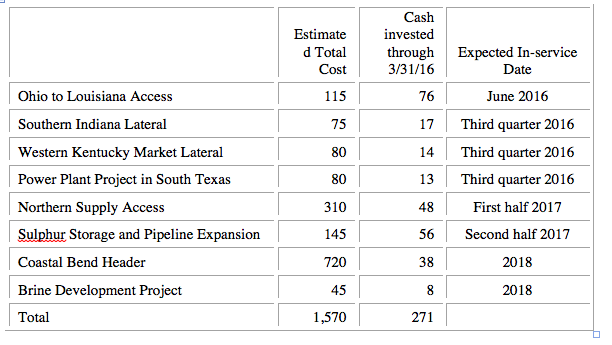 Table 2: Figures in $ Millions, except dates. Source: company 10-Q, 10-K, 8-K filings.
Management has not provided an estimate of the EBITDA that these projects are expected to generate. Using the midpoint of a 7-9x EBITDA multiple projected by other MLPs for their growth projects as an estimate, we can expect about a 25% increase (~$200 million) in EBITDA once the projects are fully operational at planned capacity.
The ratings agencies recently downgraded several of BWP's producer customers. Customers that do not currently have an investment-grade rating represent 17% of revenues. Credit downgrades restrict liquidity and increasing the risk of non-performance by these customers. For example, a customer that had contracted for 100,000 million British thermal units per day (MMBtu/d) of capacity on the Northern Supply Access project filed for bankruptcy protection in early 2016. This customer accounts for ~1/4 of the project's 384,000 MMBtu/d total capacity In April 2016, another customer that had contracted for 30,000 MMBtu/d of capacity on this project defaulted on its obligations to increase its letter of credit. If BWP is unable to remarket the unutilized capacity to other customers on acceptable terms, the scope of the project could be adjusted to accommodate the reduced volume commitment.
Distributable Cash Flow ("DCF") is one of the primary measures typically used by MLPs to evaluate operating results. Because there is no standard definition of DCF, each MLP can derive this metric as it sees fit; and because the definitions used vary considerably, it is exceedingly difficult to compare across entities using this metric. Additionally, because the DCF definitions are usually complex, and because some of the items they typically include are non-sustainable, it is important (albeit quite difficult) to qualitatively assess DCF numbers reported by MLPs.
BWP's definition of DCF and a comparison to definitions used by other MLPs are described in an article titled " Distributable Cash Flow". Applying the method described there, DCF for the quarters and trailing twelve months ("TTM") ending 3/3/16 and 3/31/15 is derived as follows: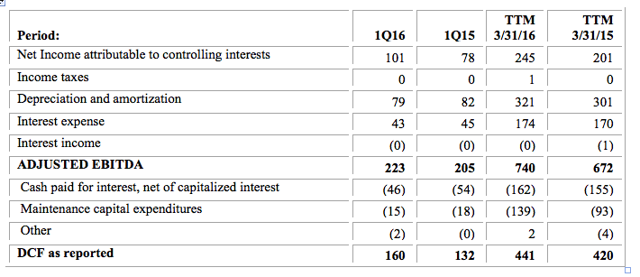 Click to enlarge
Table 3: Figures in $ Millions. Source: company 10-Q, 10-K, 8-K filings and author estimates.
Reported DCF may differ from sustainable DCF for a variety of reasons. These are reviewed in an article titled " Estimating sustainable DCF-why and how". For BWP, the comparison is as follows: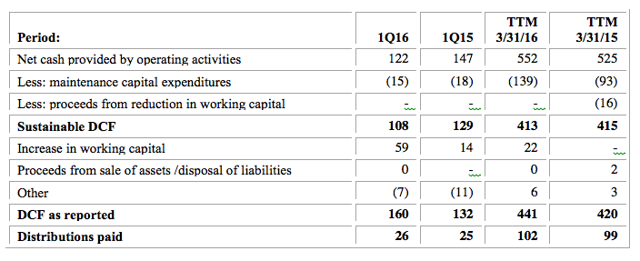 Click to enlarge
Table 4: Figures in $ Millions. Source: company 10-Q, 10-K, 8-K filings and author estimates.
The variance between reported and sustainable DCF results, for the most part, from differing treatments of working capital cash flows. Over reasonably lengthy measurement periods, working capital is not typically a huge consumer of funds for MLPs. But management's reported DCF numbers for the quarter and TTM ended 3/31/16 is derived after adding back funds invested in working capital amounting to $59 million and $22 million, respectively. My sustainable DCF calculation deducts cash used for working capital because cash consumed is not available to be distributed. However, despite the apparent contradiction in the methodology, I ignore cash generated by liquidating working capital because I do not consider it a sustainable source.
On a TTM basis, DCF coverage exceeds 4x. This is largely due to the distribution being cut to approximately 18% of its prior level on February 10, 2014 (from $0.5325 to $0.10). At the currently low quarterly distribution level of $0.10 per unit, distribution coverage becomes less meaningful. Lower coverage ratios can be expected in the 2nd and 3rd calendar quarters due to seasonal factors, but the ratios will still be very high relative to most MLPs. The simplified cash flow statement in Table 5 shows the substantial amounts of excess cash being generated by BWP after instituting the distribution cut: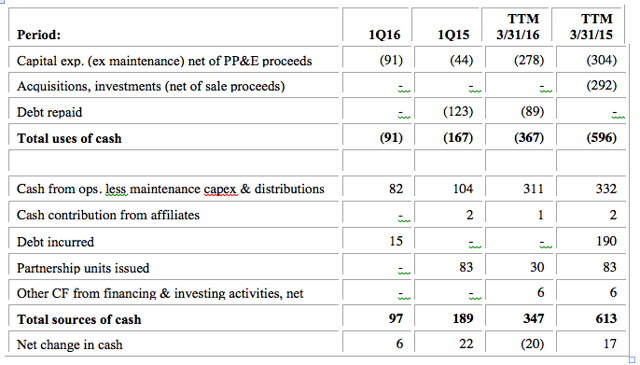 Click to enlarge
Table 5: Figures in $ Millions. Source: company 10-Q, 10-K, 8-K filings and author estimates.
In the TTM period ended 3/31/16 $311 million of cash flow generated by operations was available to reduce BWP's reliance on issuance of debt and/or equity to fund growth capital expenditures. Management plans to fund these projects without having to issue equity.
The excess cash from operations has enabled BWP to modestly reduce its debt level (from $3,658 million on 3/31/15 to $3,475 million on 3/31/16). But the ratio of long-term debt to EBITDA remains elevated and stands at 4.7x and is expected to increase as additional amounts required to complete expansion projects are borrowed. The ratio was 5.3x a year ago, so some progress has been made. The current yield is substantially below MLP peers and likely to remain so given the low likelihood that distribution growth will be resumed in the near future. But in the second half of 2017, once the current slate of growth projects is closer to being fully operational at planned capacity, distributions may be increased.
On balance, I believe BWP's value proposition is not compelling.
Disclosure: I/we have no positions in any stocks mentioned, and no plans to initiate any positions within the next 72 hours.
I wrote this article myself, and it expresses my own opinions. I am not receiving compensation for it (other than from Seeking Alpha). I have no business relationship with any company whose stock is mentioned in this article.