Earnings Reporter
My goal in this segment is to unlock both short-term and long-term growth in stocks that have just reported earnings. These stocks are specifically subject to enormous volatility, as earnings reports are seen (and rightfully so) as a key indicator of a company's progression. What I offer you is an analysis of the economic well-being of the company, and whether I think the stock is a Buy, Hold, or Sell for either the short term or long term. If you are interested in unlocking more immediate growth opportunities, give me a follow! After an extensive look at numerous sources and experts' analysis of The Kroger Company (NYSE:KR), I have ranked the company as a BUY for the Short term.
Since My Last Kroger Piece
The last time I wrote about Kroger, rates hadn't been raised and the term "Brexit" wasn't on anyone's radar. What's interesting is that my last piece was also an analysis of Kroger's Q1 performance, and had identical trading situations. The company beat on earnings, the stock price popped initially, then regressed. Look at just what Kroger has done since: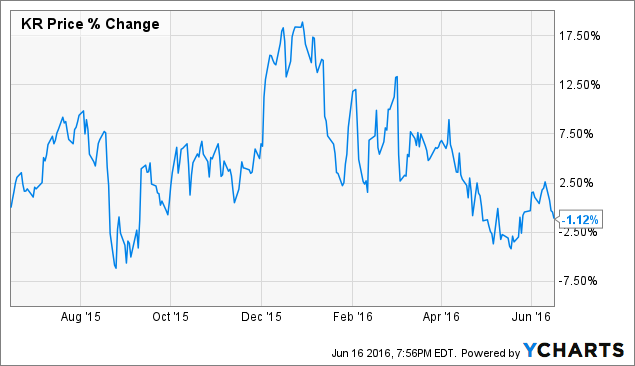 KR data by YCharts
Damn. That is absolutely nothing to be proud of for a 1YR performance. Why do I think Kroger is now such a more healthy investment? Firstly, it's worth noting a specific piece of advice I offered in that Earnings Reporter article. "As the stock currently stands, Kroger is undervalued at least in the short-term. Expect near-term volatility that will boost the price to a proper level."
Many times, I think that the immediate sentiment given towards a company is mistaken. My analysis of reports help prove the case that trading was irrational following an earnings release. If you capitalize on it, you could have made a hefty profit in just one single month. While I am not certain Kroger will react exactly the same this time around, I think that this report offers something to excited about, and warrants a better reaction that the market gave.
Let's dive into everything earnings.
Leading Up To Earnings
Before Kroger reported earnings, they received some bearish attention in the form of a downgrade by Wolfe Research. They were pushed to Peer Perform rating in anticipation of a poor earnings report, and the report claimed that Kroger's industry (grocery) was too hectic to warrant a secure investment. What did Kroger do in response? They shrugged it off and beat on bottom line expectations for the 10th straight quarter.
First Quarter Earnings
Kroger reported an Earnings Per Share figure of $.70, which only surpassed analyst expectations by $.01. Why would I then be so excited over this? After all, Kroger did in fact miss on top line expectations (only by $280 Million). It comes down to increase operating efficiency.
Kroger boosted its operating margin by 20 basis points to a figure of 3.5%. While this may not seem all that flashy, it tells a tale. Kroger has been working tirelessly on increasing operating efficiency. Margins are not generally the greatest in Kroger's industry, and this shows commitment to be the best they can be. In addition to the margin improvement, Kroger managed to earn over 14% return on invested capital (based on the rolling four quarters). A key point in Joel Greenblatt's "The Little Book That Beats the Market" is that a company that generates strong returns on invested capital is running well. Identical sales were up 2.4%, and the company even anticipates stronger numbers for all of 2016 (2.5%-3.5%). This was really a big quarter for Kroger, and CEO Rodney McMullen had this to say:
We are very pleased with a solid quarter during which we continued to strengthen our connection with customers and expand our ClickList offering to more customers in more markets. Fifty consecutive quarters of positive identical supermarket sales growth, excluding fuel, is extraordinary.
Wow. FIFTY quarters of positive identical supermarket sales growth. Not only does Kroger retain its customers; it pulls even more into its arms. And hell, even with the revenue miss, it still beat last year's figure by 4.7%, nothing to laugh at.
Another very interesting piece was this: "The company continues to expect capital investments excluding mergers, acquisitions and purchases of leased facilities, to be in the $4.1 to $4.4 billion range for the year."
With an inclination that dividends will increase in the future, Kroger is really boasting about their performance, and is clearly confident in its business structure. They both successfully invest excessive capital, while returning some to investors in the form of dividends.
Conclusion
I'm real excited this time around for Kroger. They continued buying back shares, successfully earning returns on invested capital, and continued their streak of bottom-line beats. The stock should not have dipped into the red to end trading on July 16, and should offer a lucrative short-term (at least) buying opportunity for investors willing to take the leap.
Disclosure: I/we have no positions in any stocks mentioned, and no plans to initiate any positions within the next 72 hours.
I wrote this article myself, and it expresses my own opinions. I am not receiving compensation for it (other than from Seeking Alpha). I have no business relationship with any company whose stock is mentioned in this article.