The commercial aerospace industry is the story of Airbus (EPA: AIR) and Boeing (NYSE: BA) and how they compete vigorously for every order. But that is only part of the story. Customers only take an offer seriously when they are confident in the vendor.
On numerous occasions we have seen Airbus COO John Leahy show off a chart much like the one you see here. He is justifiably proud of the chart. Airbus has been a more reliable vendor in production terms.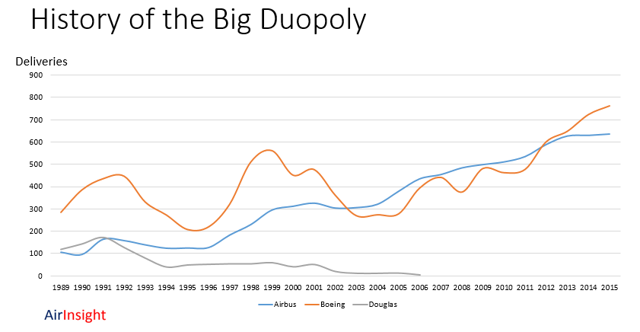 Click to enlarge
Despite being (mostly) being based in Europe, Airbus has managed to have a more stable delivery curve. French unions are legendary for their strikes. But Airbus has managed to weather this potential labor challenge better than Boeing. Boeing has had its share of strikes. Boeing has also gone through periods of layoffs and this has disrupted the labor force.
Producing technical goods like aircraft requires a highly skilled labor force. One would think that holding on to such a skill pool is important. Airbus appears to have managed this process better than Boeing.
Airbus has had to be clever with its labor because the company's production costs are mainly in euros, while its sales are in US dollars. So not only did the firm have to produce at quality and quantity levels established by Boeing, it had to match quality.
The demise of Douglas is symptomatic of the rest of the industry supply chain. There are fewer and bigger firms left to supply Airbus, and Boeing, as well as smaller firms like Bombardier (OTCQX:BDRBF) and Embraer (NYSE: ERJ). A key example of this is United Technologies (NYSE: UTX) whose divisions supply everything from engines to electrical systems. UTX is present on every new aircraft program.
The big duopoly that pits Airbus and Boeing against each other creates tough conditions for the two competitors and the entire supply chain. As we heard last week at the UTX Media Day, "we see each other all the time because we are all shopping at the same store".
This statement is very insightful. With industry consolidation driven by everyone seeking economies of scale, the balance of power starts to shift. A company like UTX does not need to fear Airbus or Boeing. Their superb spread of technologies means Airbus and Boeing need them, even if there is competition for every individual item UTX sells.
As we have seen with Zodiac (EPA: ZC) and its slow deliveries to Airbus, a weak vendor in the supply chain disrupts deliveries. This annoys customers, whose entire business is based on schedules. If you disrupt a schedule, the airline's business is threatened.
But with a shrinking pool of suppliers to choose from, Airbus and Boeing need to select the strongest vendors who can take the pressure to increase production rates and deliver on time, every time. This means the strongest vendors get even stronger. And Airbus and Boeing cannot push them around quite as much as they used to.
This is a subtle, but crucially important, matter to understand. Look at the supply chain and find the diamonds.
Disclosure: I/we have no positions in any stocks mentioned, and no plans to initiate any positions within the next 72 hours.
I wrote this article myself, and it expresses my own opinions. I am not receiving compensation for it (other than from Seeking Alpha). I have no business relationship with any company whose stock is mentioned in this article.
Editor's Note: This article discusses one or more securities that do not trade on a major U.S. exchange. Please be aware of the risks associated with these stocks.