Good morning, and welcome to the June 17 edition of Seeking Alpha's Eye on Tech newsletter.
Oracle ticks higher after mixed results, strong cloud revenue growth, and solid sales guidance - Oracle's (NASDAQ:ORCL) SaaS/PaaS (cloud app and app platform) revenue rose 66% Y/Y in FQ4, an acceleration from FQ3's 57% growth. That allowed total revenue to only be down 1% Y/Y (beating consensus estimates) in spite of a 12% drop in traditional software license revenue (still ~4x as large as SaaS/PaaS revenue) and a 9% drop in hardware revenue. 2-5% constant currency revenue growth is expected in FQ1, with only a minimal forex hit.
On the other hand, the mix shift towards cloud revenue is weighing on EPS: Saas/PaaS gross margin was 56% exiting FY16, up from 51% a quarter earlier, but still easily below what Oracle normally gets for on-premise license and update/support sales. The company promises SaaS/PaaS GM will be much higher in a year, and eventually reach 80%. Meanwhile, strong FY16 bookings, acquisitions, and healthy uptake for a self-serve option for subscribing to cloud apps are expected to help drive 65%+ SaaS/PaaS growth in FY17. Not surprisingly, co-CEO Safra Catz suggested Oracle is open to more M&A.
Though hardly a growth stock, Oracle is doing enough right now to offset on-premise revenue declines with a cloud ramp, in spite of stiff competition and the fact the cloud shift stretches out revenue recognition. At the same time, it's worth remembering Oracle is two weeks removed from selling off due to a lawsuit from a whistleblower alleging she was pressured to make cloud sales look better than they were.
Facebook overhauls Messenger's interface, reportedly wants to join T-Mobile's Binge On video service - A day after announcing Messenger's Android app would support SMS, Facebook (NASDAQ:FB) revealed it's ditching the Home tab's standard conversation thread view (a staple of many messaging apps) in favor of a view showing threads, frequently messaged contacts, users currently online, and messages awaiting a reply, and also revamping Messenger's search feature. One more step in the app's evolution from a mere chat tool to a communications and content hub - one that's about to be finally monetized.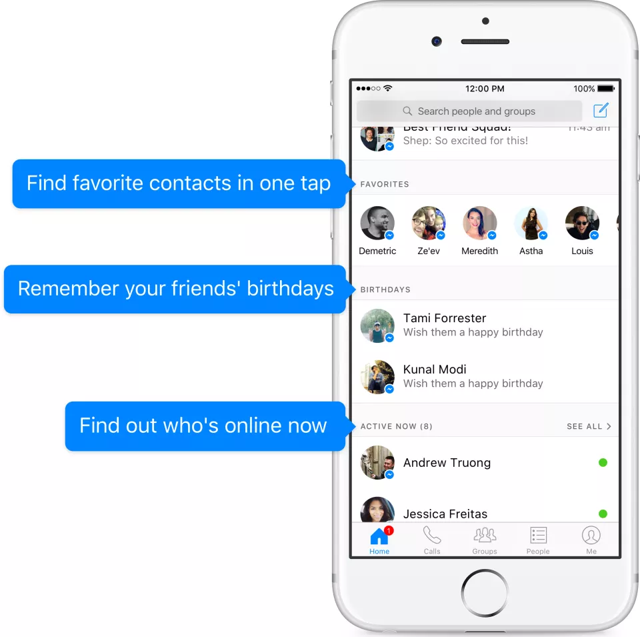 Click to enlarge
Facebook's new Messenger interface
Separately, Re/code reports Facebook is in talks with T-Mobile (NASDAQ:TMUS) to have its video services support T-Mobile's Binge On program (already supported by Netflix (NASDAQ:NFLX), YouTube (GOOG, GOOGL), and many others), which lets users stream DVD-quality video without having it count against their data caps. With users averaging 50 minutes/day between Facebook, Messenger, and Instagram, and Facebook now seeing 8B video views/day, it's safe to assume Facebook autoplay videos are a major data hog for many T-Mobile subs.
IBM's Weather Co. unit uses AI to provide "hyper-local" forecasts, teams with Gogo to warn airplanes about turbulence - Big Blue is starting to show how it can use The Weather Co.'s digital assets (acquired last fall, reportedly for $2B+) to do a lot more than provide 10-day forecasts. The company is using a mixture of AI and weather data to deliver "hyper-local" forecasts involving a 0.2-1.2 mile resolution for businesses - retailers, insurance firms, and utilities are given as examples - looking to gauge the impact of weather changes on their operations. And it's working with in-flight Wi-Fi provider Gogo (NASDAQ:GOGO) to use its turbulence-detection algorithm on servers within Gogo-enabled planes to crowd-source turbulence data and share it with pilots.
Also: IBM Corp. (NYSE:IBM) is partnering with startup Local Motors to provide speech-to-text, natural language processing, entity extraction, and text-to-speech APIs for Olli, an electric minibus that can carry 12 people. The deal could be a sign of things to come.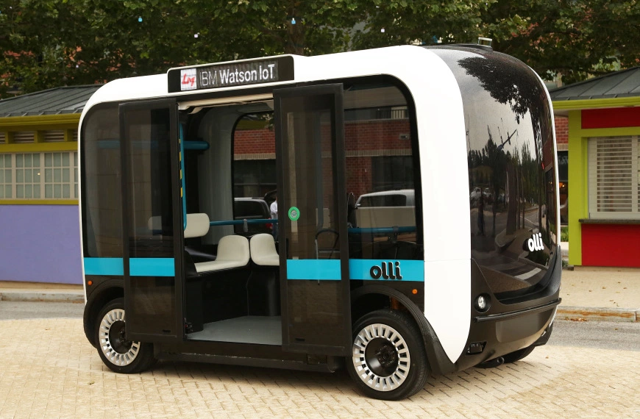 Click to enlarge
Local Motors' Olli minibus. Leverages IBM's Watson AI platform.
Microsoft buys startup Wand Labs to further its messaging/chatbot efforts - Microsoft's (NASDAQ:MSFT) second acquisition of the week is a little smaller than its first, but is also tied to its cloud ambitions. Wand Labs was working on iOS/Android messaging apps that aimed to "tear down app walls, integrate your services in chat, and make them work together so you can do more with less taps." Examples include sharing a Spotify playlist that can be used to play music via other apps, and letting friends gain temporary access to a Wi-Fi network, Nest thermostat, or Twitter account without sharing a password.
Microsoft, just a few months removed from unveiling its Bot Framework for creating AI-powered chatbot services within third-party apps, proclaims Wand's "expertise around semantic ontologies, services mapping, third-party developer integration and conversational interfaces make them a great fit to join the Bing engineering and platform team, especially with the work we're doing in the area of intelligent agents and chat bots." Wand and the Bot Framework also fit with Microsoft's attempts to provide a rich layer of software tools and cloud services for iOS and Android developers to underpin their apps as the company effectively cedes the mobile OS space to Apple (NASDAQ:AAPL) and Google.
Samsung is buying cloud infrastructure service provider Joyent - This acquisition is somewhat off the beaten path for Samsung (OTC:SSNLF, OTC:SSNNF), best known for its consumer electronics hardware, displays, and chips. Joyent provides a cloud computing service known as Triton for running Docker containers - no-frills alternatives to server virtual machines that are increasingly used to run individual apps and services - and a cloud object storage known as Manta that runs on open-source software.
There are some tie-ins with Samsung's consumer hardware ops: Samsung plans to migrate its cloud services to Joyent's platform, and to have Joyent act as a back end for its IoT solutions. Joyent has received high marks among open-source developers for its services, but (even with Samsung now acting as a big client) remains at a major scale and feature disadvantage relative to public cloud giants such as Amazon (NASDAQ:AMZN), Microsoft, IBM, and Google.
Finisar jumps after beating estimates and issuing solid guidance; peers also rise - Shares finished after-hours trading up 10.2%. Finisar's (NASDAQ:FNSR) FQ4 report is the latest in a string of stellar 2016 reports from optical component firms - Oclaro (NASDAQ:OCLR), Fabrinet (NYSE:FN), and NeoPhotonics (NYSE:NPTN) have also put up strong numbers - as booming Chinese carrier investments and booming demand for 100G optical components (partly from web/cloud service providers) offset soft demand for older enterprise and telecom products.
On its earnings call, Finisar mentioned Chinese long-haul wireless buildouts remain a telecom growth driver, and that its datacom business is being lifted by strong 100G Ethernet transceiver sales. The company also reported seeing capacity constraints it's trying to address. With the likes of Google and Facebook expected to strongly grow their capex this year, datacom demand could remain healthy for a while. Oclaro, NeoPhotonics, and Lumentum (NASDAQ:LITE) followed Finisar higher after-hours.
Bloomberg: Salesforce bid for LinkedIn prior to the Microsoft deal - Bloomberg's report appears to confirm speculation (stemming from the near-50% premium LinkedIn wound up getting) that Microsoft had a rival suitor for LinkedIn (NYSE:LNKD). With LinkedIn's $26.2B sale price nearly equal to half of Salesforce's (NYSE:CRM) current $55.3B market cap, a Salesforce/LinkedIn deal would've required a large stock component. By contrast, the Microsoft deal is all-cash.
Salesforce, which Microsoft reportedly tried to acquire last year, could've added LinkedIn's recruiting/jobs products and Sales Navigator social selling tool to its large stable of cloud CRM software offerings, and also integrated LinkedIn user data with its existing apps. Now, Microsoft plans to reap similar synergies for its Dynamics CRM software line as it squares off against Salesforce, Oracle, SAP, and others.
China is spending heavily on chip wafer fabs - Chip equipment trade group SEMI expects 10 of the 19 chip wafer manufacturing plants to start construction in 2016 and 2017 to be based in China as Beijing backs an aggressive push (aided by M&A) to turn the Middle Kingdom into a semiconductor powerhouse and lower the dependence of local manufacturers on foreign chip suppliers.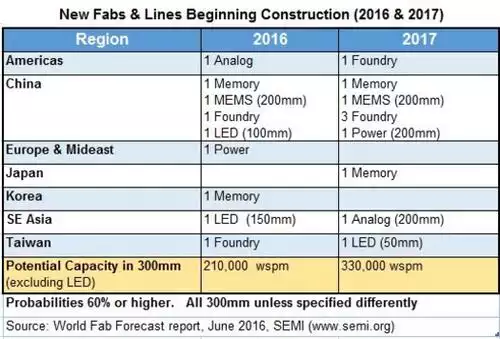 This effort bodes well for chip equipment makers, who have been hurt by uneven capex from traditional Big 3 clients Intel (NASDAQ:INTC), TSMC (NYSE:TSM), and Samsung - Intel, in particular, has been spending cautiously as it deals with weak PC sales and extends the amount of time it takes between launching new manufacturing processes. Applied Materials (NASDAQ:AMAT) posted strong numbers last month, and takes many chip equipment peers higher with it.
Uber insists it's profitable in hundreds of cities globally - CEO Travis Kalanick claims Uber (Private:UBER) is profitable in North America, EMEA, and Australia, not counting interest or tax expenses. The remarks come with Uber still raising funds at a breakneck pace, in large part to finance a no-holds-barred battle with Chinese ride-sharing leader Didi Chuxing (Private:DIDI), which just raised ~$7B itself. They also come with Uber hungry to justify the $62.5B valuation attached to its most recent funding.
With Uber effectively acting as the tech infrastructure for a transportation platform now handling over 2M daily rides, it's not hard to see how the company could be profitable in many developed markets, even with Lyft (Private:LYFT) and other rivals pricing aggressively.
Twitter will let advertisers target users based on emojis - While Twitter (NYSE:TWTR) has been facing ad execution issues for a while, the company remains willing to think outside the box as it rolls out one ad product after another. Its latest offering lets marketers target users who have written or engaged with tweets featuring emojis - one example given is a pizza shop targeting a user who tweeted a pizza emoji.
The option follows the launch of an ad format that can (with a user's consent) leverage user tweets. It has a bit in common with efforts by Facebook advertisers to use Facebook's new Reactions buttons/emojis to get a better read on how users feel about ads and other content, and to deliver ads accordingly. But in many cases, Twitter's solution will probably be less precise in gauging sentiment. After all, just because a user tweeted an emoji of a pizza, a cake, or a car doesn't mean he/she is looking to buy one.
IDC: Wearables shipments will rise 29% this year to 101.9M - That's decent growth, but still a big slowdown from the estimated 171.6% growth wearables shipments recorded in 2015. IDC also forecasts a 20.3% shipment CAGR from 2016 to 2020, but a long-term forecast like that needs to be taken with a spoonful of salt. Though now sizable, the wearables market isn't quite living up to hopes it would be the next massive consumer electronics growth opportunity as smartphone sales growth falls to the single digits and tablet sales keep declining. IDC's 2016 smartphone shipment estimate (1.48B) is still over 14x its wearables shipment estimate.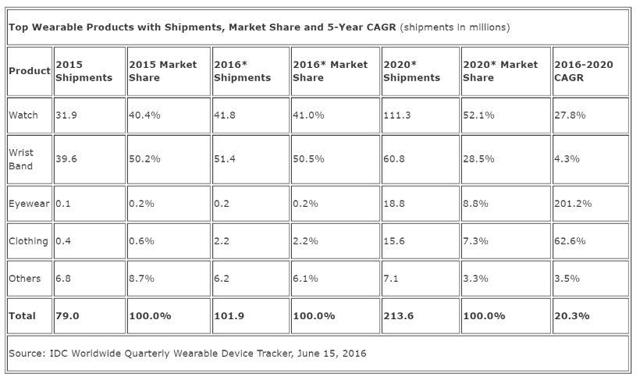 Click to enlarge
Within the wearables market, smartwatch sales are expected to rise 31% to 41.8M, with Apple still leading the way. Fitness band sales, a field where Fitbit (NYSE:FIT) leads and Xiaomi (Private:XI) is a strong #2, are expected to grow 30% to 51.4M. Products such as smart eyewear and clothing are expected to remain niche items this year, before seeing stronger growth in later years as new offerings arrive.
Disclosure: I/we have no positions in any stocks mentioned, and no plans to initiate any positions within the next 72 hours.
I wrote this article myself, and it expresses my own opinions. I am not receiving compensation for it. I have no business relationship with any company whose stock is mentioned in this article.
Editor's Note: This article discusses one or more securities that do not trade on a major U.S. exchange. Please be aware of the risks associated with these stocks.