Introduction
Browsing the stock charts and screens in this overheated market, I stumbled upon an interesting sector of the market - commodity food producers.
I examined the US leader Tyson (NYSE:TSN) a few months ago but it had just had a monster run off a good quarter, and I dismissed it as too expensive and probably near its peak due to favorable commodity prices.
Today, we take a look at its smaller and more focused cousin, Pilgrim's Pride (NYSE:PPC).
Pilgrim's is the US' second-largest integrated chicken producer with some operations in Mexico as well. It is one of the largest chicken producers in Mexico after obtaining Tyson's operations there recently.
Results
Pilgrim's has been a story about cost reductions and efficiencies. As you will see below, the company has drastically improved gross margins over the years.
The company went from a gross margin of .99% in 2008 to a strong 17.1% margin in 2015.
These cost savings and improving margins have been mostly due to rightsizing the employee count, technology improvements and investments, and closing or mothballing underperforming or old plants and facilities. The company has closed over 15 plants or other facilities since 2008.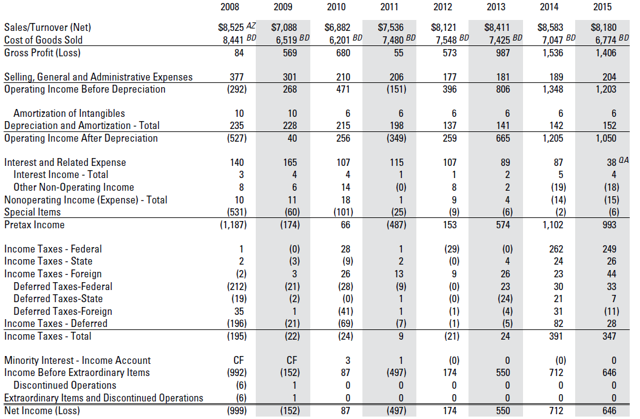 Click to enlarge
Other highlights include an obvious improvement in net income. This is a natural result of the improving margins.
The revenue line may concern some investors but one has to remember that many of the company's products are in essence commodities themselves. This does not make a chicken producer a bad investment because of lack of pricing power, though, as there are many examples of commodity companies being great long-term investments such as the integrated oils.
And to be fair, Pilgrim's has probably been right to focus on other areas than the top line. Once it has a strong operation it can look for accretive opportunities or investments to make to resume growing, but that would be a foolish course of action should the business be in rough shape and behind the times in terms of technology and other key areas.
Interest expense has also fallen by 72%, something I love to see. We will talk more about debt later but if you have read any of my previous articles you will know I focus on debt, sometimes too much, because I am concerned that prolonged low interest rates and wasted money on buybacks could come to a head eventually.
Another side to the story is that commodity prices have been favorable of late for the company, but over the time period we are examining it has moved all over the place.
The company's primary commodity input costs are corn and soybeans which go into its chicken feed.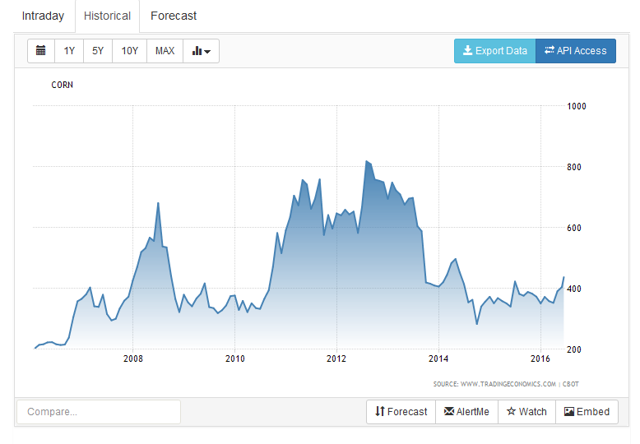 Click to enlarge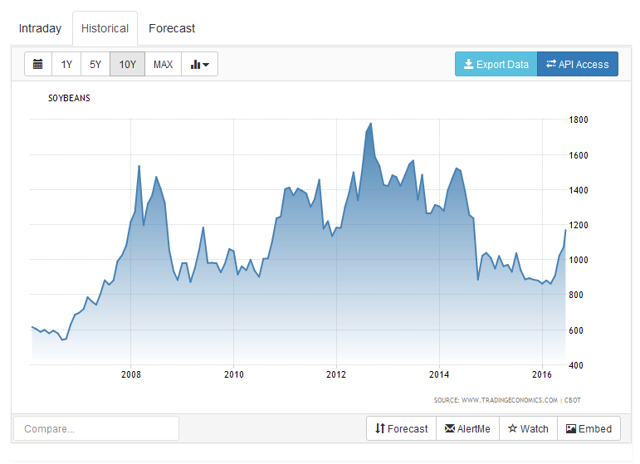 Click to enlarge
Operational improvements aside, the company is still vulnerable to its dual commodity nature. If chicken prices move down as feed prices move up, it can hurt the company's results.
Looking back to its 2011 report in which the company posted losses for the year, it cites oversupply of chicken and weak chicken prices that do not make up for the high cost of feed which had risen since 2010.

Click to enlarge
The US and the world consume a lot of chicken but that does not matter if the company can't do it profitably and we are invested in the company. I am of the opinion that this reality should make the shares of PPC perpetually discounted to the general market and more stable firms with pricing power. We will come back to that opinion when we look at valuation.
Balance Sheet
I consider Pilgrim's balance sheet to be okay. The company issued a special dividend the last two years from retained earnings, which if it had not done would have made things look really excellent.
At the end of 2015, the current ratio was 2.06. A very strong number.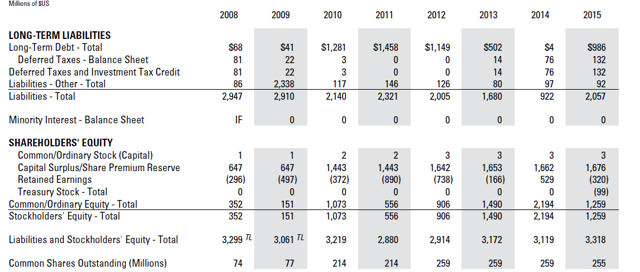 Click to enlarge
Debt to equity rose from 42% to 163%, again largely because of the special dividend. I like that the company is rewarding shareholders and abnormally good results because of low feed prices are a great reason for it, but I can't help but think it should keep that money on the books.
The company does not have a sterling 100-year operating history and I wouldn't mind a large cash buffer due to the swingy nature of the firm and its costs.
Valuation
Pilgrim's Pride trades at 11.6 times forward earnings, price to sales of .79 and 8.82 times trailing cash flow.
Tyson, Pilgrim's primary competitor and easiest comparison, trades at 13.25 times forward earnings, price to sales of .61, and price times trailing cash flow of 10.15.
It should be noted that Tyson does more than just chicken and processes pork, beef and other food products but chicken is by far its largest revenue segment.
Dividends
Pilgrim's Pride does not appear to have a regular dividend policy and a quick glance at your favorite local stock portal may mislead you.
The company has issued two monster special dividends the last two years of $2.75 and $5.77, respectively.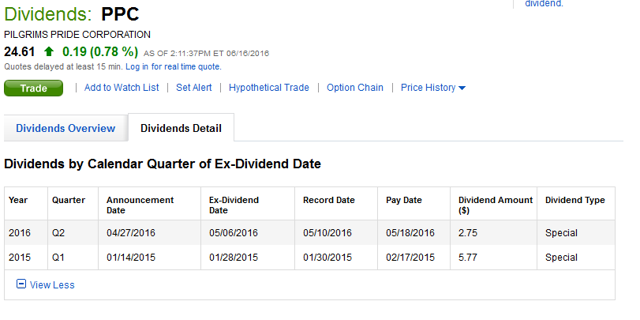 Click to enlarge
Conservative investors might have liked to see these dividends be smaller and for the company to save some cash when favorable feed prices turn around, but the company must feel it has sufficient liquidity for all operating environments.
I would not expect these types of payouts to continue but they are a possibility if the company continues to receive favorable tailwinds from commodity prices, or if chicken prices were to spike due to disease outbreak in beef or pork or some other event.
Conclusion
I like the idea of owning part of a chicken producer as it is a product that will continue to be in demand for generations to come. However, the fact that the company is vulnerable to changes in both chicken prices and the commodity prices of corn and soybean to make up its feed worries me.
That kind of dual exposure to something that is outside of your control does not bode well for a stable and predictable business environment.
Even though the stock is discounted to the overall market and may be cheaper than Tyson in some aspects, I am still not very interested in the sector overall and would prefer to pay up for something with more pricing power, less capital intensiveness and more predictable returns.
Disclosure: I/we have no positions in any stocks mentioned, and no plans to initiate any positions within the next 72 hours.
I wrote this article myself, and it expresses my own opinions. I am not receiving compensation for it (other than from Seeking Alpha). I have no business relationship with any company whose stock is mentioned in this article.