Investing in REITs is not always an easy task. While we believe that REITs add both stability and yield to a portfolio, it is not always that simple or that restful. One example of this has been CorEnergy Infrastructure Trust (NYSE:CORR). Boy, it has been a wild ride.
Back in December 2015, we opined:
It is highly possible that my worst REIT pick in 2015 could become my best REIT pick in 2016. For now, I'm going to stay in the game, while making sure that I maintain adequate diversification and avoid the temptation of increasing exposure in a highly volatile security.
And since then, shares have turned in a staggering performance: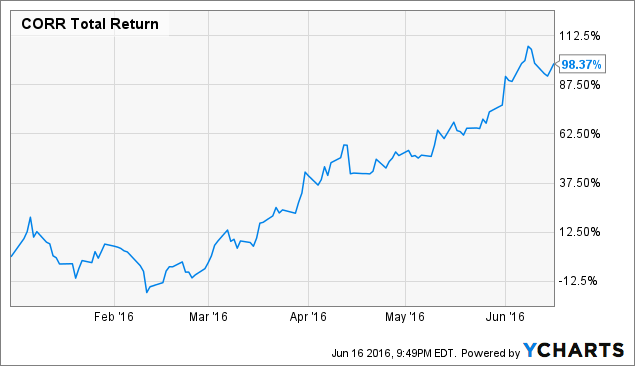 Then again, on April 14th, after a decent increase in the shares, we stated:
Looking at our expected outcome, we reiterate our hold rating on the shares, but are beginning to feel that shares are somewhat stretched at these levels. For investors who wish to remain involved in the name, but want to hedge against negative outcomes, we recommend trading up the capital structure and swapping into the preferred stock and into the preferred stock (also an iREIT preferred portfolio position). This gives an investor priority claim on dividends, meaning the preferred is paid before the common and the common gets cut before the preferred is impacted.
At that time, the shares were at $22.03 (currently $26.95) and the preferred shares were at $21.50 (currently $22.67). Since that time, shares have also increased nearly 8x the amount of the broader REIT market: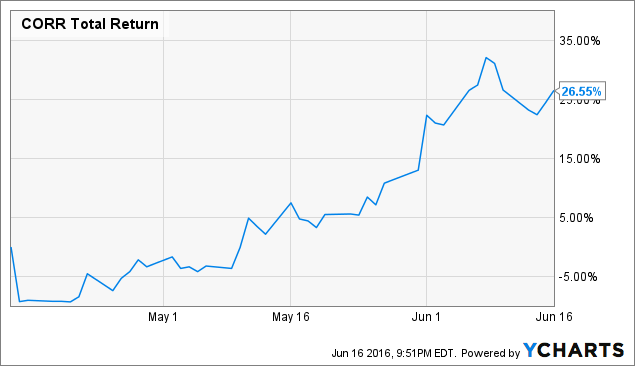 As of 6/16/16, there are nearly 1m shares short, or 8.36% of the float (for a days to cover ratio of 5.8). It is quite possible that, while higher, the ride isn't over.
Recently, the company released a slide deck that was used for REITWeek. We thought it might be helpful to publish an update with some of the key points of the slide deck.
Firstly, while there hasn't been any news on either of the tenant bankruptcies, the company has put together the economics underlying the assets and their importance to the tenants. As the following table shows, the Pinedale LGS assets (UPL) account for 93% of UPL's proved and probable reserves.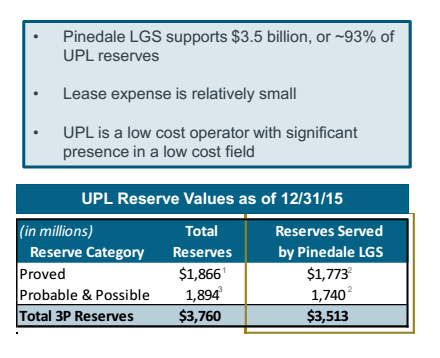 The grand Isle Gathering system (EXXI) has similarly compelling economics and accounts for approximately 40% of EXXI's reserves: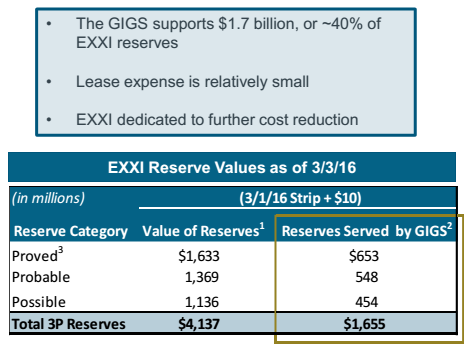 CORR also shows how its financials (currently) comfortably cover the dividend on this high yielder:
Importantly, capitalization is conservative, which is necessary to support financial flexibility:

Click to enlarge
The primary reason for our caution at current prices is that the UPL and EXXI bankruptcies are still early in the bankruptcy process as the following chart (from CORR's deck) shows: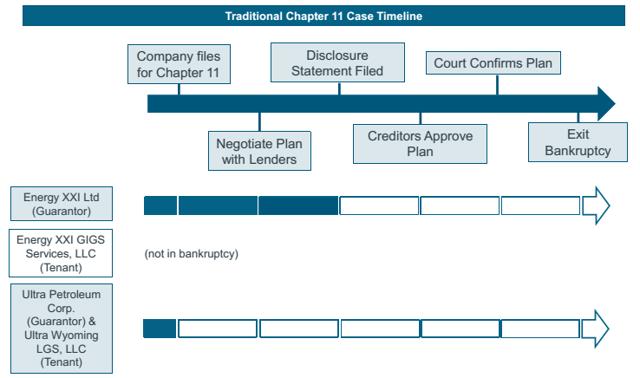 Click to enlarge
While shares are somewhat lofty, we continue to believe the preferred shares are attractive. The following table shows the preferred shares versus other preferreds within the triple net space and other "troubled" REITs.
Details:

Click to enlarge
Pricing:

Click to enlarge
As the following chart shows, since January/February of this year, the price of both the common and preferred shares has increased significantly: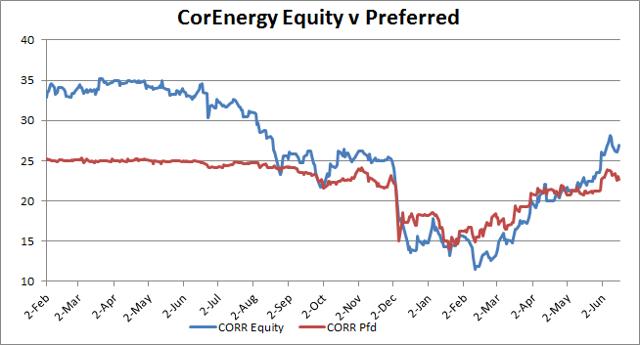 Click to enlarge
Looking further at the preferred shares versus peers (from the earlier comparison table), we see that the "higher beta" (code for troubled) REIT preferred shares have outperformed: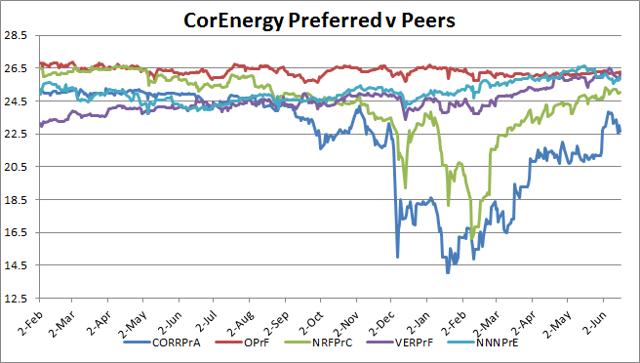 Click to enlarge
As one might expect, the common (higher risk) shares have a higher yield than the preferred shares given the unknown outcome of the UPL and EXXI bankruptcies: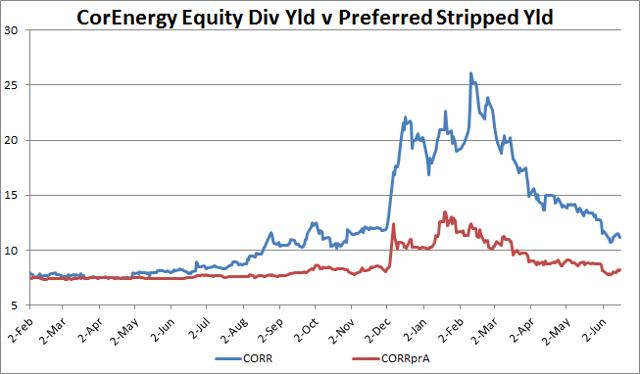 Click to enlarge
Bottom Line: At over $25 and without further clarification on the UPL and EXXI bankruptcies, we have a hard time moving beyond "hold" on the common shares (Rubicon has a $23 stop on his shares) and are somewhat cautious on the preferred shares. This is not because we believe that the REIT will not emerge from these troubling times, but rather we are cautious that negative news could surface and lower the price of the common and preferred shares.
Author's Note: Brad Thomas is a Wall Street writer and that means that he is not always right with his predictions or recommendations. That also applies to his grammar. Please excuse any typos, and I assure you that he will do his best to correct any errors if they are overlooked.
Finally, this article is free, and the sole purpose for writing it is to assist with research (Thomas is the editor of a newsletter, Forbes Real Estate Investor), while also providing a forum for second-level thinking. If you have not followed him, please take 5 seconds and click his name above (top of the page).
Source: CORR Investor Presentation.
Disclaimer: This article is intended to provide information to interested parties. As I have no knowledge of individual investor circumstances, goals, and/or portfolio concentration or diversification, readers are expected to complete their own due diligence before purchasing any stocks mentioned or recommended.
Disclosure: I am/we are long O, DLR, VTR, HTA , STAG, GPT, ROIC, HCN, OHI, LXP, KIM, WPC, DOC, EXR, MYCC, TCO, SKT, UBA, STWD, CONE, BRX, CLDT, HST, APTS, FPI, CORR, NHI, CCP, CTRE, WPG, KRG, SNR, LADR, PEB, BXMT, IRM.
I wrote this article myself, and it expresses my own opinions. I am not receiving compensation for it (other than from Seeking Alpha). I have no business relationship with any company whose stock is mentioned in this article.