Before you put capital into any equity investment, answer these questions:
A. At what price do you expect to sell the security?
B. How likely is that target to be reached in the foreseeable (next 3 months) future?
C. On the way to getting there, what is the worst price drawdown experience likely?
D. If your target price is not reached in 3 months, what size payoff is likely?
E. Are your expectations guided by forecasts of experienced market professionals?
F. Over what period of time has the pro been making forecasts on this security?
G. In that time period how many forecasts have been made?
H. How many of them have the same, or similar, upside-to-downside proportions?
I. Do the pro's forecast results support your expectations answers in A. to D.?
J. Have you compared this investment candidate's answers to those of all other equities in your portfolio?
A current real-life illustration of such a Candidate's answers
Figure 1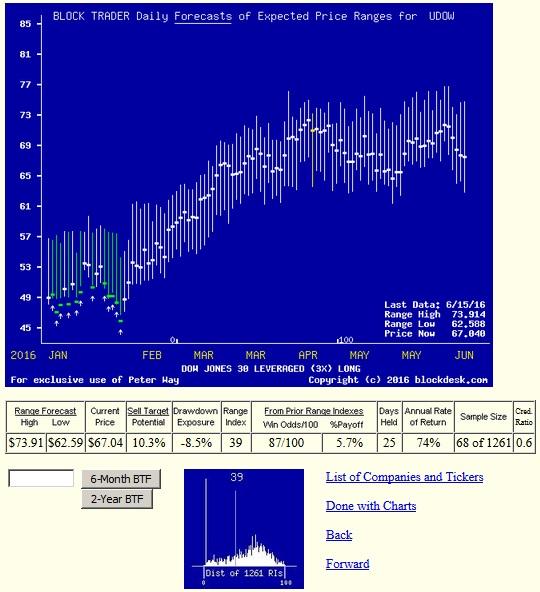 (used with permission)
UDOW answers:
A.$73.91, up +10% from now
B. maybe 7 out of every 8 times (87 /100)
C. -8% to -9%
D. a gain of 5 ½% to 6% , but in perhaps as quickly as 5 weeks (25 market days)
E. yes, blocktrader forecasts from blockdesk.com
F. over 5 years
G. every market day, 1261 times
H. 68 prior forecasts had Range Indexes of ~39, averaging some 13 a year.
I. Yes
J. I'm about to do that now. . .
Figure 2

Click to enlarge
Here are comparisons for our population of ~2500 stocks and ETFs, and averages of the best-ranked 20 of them today.
Conclusion
This 3x leveraged ProShares UltraPro Dow30 ETF UDOW illustration may not offer as much upside and demonstrated payoff ability as the population's best 20 (today), but it has far better historical payoff potentials and credibility than the SPDR S&P500 ETF (NYSEARCA:SPY) market proxy.
Additional disclosure: Peter Way and generations of the Way Family are long-term providers of perspective information (earlier) helping professional and [now] individual investors discriminate between wealth-building opportunities in individual stocks and ETFs. We do not manage money for others outside of the family but do provide pro bono consulting for a limited number of not-for-profit organizations. We firmly believe investors need to maintain skin in their game by actively initiating commitment choices of capital and time investments in their personal portfolios. So our information presents for their guidance what the arguably best-informed professional investors, through their own self-protective hedging actions, believe is most likely to happen to the prices of specific issues in coming weeks and months. Evidences of how such prior forecasts have worked out are routinely provided. Our website, blockdesk.com has further information.
Disclosure: I/we have no positions in any stocks mentioned, and no plans to initiate any positions within the next 72 hours.
I wrote this article myself, and it expresses my own opinions. I am not receiving compensation for it (other than from Seeking Alpha). I have no business relationship with any company whose stock is mentioned in this article.