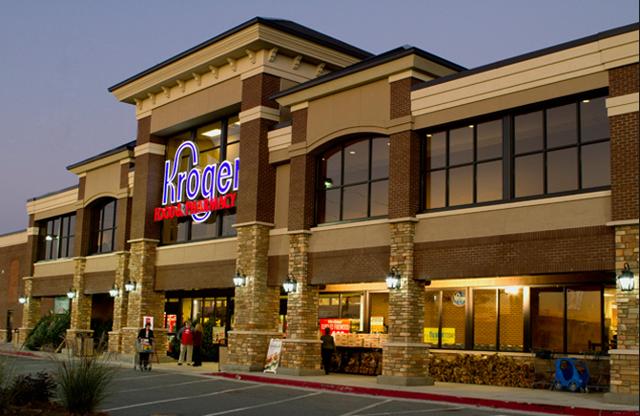 Click to enlarge
Shares of Kroger (NYSE:KR) have been in a consolidation pattern of late after having been on a torrid rally for a few quarters. It seems investors are increasingly worried about KR's ability to continue its impressive string of comp sales gains in the ultra-competitive grocery market. The company's Q1 report represented no less than the 50th consecutive quarter of SSS growth, a streak that is virtually unmatched anywhere in retail. But is it enough? The rally yesterday was strong at the open but petered out over the course of the day so perhaps the bulls are tired of trying to power KR higher.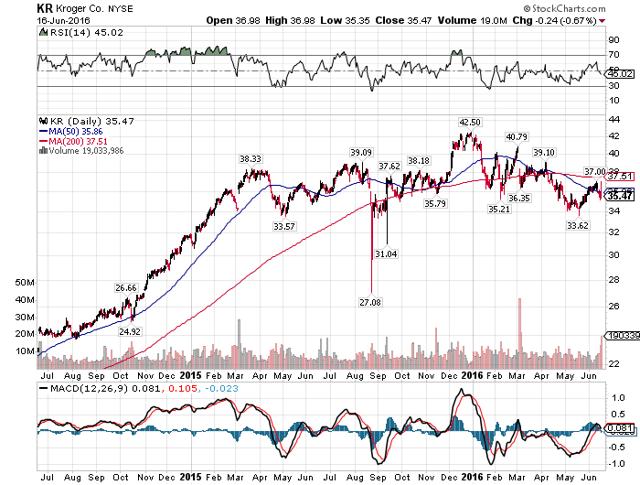 Click to enlarge
Kroger's extraordinary streak of comp growth is indeed the main reason I've been bullish but as you can see from the chart, shares have really done nothing over the past year. KR was trading for a lofty valuation a year ago but as the company's fundamentals have continued to improve, shares have just bounced around. That creates a situation where investors have digested the company's results and the valuation is a lot more reasonable than it was for the same terrific growth trajectory.
Total sales increased 3.5% in Q1 when the Roundy's acquisition and fuel are excluded, including a 2.4% gain from SSS growth. That is a slowdown from what KR produced in the recent past but to be fair, KR's numbers were previously stratospheric for a company of its size so extrapolating mid-single digit comps out forever is unreasonable. Perhaps that is why investors have seemingly lost interest in Kroger but if that's it, that certainly creates a buying opportunity for me.
In addition to continued strength in comp sales, Kroger is seeing more and more improvement in margins as well. Merchandise margin improved by 80bps, which offset some weakness in other areas including SG&A. The good news is that as Kroger integrates the many acquisitions it has made of late - including Roundy's - that SG&A number should dip over time. And while there isn't a 3% or 4% improvement in SG&A leverage in the offing, KR could easily see 80bps to 100bps of leverage over time should comp sales continue rising. That's a powerful lever to pull for profitability and one quarter of weakness doesn't derail that thesis.
So while Kroger's earnings growth has slowed a little due to predictably lower comp sales numbers, the stock is much cheaper than it used to be. Kroger is a premium franchise and in my view, is the best grocer this nation has to offer. And yet, it is trading for a pedestrian 14.5 times next year's earnings, a paltry sum that I find irreconcilable. Management has proven an ability to buy great businesses and integrate them successfully - something that is exceedingly difficult to do. And with the legacy business still killing it from a comp and margin perspective, there's no other grocer I'd rather own.
The company's buyback will continue to work its magic as well as the diluted share count is down about 2% in the past year and while the buyback isn't huge, every little bit helps. In addition, Kroger is a long term dividend growth story. The yield isn't enticing now but certainly could be in the future. Kroger's focus is still on growing the business and eventually paying down debt so for now, the dividend isn't as much of a priority.
With a high single-digit EPS growth rate for the foreseeable future, 14 times earnings is too low. Kroger's track record is far too good to sport such a low valuation and in the options market, there are some ways to take advantage of the mispricing and collect some income in the process. Of course, you can just go buy the stock and I'd recommended that too. But for a lower risk strategy that pays well even in the event KR doesn't move into the $40s, let's turn our attention to an income idea.
My favorite way to get long a stock is to sell a put because it offers the income of selling an option with the benefit of lowering your cost base at the same time. For KR, the January 2017 $35 put looks enticing, going for $2.55 at present. That means the absolute yield is about 7.3% on your cash ($255 for every $3,500 of cash secured for the put) and an annualized yield of around 12%. That's very nice by itself but it also lowers your effective cost basis on the shares - should you get assigned - to the strike price of $35 minus the option price of $2.55. That means you're effectively offering to buy Kroger at a breakeven price of $32.45 in January versus the $35.47 shares are going for as I write this. That is also nice by itself but in concert with the income it offers, it looks very strong to me.
I still like Kroger very much as the long term story is still intact. Comps are going to slow down over time because no company can grow comps at 5% or more forever; it's not possible. However, 14 times forward earnings is ridiculous for a company as dominant as Kroger so for that reason, the January $35 put looks juicy to me here and I'm in.
Disclosure: I am/we are long KR.
I wrote this article myself, and it expresses my own opinions. I am not receiving compensation for it (other than from Seeking Alpha). I have no business relationship with any company whose stock is mentioned in this article.