On Thursday, Vanguard Natural Resources (NYSE:VNR) slid 11% and closed at $1.16/share. The cause was clear: Oil sold off and sank 4% to $46/bbl.
While this certainly makes the company's $17.3 million monthly bill more difficult to pay, I am still confident that the company should have enough cash to eliminate the borrowing base deficiency. However, the stock's reaction to the drop in oil does illustrate that the market recognizes the company's imperfect hedges. Remember that only 1/3 of production is hedged (though at very favorable prices), so 2/3 of the company's cash inflow will still be impacted by fluctuations in the commodity market.
To some, this may be a huge problem. I don't see it as such. As outsiders, we don't know the real-time situation of the company right now. But if we work with the best information that we have (Q1 earnings), then it becomes apparent that even if oil drops down to $35/bbl, the company can still generate free cash flow. Any shortfall can be remedied with $40 million of cash on hand. The variables used was something that I discussed in more detail in my previous article.
| | | |
| --- | --- | --- |
| | Quarterly Free Cash | Monthly Free Cash |
| $/bbl | Flow ($mm) | Flow ($mm) |
| $50.00 | $45.91 | $15.30 |
| $49.00 | $45.01 | $15.00 |
| $48.00 | $44.12 | $14.71 |
| $47.00 | $43.23 | $14.41 |
| $46.00 | $42.33 | $14.11 |
| $45.00 | $41.44 | $13.81 |
| $44.00 | $40.54 | $13.51 |
| $43.00 | $39.65 | $13.22 |
| $42.00 | $38.75 | $12.92 |
| $41.00 | $37.86 | $12.62 |
| $40.00 | $36.96 | $12.32 |
| $39.00 | $36.07 | $12.02 |
| $38.00 | $35.17 | $11.72 |
| $37.00 | $34.28 | $11.43 |
| $36.00 | $33.39 | $11.13 |
| $35.00 | $32.49 | $10.83 |
Source: author's calculation
In any case, I believe that the chance of oil actually sliding to $35/bbl is very slim. As summer driving season approaches, demand from refineries will rise, creating a support for oil in the short-term.
I think the bigger problem would be the next semi-annual redetermination, which will happen in October. If the bank's model for determining asset value weighs trailing oil prices heavily, then the company may be in trouble.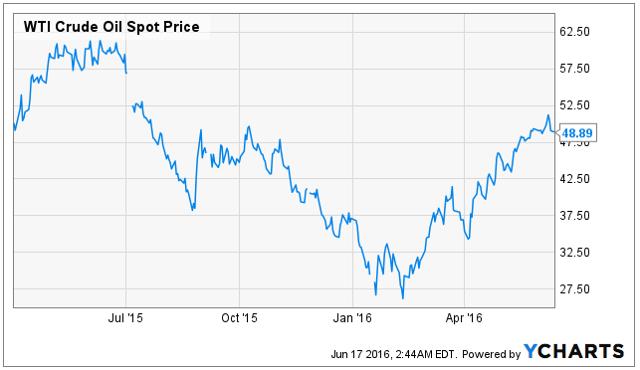 Click to enlarge
The April redetermination benefited from oil prices in the high $50s from 2015. However, the company will not have the same luxury in October, when the trailing prices will be significantly lower due to bottom of the barrel prices in Q1 (red circle). Of course, if oil rises high enough, then this won't be a problem; but should oil stay flat or worse, decline, then borrowing base may shrink significantly.
Takeaway
The stock crashed after a strong downward movement in oil. However, I still believe that the company can generate sufficient cash flow to cover the $17.3 million monthly payment, even if oil dips below $40/bbl. The bigger problem is the October redetermination. If the bank's model places a strong emphasis on trailing prices, then borrowing base will shrink again. Keep in mind that my projection is based on Q1 results. If the management is risk averse (i.e., choosing to minimize change of default vs. chasing higher profits), then they may have hedged the remaining two-thirds of the production to ensure that the company will continue to generate strong cash flow throughout 2016, and that there will be enough funds to settle a significant drop in borrowing base.
Click the "Follow" button beside my name on the top of the page to be updated with my latest insights. To learn more about the V20 Portfolio (+40% in 2015), whose goal is to compound capital at 20% over the long term, I encourage you to read the introduction to my investment process. Premium subscribers get full access to the V20 Portfolio. Track the portfolio through the latest update, here.
Disclosure: I/we have no positions in any stocks mentioned, and no plans to initiate any positions within the next 72 hours.
I wrote this article myself, and it expresses my own opinions. I am not receiving compensation for it (other than from Seeking Alpha). I have no business relationship with any company whose stock is mentioned in this article.