While some investors may not care or consider analyst price targets, the simple fact is that the people closest to YRC Worldwide (NASDAQ:YRCW) management other than direct employees have become more bullish on the company over the past few weeks.
The stock price is currently at $9.02/share with 2016 and 2017 earnings estimates at $1.01 and $1.73 per share. This places a P/E ratio for 2017 estimates at just over 5 times earnings. For most of 2016, the analyst average price target has been a little below $18/share. Over the past week, this has increased to $20/share.
Nothing has fundamentally changed regarding the slide deck which has been presented to investment firm conferences during June. In fact, the deck has been pretty much the same as what was presented during the first quarter. But analysts have had more time to ask questions and consider the company's value proposition moving forward.
For investors, the key focus areas moving forward involve EBITDA growth and debt, capital expenditures or capex as a percentage of revenue and competitive strengths including YRC Worldwide's extensive network and investments to improve safety, efficiency and productivity.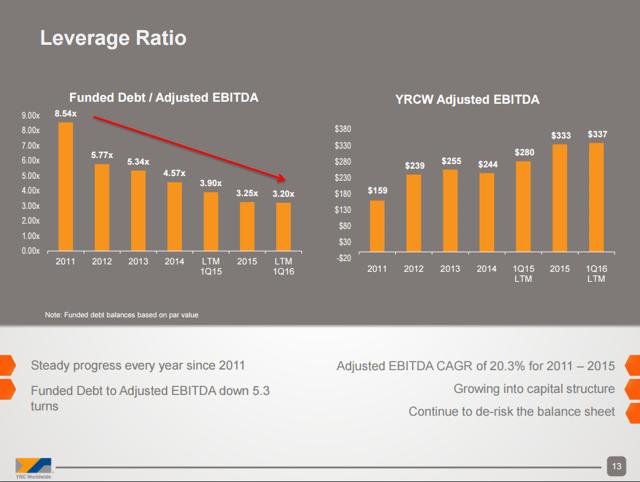 Click to enlarge
Source: YRC Worldwide Slide Deck
The story for adjusted EBITDA continues to be the correlation with the reduction in funded debt per adjusted EBITDA as adjusted EBITDA has increased. During the recent June conferences, YRC Worldwide's management has stated that an additional $100 million in EBITDA from the current $340 million is achievable. This is expected to come from improved EBITDA margins from both the YRC Regional companies and YRC Freight with percent improvements between 1 to 2 and 3 to 4 percent respectively.
For YRC Worldwide's debt, investors should understand that the company will look to pay down its obligations, but that the current operational transformation is the priority. To this point, the company will continue to enter into new operating lease commitments which will in-turn, increase operating lease obligations.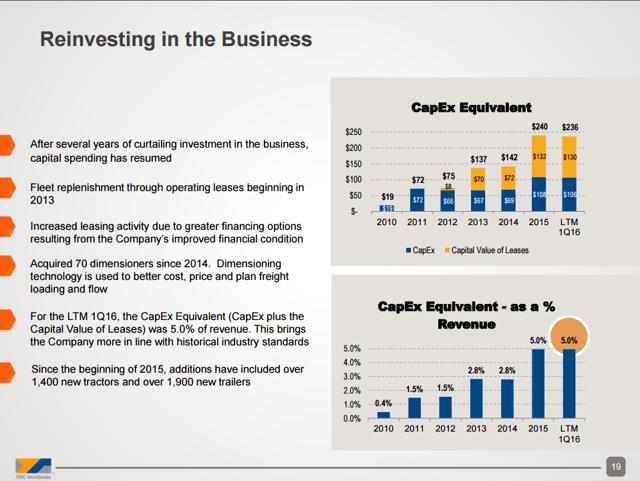 Click to enlarge
Source: YRC Worldwide Slide Deck
YRC Worldwide provides a measure entitled capex equivalent. This includes the company's capex as well as the capital value of its operating leases mentioned above. The combined total of these two are compared against YRC Worldwide's operating revenues as a percentage. Of late, this has been at the 5 percent level, which is anticipated to continue over the near-term.
This is an important measure to get YRC Worldwide back on track for improving operating efficiencies across all aspects of the business. As seen in the slide above, the company has substantially increased its capex equivalent translating to a higher percentage of revenue. This has translated to improvements for many of the company's equipment needs.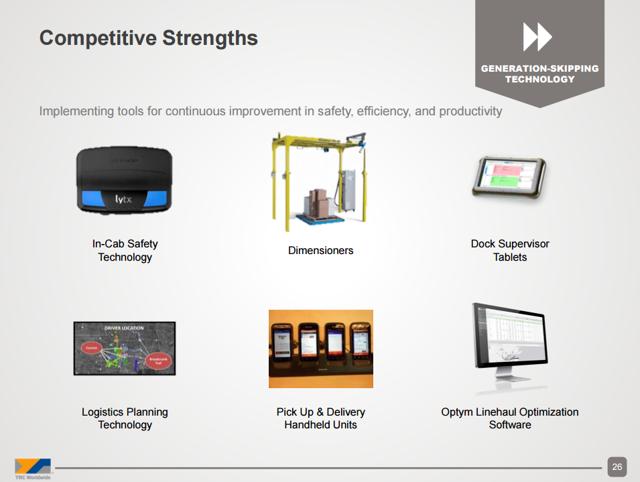 Click to enlarge
Source: YRC Worldwide Slide Deck
I have used this slide before in previous articles, but this is a key focal point for the company, especially when combined with the company's extensive network including terminals, doors, tractors and trailers. Since the company utilizes capex and operating lease commitments for tractors and trailers, a large amount of capex can be invested into technology and other facilities for the safety, efficiency and productivity. During 2015, nearly 35 percent of capex was invested into technology infrastructure, substantially more than the previous 4 to 5 years.
In-cab safety technology has been installed in more than 9 out of every 10 of the company's 15,000 tractors to date. Expectations are that insurance claim liabilities should decrease over time as there will be a lag between implemented hardware, improved driving performance and lower liabilities. Dimensioners have strongly improved the maximization of space within trailers for the company including cost, price and planning.
All of this is highly positive for the company, but this process is focused on an operational transition. Investors should realize that patience is key as management alluded to being in the sixth inning of a baseball game. Revenue growth and tonnage and shipment volume increases are not the top priority at the moment.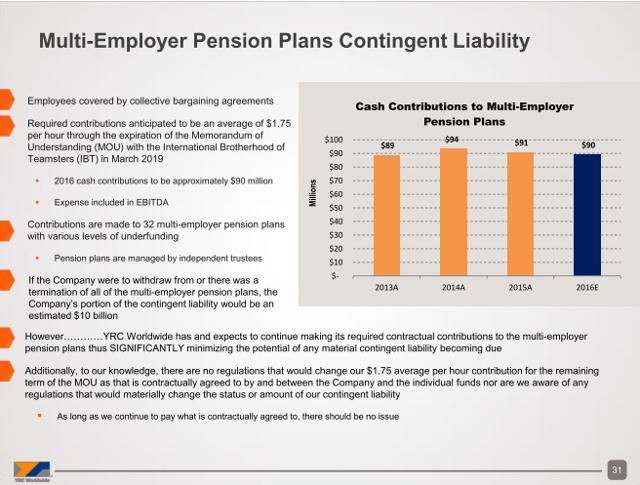 Click to enlarge
Source: YRC Worldwide Slide Deck
The pension issue, which may be on the mind for some investors, was discussed and it was reiterated that the company will continue to pay its contribution through March 2019 until renegotiation occurs. The amount of payment has good visibility based upon the memorandum of understanding, MOU. Analysts did question whether the contingent liability would be something that the company would possibly incur.
Management was clear that their responsibility is with their contribution payments for their employees and that other companies were in the same boat including ArcBest Corporation (NASDAQ:ARCB) and United Parcel Service (NYSE:UPS). The expectation is that legislation will be required to deal with the substantial short falls and that YRC Worldwide will not be held responsible for other company's pension plans.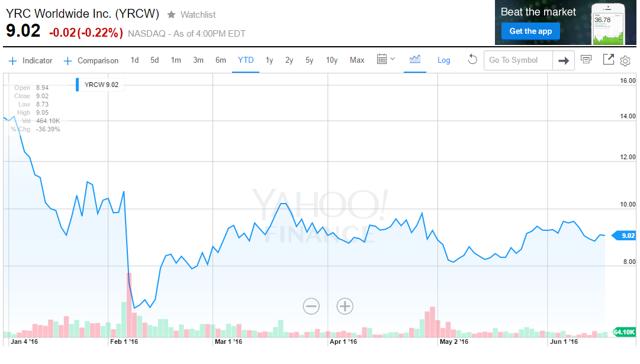 Click to enlarge
Yahoo! Finance
Investors need to understand that this operational transition time period does not assume any industry tightening or increased demand from consumption. Any new growth or demand would possibly increase performance from the transition baseline. Management reiterated that pricing discipline has been stable, as the less-than-truckload, LTL market still has recent memories of the Great Recession's impacts.
YRC Worldwide is a risky investment. But analysts have recently raised their average price targets by 12 percent. Year-to-date, YTD the company's stock price is down over 36 percent. The stock has rebounded slightly from May, but volatility will continue to be more extreme than broader markets. Analysts have become more bullish as the summer approaches. YRC Worldwide still needs to execute, but if the company beats estimates over these next couple of quarters, the stock price may get some momentum into the low- to mid-teens.
Disclosure: I am/we are long YRCW.
I wrote this article myself, and it expresses my own opinions. I am not receiving compensation for it (other than from Seeking Alpha). I have no business relationship with any company whose stock is mentioned in this article.