I issued a sell order on Chevron (NYSE:CVX) a few weeks back at around $100 a share and I must say the stock has held up excellently since then. Furthermore, crude oil has dropped a nice bit in the last few weeks and is about to hit its 50-day moving average. The 5-day RSI indicator is getting to oversold levels so I believe we could get a daily cycle low at any point here before bouncing once more. We may be in the process of getting it already as crude oil is back up above $46.50 a barrel as I write.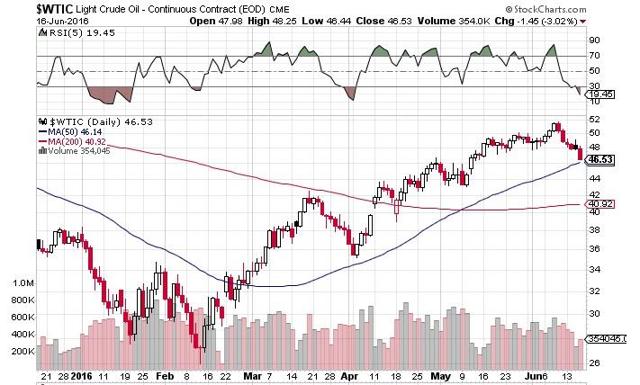 Click to enlarge
Also sentiment (see chart) in oil reached levels that it needed to get to yesterday which means a bounce could be imminent from these levels. Once we get our bounce, the question that remains will be how far and long will this intermediate cycle in oil will go. Intermediate cycles in oil usually last around 20 to 25 weeks and this cycle has gone like clockwork since bottoming in mid February. The first daily cycle lasted around 50 days (before bottoming at the start of April) and the second one if we bottom here will last around the same period (50 days). Some followers are convinced we will top here but I simply can't see it happening as sentiment is too bearish for selling to keep continuing.

Click to enlarge
Source: Sentimentrader.com
Furthermore the stock market reversed aggressively yesterday (traded between 2050 and 2079) which may mean the S&P 500 (NYSEARCA:SPY) is set up again to test its all-time highs in the forthcoming weeks. Pre-market trading is showing no ill effects on yesterday's wonder rescue and I believe this could have ramifications for oil. Why? Well both crude oil and the stock market formed strong intermediate bottoms in February and rallied strongly together. Furthermore, sentiment readings in the stock market is also showing that we are nowhere near an intermediate top so the logical conclusion is that both the stock market and oil keep rising together for at least the next 5 to 8 weeks.
How does this affect Chevron? Well I wrote an article a few weeks back about how I trade in and around dividend aristocrats and I know that some followers of mine didn't heed my call when I sold Chevron in our portfolio recently (as it is a dividend aristocrat), so here is a strategy for the "staunch" long-term buy and holders that should at least get you thinking differently about the positions in your portfolio.
My stance on Chevron is that most of the profits that will come from new projects coming on stream (which will have higher price realizations) is already priced into the stock. I have discussed this in previous articles. With crude oil below $50 a barrel and revenues nowhere near that of yesteryear, Chevron's share price of $100+ a share is still slightly overpriced when viewed from where crude oil is trading at present.
In fact, in the options market, we have some "put skew" which basically means investors are hedging their bets by buying puts, which act as insurance if the price of the underlying goes down. However, we can take advantage of this and here is how...
Firstly, if an investor is deciding to hold here at $101 a share, the question I would be asking myself would be at what price would I be willing to add to my position? Earnings and the next dividend payout are more than a month away, so we are not going to theoretically lose any extra income (except capital gains) by implementing an options strategy.
If I'm right and Chevron continues to trade strongly in the near term (because of rising oil prices), one could sell a strangle 45 days out which would look something like below... I forecast that the stock will still be above $100 a share in 40 days time which is why I would take advantage of the put skew and tilt the strangle to the upside a touch (short the $98 put and short the $107 call). Also earnings takes place the following week, so we want our positions to expire the week before (as volatility would expand).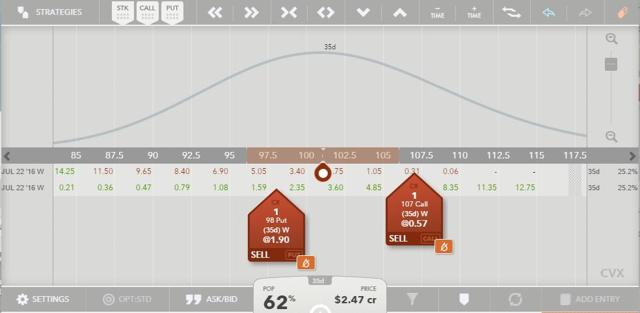 Click to enlarge
Source: Dough.com
So what is the downside here? Well, this strategy is for investors who have capital, already hold a Chevron position and are willing to add to their position, as they are long-term investors. If we are under $98 at expiration, 100 shares of Chevron will be added to your positions. If we are over $107, 100 shares will be taken away. If the stock continues to move up, you will collect the option premium from the strangle and the capital gain on your stock if the shares are "called" away from you.
Earnings will then be announced the following week (on the 29th of July) which would give you another excellent opportunity to collect income off this underlying (as implied volatility would be very high - higher option premium). I just want to give you another way of "thinking" about your underlyings. If you are holding sizable positions, you should be earning income off them especially if they are dividend aristocrats with sound long-term fundamentals.
To sum up, I'm going to be adding a few good dividend and growth stocks to the elevation portfolio over the next several weeks when I see value. It's imperative that they are not correlated and all don't have similar valuations to ensure that income is brought in every month, which, over time, will increase our share count. Follow along by pressing the "Follow" button above.
Disclosure: I/we have no positions in any stocks mentioned, and no plans to initiate any positions within the next 72 hours.
I wrote this article myself, and it expresses my own opinions. I am not receiving compensation for it (other than from Seeking Alpha). I have no business relationship with any company whose stock is mentioned in this article.