Introduction
Approximately eight years have passed since the beginning of the financial crises and yet interest rates continue to plumb new depths as evidenced by the current yields on the 10 year German Bund (-0.02%), the 10 year Japanese Government Bond (-0.19%) and the 10 year US Treasury (1.6%). The search for yield perhaps becomes more imperative due to the lack of recent stock market returns - e.g. the S&P 500 has traded largely sideways over the past 18 months. Some investors have "reached for yield" in this environment and have been disappointed by the results.
In such an environment, there has been increasing interest in Exchange Traded Debt (aka Baby Bonds) due to the potential combination of relatively high yields over a variety of maturities with seemingly low default rates.
[note to the reader - there have been several excellent introductory articles on Exchange Traded Debt so you should read these if you are not familiar with the topic. I would suggest the DivivdendYieldHunter's Baby Bond Primer and BDC Buzz's recent article].
However, as shown in other cases, the quest for yield can easily turn into "overreach" - buying instruments with enhanced and/or unknown risks. The prudent investor should be seeking information similar to that available in the broader investment grade corporate and high yield bond markets e.g. issuance trends, default rates and real credit analysis. The question at hand is the following - is this a key opportunity hiding in plain sight?; is it a disaster waiting to happen if some common trigger is pulled (perhaps a recession)?; or is it something in between?
Reading the Fine Print
I've noticed that many discussion of ETD suggest that they are just like regular bonds except in smaller denominations and with a stock exchange ticker. The reality is that the investor really needs to read the underlying offering prospectus. For example - the interest payments on some ETD issues can be "suspended" without a default/bankruptcy. Here is a snippet from the prospectus for NSS - "We may elect to defer interest payments on the Notes on one or more occasions for up to five consecutive years as described in this prospectus supplement. Deferred interest will accumulate additional interest at a rate equal to the interest rate then applicable to the Notes, to the extent permitted by law". Shouldn't this clause be a bit worrisome to the potential investor? Another potentially interesting feature is fixed-to-floating interest rates. This seems like a great idea for long maturity bonds in a rising interest rate environment. But once again, you need to know the fine print. In the case of NSS it reads like this - "will bear interest from the date they are issued to, but not including, January 15, 2018, at the annual rate of 7.625% of their principal amount, payable quarterly in arrears on January 15, April 15, July 15 and October 15 of each year, commencing April 15, 2013, and thereafter will bear interest at an annual rate equal to the sum of the Three-Month LIBOR Rate for the related interest period plus a spread of 673.4 basis points". Shouldn't you have an opinion concerning 3 month LIBOR + 673.4 basis points?
The Issuers
Although perhaps an oversimplification, the issuers can largely be divided into four categories: (1) "old line" industrials, utilities and Telcos such as Duke Energy (NYSE:DUK), Entergy (NYSE:ETR), Nustar (NYSE:NS), Qwest, Pitney Bowes (NYSE:PBI), Southern Company (NYSE:SO), Stanley Black & Decker (NYSE:SWK), US Celluar (NYSE:USM), Telephone & Data Systems (NYSE:TDS) and Verizon (NYSE:VZ); (2) mega-financials and Insurance companies such as Allstate (NYSE:ALL), Goldman Sachs (NYSE:GS), KKR & Co. (NYSE:KKR), GE Capital (NYSE:GE), Hartford Financial (NYSE:HIG), Selective Insurance (NASDAQ:SIGI), Navient (NASDAQ:NAVI), Ventas (NYSE:VTR) and eBay (NASDAQ:EBAY); (3) various shipping companies e.g. Seaspan (NYSE:SSW), Star Bulk Carriers (NASDAQ:SBLK), Scorpio Bulkers (NYSE:SALT) and Scorpio Tankers (NYSE:STNG); (4) "nextgen" financials, especially BDCs such as Ares Capital (NASDAQ:ARCC), Harvest Capital (NASDAQ:HCAP), Hercules Capital (NASDAQ:HTGC), Horizon Technology (NASDAQ:HRZN), TriplePoint Ventures (NYSE:TPVG), Triangle Capital (NYSE:TCAP), THL Credit (NASDAQ:TCRD), Main Street (NYSE:MAIN), Arbor Realty (NYSE:ABR), Cowen Group (NASDAQ:COWN) and numerous others.
Exchange Traded Debt [ETD] Database
As I have yet to find a comprehensive database that would let me specifically analyze Exchange Traded Debt, I thought it would be useful to start with a simpler approach - that of running a few screens on readily available data and examining the results for a few top level conclusions and/or key issues for further investigation. The two most available/accessible "databases" of ETD are those at QuantumOnline [www.quantumonline.com] and DividendYieldHunter [www.dividendyieldhunter.com]. In my opinion, the QuantumOnline information is more comprehensive but the website requires a subscription. Thus, for the purposes of this article, I used the DividendYieldHunter information and cross-checked/enhanced (when possible) via Charles Schwab. Note that these are not historical databases of ETD issues and neither claims to provide comprehensive information concerning past defaults, previously called issues or historical price data. I also attempted to manually "scrub" some of the price data as high volatility in thinly traded markets resulted in a few "anomalous" datapoints in the Jan./Feb. 2016 timeframe.
[note to the reader] The question of ETD default history is an obvious one. The issues that I can see under the category of "suspended" are AKF and AKT (Ambac Financial), AAR (AMR Corp.) and various issues from General Motors (e.g. GBM, HBM, BGM, etc.).
Screen 1 - Long Maturity ETD
My first step was to screen for bonds with mandatory maturity dates beyond the year 2028. The reader should note that this screen picks up many of the stronger credits (according to credit rating agencies) as well as many of the "name brand" credits - e.g. Goldman Sachs, eBay, Ventas, Verizon, Stanley Black & Decker, GE Capital, etc. The table below contains what I would consider to be both interesting and representative bonds resulting from this screen.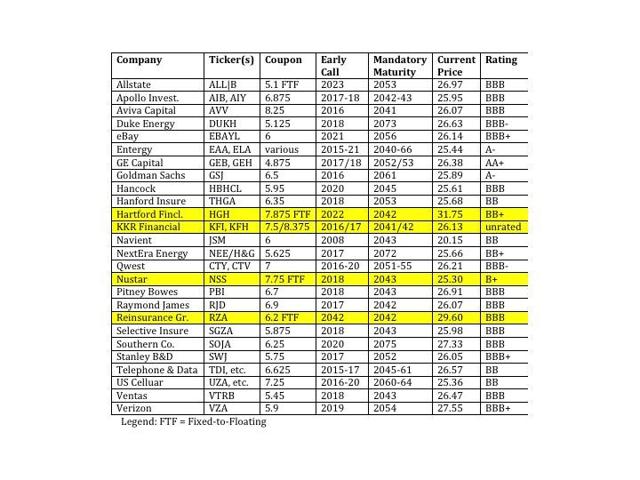 Click to enlarge The most striking points resulting from this screen are the following: (1) there is a very large gap between the first call dates and the mandatory maturity dates e.g. 2016 <->2060 and 2017 <-> 2042; (2) these bonds are often being issued with very long maturities (well beyond 30 years) and (3) several of the issues are fixed-to-floating. In my mind, the first two conditions are excessively favorable for the issuer and add significant elements of interest rate and duration risk to be borne by the buyer. Is a Southern Co. bond with a coupon of 6.25% due in 60 years a good investment idea? The answer in my mind is NO. I would also note that a few of these bonds are actually fixed-to-floating [FTF] i.e. they transition from fixed rate to floating rate according to the terms and conditions in their prospectus. These are well worth a closer look and thus are highlighted in the table. Unfortunately, the market is already aware of these opportunities and has priced them according. The exception is NSS which suffers from being in the energy complex (and perhaps from a rather complex set of suspension rules).
Screen 2 - Short Maturity with Substantial Price Decreases
My next screen was designed to identify bonds which meet the maturity criteria of maturing in 2028 or sooner AND suffered substantial drawdowns (greater than 10%) during the most recent period of "Flight to security"; namely the High Yield panic of late 2015/early 2016. A representative sample of these bonds are listed in the table below: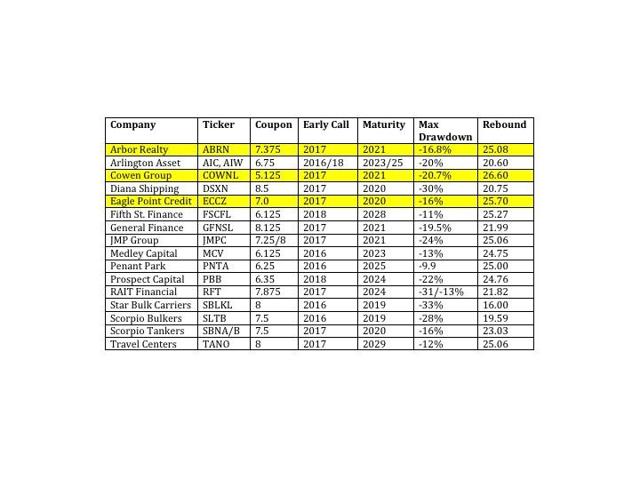 Click to enlargeNote that inclusion in this table is not a judgment about quality or opportunity - merely a fact that occurred during a challenging period. Prudent investors should already be asking themselves that if a similar situation arises again in the near term then which bonds will hold up well and which will suffer (and perhaps more importantly, which will suffer due to real credit risks). Indeed, it can be argued that if you could separate the good from the bad then this was a recent source of substantial opportunity due to some significant mispricing (e.g. I would argue for ABRN, COWNL and ECCZ and thus they are highlighted). This table also illustrates some of the potential dangers as questionable credits have also rallied strongly over the most recent months.
Screen 3 - Short Maturity with Downturn Price Resilience
My third and last screen was for bonds with maturities of 2028 or sooner which showed relative price strength during the recent period of high stress (i.e. December 2015 - Feb. 2016).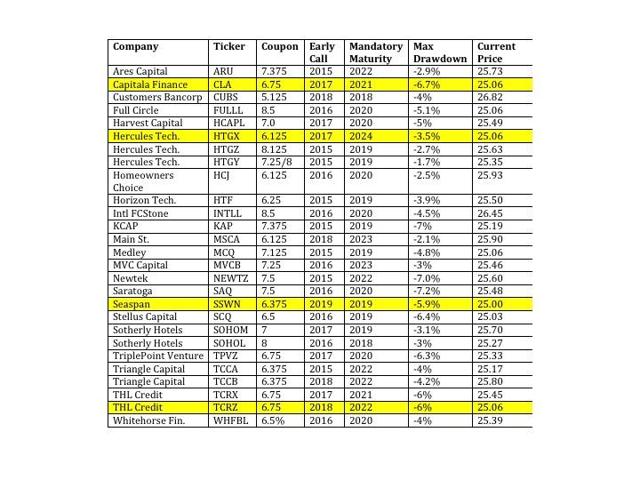 Click to enlargeA representative sample of bonds which passed this screen are included in the table above. What the reader should take away from this table is that many of these "bastions of relative strength" are already callable AND trading above par. I have highlighted those that can't be called before 2017 and are trading near Par - a seeming source of opportunity.
Conclusions
The ETD market is almost a "tale of two cities". The long dated bonds often come with ratings from the rating agencies and are often well known names with large size offerings - e.g. EBAYL was on the order of $600M. The problem with these bonds is that you can easily get caught with very long duration, fixed rate bonds and who knows - maybe in the next 30 years interest rates will climb significantly. There is another subset of these bonds, mostly issued by BDCs and shipping companies that took a real beating during the recent downturn - i.e. they were treated like Junk. Many have subsequently rallied sharply but what is needed is real, detailed credit analysis to separate the Gems from the Junk. Finally, there are the "bastions of strength". The problem is that the market already rallied and there is little available that isn't either already callable or trading well above Par (or both). I look forward to new articles written by SA contributors who are experts on the financial details of specific segments of the ETD market - e.g. BDCs, shipping companies, etc. to further clarify the opportunities and risks associated with specific issuers.
Caveat - I am not an investment advisor and I am not offering the reader investment advice. I strongly suggest pursuing your own due diligence.
Disclosure: I am/we are long ABRN, TANO, TANN, ARU, HCAPL, HCJ.
I wrote this article myself, and it expresses my own opinions. I am not receiving compensation for it (other than from Seeking Alpha). I have no business relationship with any company whose stock is mentioned in this article.
Editor's Note: This article covers one or more stocks trading at less than $1 per share and/or with less than a $100 million market cap. Please be aware of the risks associated with these stocks.