Long duration U.S. Government bonds have just gone parabolic. TLT (NYSEARCA:TLT), the iShares 20+ Year Treasury Bond ETF, is a favorite for those who not only have bet on Fed intervention to keep rates low, but who also want to be implicitly long gamma, or a synthetic put option of sorts.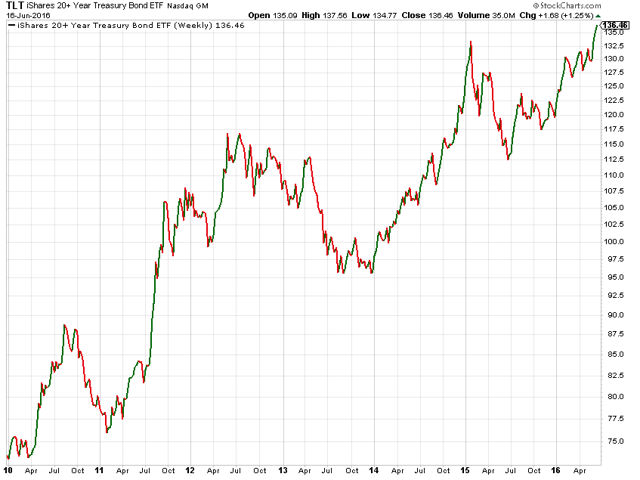 Click to enlarge
TMF (NYSEARCA:TMF), by Direxion, is TLT's 3X leveraged cousin. For years, it has been an excellent vehicle for hedging equity portfolios.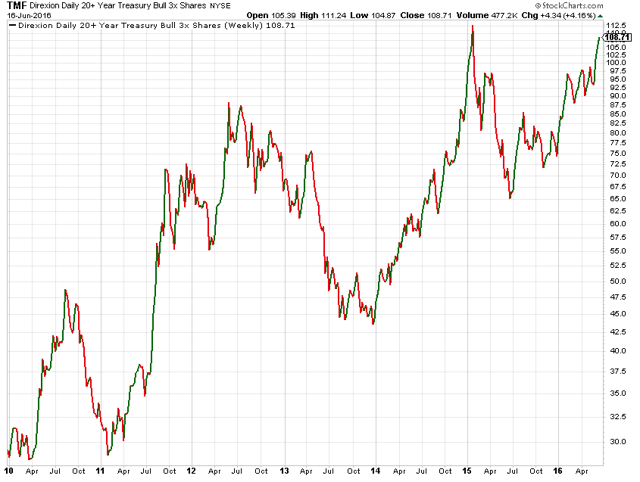 Click to enlarge
A position in TMF has had all of the advantages of a leveraged long duration government bond position, without the need for any margin leverage. Both ETPs have gone parabolic like a late 90s tech stock.
For an example of the performance boost that TMF has provided many strategies, I would point to our own Ultra-Low Volatility index which just hit another all-time high on Thursday. The index has made so many new all-time highs that I get tired writing about them.
The index holds the PowerShares S&P 500 Low Volatility Portfolio ETF (NYSEARCA:SPLV) and TMF in an 80/20 proportion, rebalanced annually.
Here are the results YTD: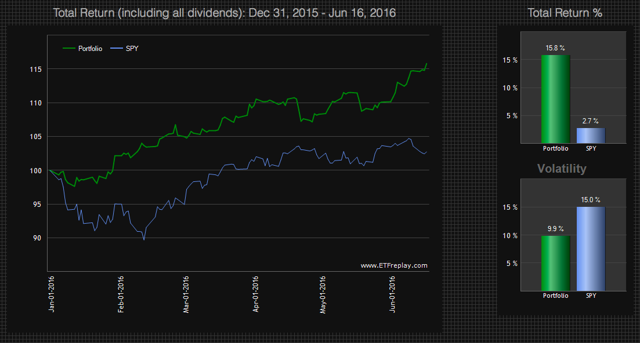 Click to enlarge
And since 2010: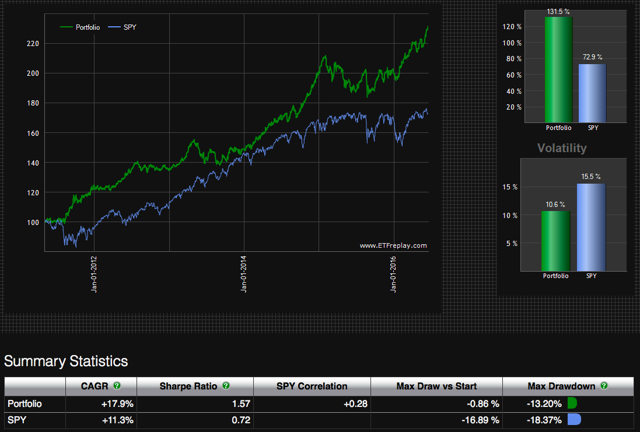 Click to enlarge
The reason for this outperformance has been the largely negatively cointegrated performance of long bonds and equities, as we can see clearly:

Click to enlarge
Let us be clear, with a yield of only 2.39% on 30-year treasuries, institutions have not been lining up to buy these bonds for the yield, which is clearly lower than the real rate of inflation as judged by the gold market.
Institutions with massive portfolios, such as pension funds and insurers, have had massive demand for long bonds in order to hedge portfolios of marketable securities.
And contrary to popular opinion, thus far, these institutions have been quite shrewd. They have made the calculation that a long bond, even one paying an anemic rate of interest, is far preferable to own than a put option, whose premium literally decays over time.
A put option as a hedge has a decaying value, while a long bond which synthetically accomplishes the same goal as put option is an asset.
Literally, as I argued years ago, an asset which is negatively cointegrated to equities is a synthetic put option. Therefore, long bonds act like a put option without time decay. In effect, a put option which pays institutions to own it; hence, its attractiveness.
To be clear, I have long called for the death of the long bond bull market, which has been the longest and best risk-adjusted bull market in any class in any country, of all time. Thus far, I have been wrong.
However, I would argue that as long bonds get pushed higher and higher, that at some point their utility as a hedging device for large institutions diminishes. At that point, as interest rates approach zero, I believe that VIX futures and ETFs will be in high demand by the very same institutions which are currently piling in to long bonds.
Indeed, drops in long bonds themselves could trigger a sell-off in equities, if they continue to become even more overvalued.
What is the timing for such an event? High demand for VIX futures often results in the backwardation of the forward curve. If equities and long bonds are at risk of simultaneous collapse, look for the forward curve to move from contango to backwardation, and for equities and for long bonds to drop at the same time.
If both equities and long bonds both dropped simultaneously over the course of six months, panic would ensue in the financial markets. Literally, the worst scenario for long bonds would be for them to drop on big down days for equities, for months on end, because this would mean that they no longer have utility as hedging instruments. Watch for weeks where TLT and SPY are down simultaneously. That could signal the end.
The search for portfolio protection would migrate from the long bond market to VIX futures as the only remaining effective hedge. Hence the focus on potential backwardation in VIX futures as the canary in the coal mine.
In addition, the wholesale abandonment of long bonds as synthetic hedging instruments could lead to renewed demand for gold on the part of investors contending with stagflation and the rejection of government debt instruments.
Until then, enjoy the parabolic march upward of long bonds. But beware, overstaying one's welcome at the party could be hazardous to your financial health.
Thanks for reading. We feature impressive ETF-based strategy indices in our subscription service, with clear risk control protocols. If this post was useful to you, consider giving it a try.
Hypothetical performance results have many inherent limitations, some of which are described below. No representation is being made that any account will or is likely to achieve profits or losses similar to those shown; in fact, there are frequently sharp differences between hypothetical performance results and the actual results subsequently achieved by any particular trading program. One of the limitations of hypothetical performance results is that they are generally prepared with the benefit of hindsight. In addition, hypothetical trading does not involve financial risk, and no hypothetical trading record can completely account for the impact of financial risk of actual trading. For example, the ability to withstand losses or to adhere to a particular trading program in spite of trading losses are material points, which can also adversely affect actual trading results. There are numerous other factors related to the markets in general or to the implementation of any specific trading program, which cannot be fully accounted for in the preparation of hypothetical performance results and all which can adversely affect trading results.
Disclosure: I/we have no positions in any stocks mentioned, and no plans to initiate any positions within the next 72 hours.
I wrote this article myself, and it expresses my own opinions. I am not receiving compensation for it (other than from Seeking Alpha). I have no business relationship with any company whose stock is mentioned in this article.