This note starts with a focus on the Baxalta business to fully understand what happened to the former Shire (NASDAQ:SHPG) after the acquisition of Baxalta. Then, the note will focus on the combined entity and will why I am bullish on the name.
Here is a link to my previous article on Shire, which details the company before the acquisition of Baxalta. It will give valuable information about the existing drugs and programs under development (pipeline), the competition landscape, the strategy... It will help you to understand if the acquisition of Baxalta makes sense.
What Baxalta was?
Baxalta is a spin-off of Baxter (NYSE:BAX). The group is mainly active in hematology and immunology. The company owns also a small platform in oncology. The company has generated a little more than $6B in revenue in 2015. 90% of its revenues come from rare diseases. The revenues were distributed as follows: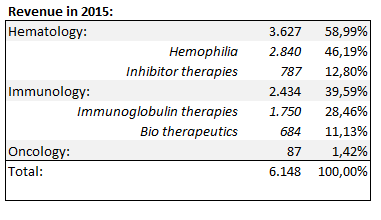 (Source: Baxalta Form 10-K 2015)
The following slide shows the products of the company. I will write more about them later.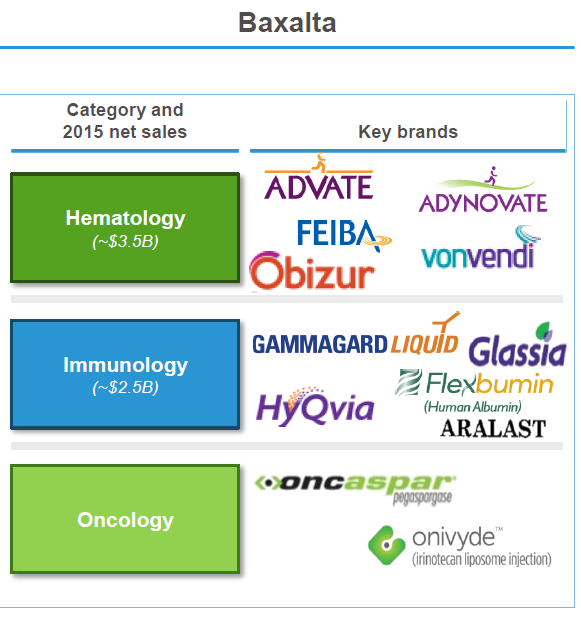 (Source: Shire investor presentation)
Hemophilia (Hematology)
Definition
Hemophilia is a hereditary genetic deficiency that impairs the human body to control blood clotting (clots) in order to stop bleeding. There exist two forms of hemophilia: Hemophilia A and hemophilia B. Hemophilia A is the most widespread and is characterized by a deficiency in the clotting factor FVIII. Hemophilia B is caused by a mutation of the factor IX (F-IX).
Treatments & Products
The standard of care for hemophilia A is replacement therapy of the FVIII clotting factor. This therapy can be plasma derived or artificial (also known as recombinant). In the past, the plasma-derived products were used extensively. However, some patients were infected by viruses such as hepatitis C or HIV due to the improper purification of the blood used in the plasma-derived products. Nowadays, recombinant FVIII (rFVIII) products are the preferred choice of physicians due to a lower risk of infections. It is important to note that rFVIII therapies are more expensive than plasma-derived FVIII (pdFVIII), thus it is more common to use pdFVIII in emerging markets and rFVIII in developed countries.
Treatments may be prophylactic or episodic. Episodic treatments are on demand when the patient faces bleeding. It requires many injections until the bleeding stops. Prophylactic treatment requires patients to be administrated 3/4X per week before the bleeding happens.
During a treatment with rFVIII, patients may experience complications. Indeed, the immune system recognizes the infused factor as a foreign substance and starts to develop antibodies (also called inhibitors) that inhibit FVIII activity in order to fight the proteins injected in the body. As a result, the rFVIII is not able to clot the bleeding anymore. To treat patients with inhibitors, there are few options that will be detailed later.
PdFVIII products have little differentiation in terms of dosing or efficacy. This category of drugs is less expensive than rFVIII. Moreover, it has the benefit of not developing inhibitors for patients. There exist several products, thus competition is based on price and brand awareness. Baxalta's pdFVIII product is called Immunate.
Recombinant FVIII (rFVIII) can be broken down between short acting and long acting. Short acting drugs require 3/4 injection per week if it is used as a prophylactic treatment or it can be administered several times per day (until the bleeding stops) under episodic treatment whereas long acting rFVIII works exactly the same way, but requires less injections because the active compound is active for a longer period of time. This option is more costly than pdFVIII, and patients are more likely to develop inhibitors. Baxalta's short-acting portfolio includes Advate and Recombinate.
Actually, long-acting products are the best solution for prophylactic treatment because they require fewer injections. Baxalta's long acting drug is Adynovate (two injections per week), and it is developing BAX-826 (phase 1), which should require once a week injection. Eloctate (Biogen (NASDAQ:BIIB)) is currently the only competitor but CSL (OTCPK:CSLLY), Novo Nordisk (NYSE:NVO) and Bayer (OTCPK:BAYZF) (OTCPK:BAYRY) have programs in phase 3.
All the products stated previously are used for patients who don't develop inhibitors. For patients who do, there are few possible therapies:
- Immune tolerance induction (ITI) therapy: The therapy consists of injecting high dose of FVIII frequently into the body until the body recognizes and accepts the clotting factor and stops producing inhibitors. In general, pdFVIII products (such as Baxalta's drug Immunate) are used because they are not artificial (derived from human blood), thus the proteins seem less foreigner to the immune system.
- Recombinant factor FVIIa (rFVIIa) from Novo Nordisk: This synthetic product is effective against inhibitors, but it requires frequent dosing (every 2/3 hours) and has to be done by a professional.
- Factor Eight Inhibitor Bypassing Agent (FEIBA) from Baxalta: This is a product derived from plasma, and it mixes different clotting factor. It is also administered frequently (every 8-12 hours).
- Plasma exchange: A machine injects new plasma from a donor in order to remove blood with inhibitors. This method is used when it is urgent to reduce inhibitors in the case of a serious bleeding requiring a surgical operation.
Baxalta is the leader in hemophilia A as demonstrated by its 50% market share. This leading position has been gained because Advate has been the first short-acting rFVIII product to be produced without human blood. Its safety profile (free of infections) has been a real competitive advantage to gain market share and due to the weak differentiation between the different products, Baxalta has never lost its market share gain. Advate has roughly 50% share advantage versus its nearest competitor.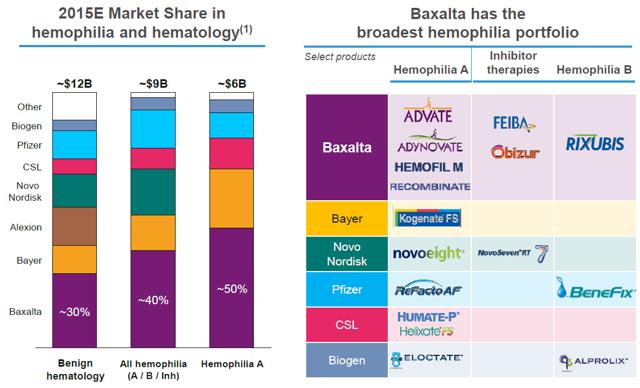 (Source: Shire investor presentation)
What is Coming in the Near Future?
New therapies are under development with new mode of action. The most famous and most feared competitor is Roche (OTCQX:RHHBY) with its product ACE910. Clinical data should be released in early 2017. The ongoing trial studies ACE910 in the inhibitor population. The first data were impressive. More important, the drug is administrated once a week subcutaneously, which is far better than multiple intravenous injections per week. Therefore, Roche is currently developing a drug with a better efficacy profile, but also more convenient. Moreover, others players such as Alnylam pharmaceuticals (NASDAQ:ALNY), BioMarin (NASDAQ:BMRN), Novo Nordisk… are also developing new products. Clearly, Roche and Alnylam pharmaceuticals are ahead of competition (If their drugs deliver positive results) because it will require only one dosing per month. It could be painful for actual leaders if these drugs are used across the board (non-inhibitor and inhibitor population) because of the more convenient dose regimen. For the moment, these drugs are early-stage and only studied in the inhibitor segment.
However, the pressure concerning the non-inhibitor population coming from new products should be partially mitigated due to a progressive shift from episodic therapy to prophylactic therapy, which means a bigger consumption of products. According to Shire, 40% of patients with severe hemophilia are still treated on demand. Moreover, prophylactic treatment requires the use of long-acting rFVIII, which is more expensive than short-acting products.
To sum up, Baxalta will lose a significant share of the market in the inhibitor population (13% of revenue) if ACE910 (or Alnylam's drug) reaches the market and will be also negatively impacted if these drugs are also approved in the non-inhibitor population (46% of revenue). However, the company may mitigate this loss of market shares with more products sold per patient remaining loyal and at a higher price.
Immunology
This business is attractive because there are high barriers to entry. Indeed, this business is capital intensive because companies need to operate a blood collection, fractionation and purification network. Moreover, there are no existing threats of new therapies. Therefore, the company should be able to continue to grow this business.
This division is split between immunoglobulins and biotherapeutics which incorporate albumin and alpha 1.
Immunoglobulins are antibodies that are found in the blood plasma. Antibodies are created by the immune system to fight against infections, viruses… They recognize and surround the pathogens in order to destroy them. Each antibody is specific to a pathogen. They are used by patients who have antibody deficiency, which means that patient's immune system is not able to produce the antibodies in sufficient quantity.
The portfolio consists of Gammagard Liquid, Subcuvia, Gammagard and HyQvia. HyQvia is the best immunoglobulin on the market because it is the most convenient product. Indeed, it necessitates only one monthly subcutaneous injection, and thus, the annual cost is lower because the lower frequency of infections more than offset the higher cost per mg. Immunoglobulin treatments are currently administered intravenously, but the market seems to move towards more subcutaneous injection such as Subcuvia and HyQvia.
Albumin is an essential protein found in blood plasma and produced in the liver. Albumin facilitates transportation of substances such as fatty acids, hormones… When plasma volume is significantly reduced, serum albumin restores the deficit. Albumin is used with patient suffering from hypoalbuminemia, blood loss and burns. The main products are Flexbumin and Buminate.
Alpha-1 proteinase inhibitor (A1PI) is an enzyme found in blood plasma. Patients experiencing A1PI deficiency face respiratory complications. This therapy brings patients the necessary enzymes. Aralast and Glassia are the main products.
Others
Baxalta has also an oncology platform and is active in the development of biosimilars. Clearly, this is not an important part of its business, and it will become even smaller in the combined entity.
Baxalta commercialized two oncology assets (Onivyde and Oncaspar) and has some early stage programs under development. Onivyde is a drug used in the metastatic pancreatic cancer, whose rights ex-US have been acquired from Merrimack (NASDAQ:MACK). Oncaspar is a treatment in acute lymphoblastic leukemia. These two drugs are under investigation for use in others indications, but the peak sales of these products will not go beyond $500M.
The two biosimilars in development are BAX923 (Humira biosimilar) and CHS0214 (Enbrel biosimilar). Even though the initial market of Humira and Enbrel are huge, $14B and $5B, respectively, I guess that big players or specialists such as Pfizer (NYSE:PFE), Novartis (Sandoz) (NYSE:NVS), Mylan (NASDAQ:MYL) or Samsung Bioepis… will benefit the most.
On 30th of May 2016, the merger between Shire and Baxalta has been approved by shareholders, and the deal has closed on 3rd of June 2016.
What the new SHIRE looks like?
The new Shire is a leader in rare diseases with roughly 65% of revenues coming from this indication. The pipeline will be strengthen with more than 60 development programs, most of them (roughly 50) related to rare diseases. The revenues are distributed as follows:

(Source: Shire & Baxalta Form 10-K)
Here is a slide showing all the products from the combined entity: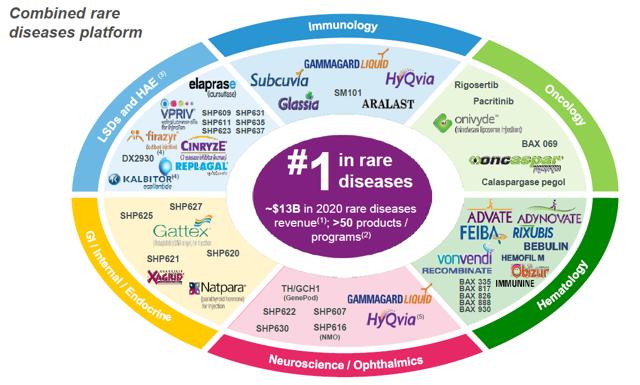 (Source: Shire investor presentation)
The management expects that new product launches will generate circa $5B sales by 2020. The management also guides for combined revenues growing from $12,56B in 2015 to >$20B in 2020 that represents roughly a CAGR of 10% over the period. Shire expects also $500M of cost synergies.
One weakness of the old Shire was its dependence to Vyvanse. Vyvanse represents now 14% of revenue, which is less than the 27% of revenue for the old Shire. It reduces the risk of Vyvanse significantly, which will lose patent protection in 2023. However, this acquisition brings its own challenges as well. Indeed, investors are worried about the longevity of the hemophilia franchise due to the new competition, a potential tax liability linked to the structure of the deal (spin-off) and the business integration. We could also add Brexit even if it is not stock specific.
Hemophilia Franchise Duration
The potential new entrants, especially Roche's ACE910, have already been discussed in a previous section. I will just highlight that ACE910 won't be launched before the second half of 2017 for the inhibitor population. This population represents 6% of total revenue. Concerning the non-inhibitor patients, we don't expect clinical readout before mid-2018, thus not launched before 2019. This risk is more sizeable because it represents 23% of total revenue.
The franchise should decrease over time, but at a slower pace than anticipated by some investors, because a switch from episodic to prophylactic treatments will partially offset the fall in revenues.
Tax Liability
When Baxalta was spun off, the transaction was tax free for the company and investors. However, this rule is valid only if the company (Baxter) did not intend to spin of Baxalta in order to be able to sell it later. If the regulator proves that this transaction was in this purpose, Shire should pay a tax bill of approximately $5B.
This should not happen because during the spin-off, Shire was in discussion with AbbVie (NYSE:ABBV) about a merger, thus Baxter and Baxalta were probably not planning to merge with SHPG. Moreover, SHPG has communicated that a due diligence was undertaken by an external company, and that all documents were analyzed and that they confirm that there were no discussions between Baxalta (and Baxter) and Shire about an acquisition.
Business Integration
At the first look, we can see that Shire has to integrate a business of the same size (roughly $6B of revenue), but with three times more employees (17,000 VS 5,500). On the production side, it is difficult to imagine synergies between the blood-derived products from Baxalta and the attention deficit and hyperactivity disorder (ADHD) drugs from Shire. It is the same on the commercial side; it is pretty difficult to imagine synergies between a team of representatives selling ADHD drugs to neurologists and a team selling blood products to hematologists. Therefore, the deal has not been done in order to realize meaningful synergies, but more for strategical reasons. However, management expects $500M of cost synergies.
Brexit
On 23rd of June, UK citizens will vote on the European Union membership during a referendum. They will choose between staying and leaving the European Union. It should create an uncertainty, and we could see UK stocks going down if it exits the European Union. However, Shire's revenues are mainly generated outside the UK and more costs than revenue in UK, so a depreciation of the GDP is positive for the company's earnings. But, there is a clear currency risks for non-domestic investors if the GDP depreciates.
Valuation & Growth
The following table shows that Shire is trading at a 23% and 16% discount based on P/E and EV/EBITDA. Moreover, the company should grow more than peers. Indeed, according to Bloomberg's consensus, earnings should grow by 14% for the next three years, whereas peers' earnings (in average) should grow by 9.5%.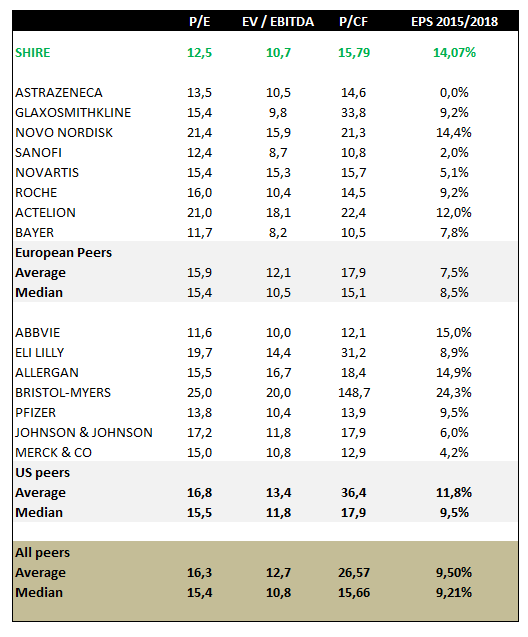 (Source: Bloomberg consensus)
I think that a company focusing on rare diseases (higher margin, less pricing pressure…) combined with a higher-growth profile should trade at a premium. However, I understand the fears on the hemophilia franchise and the business integration, thus I assume that the stock should not trade at a premium, but I see no reason for Shire to trade at a discount.
Conclusion
Shire is a great company with an established track record, especially in M&A (ViroPharma, NPS Pharma, Dyax…). The Baxalta acquisition brings diversification and reduces the risk of the Vyvanse patent expiration in 2023. However, I would have preferred an acquisition with less uncertainty on the business development. Having said that, Baxalta's risks seem fully priced and the risk/reward is skewed to the upside. It is the right moment to invest in Shire (maybe better after the results of the referendum) and to wait until the management start to deliver on its targets.
Disclosure: I am/we are long SHPG.
I wrote this article myself, and it expresses my own opinions. I am not receiving compensation for it (other than from Seeking Alpha). I have no business relationship with any company whose stock is mentioned in this article.