AbbVie (NYSE:ABBV) disclosed its vision 2020 in October 2015. It's a comprehensive plan to cross $35 billion in revenue and achieve a target operating margin of 50%, and constantly grow operating margin by 200 basis points year on year.
Although, more than 50% of this sales growth is forecasted to come from the sale of Humira (c. $18 billion), and Imbruvica (c. $5 billion), the key challenge to meet the revenue forecast is emanating from biosimilars, which are expected to hurt Humira sales growth and dampen results.
In this analysis, I'd like to lay emphasis on whether ABBV can achieve the revenue and margin target it has set for itself and the key opportunities and challenges that could give my readers a better assessment of ABBV's ability to meet these targets.
Key issues, opportunity and challenges
Humira sales drop and competition from AstraZeneca could hurt Imbruvica sales
Humira has been ABBV's most successful drug till date and is the primary driver of the company's sales and margins. To achieve its 2020 targets, the driver of top line growth is sales of Humira and Imbruvica. Competition emanating from AstraZeneca's Acalabrutinib could pose a significant challenge to Imbruvica meeting its sales target. Finally, ABBV's forecast sales from Viekira is consistently being cut owing to the competition emanating from Merck, which is developing a similar drug.
$30 billion worth M&A deals point to a counter strategy to mitigate the impact of Humira sales drop
ABBV's acquisition of Stemcentrx which could result in an estimated outflow of $9.8 billion (including milestone based payments) combined with the $19.8 billion it paid to acquire Pharmacyclics in 2015 has resulted in ABBV investing close to $30 billion to acquire assets with several billion dollars of sales potential. While commercialisation of the lead end stage drug in the Stemcentrx acquisition, Rova T, doesn't happen till 2018, ABBV has forecasted peak annual sales of >$5 billion.
Acquisition of these potentially deep value drug companies is ABBV's strategy to meet its 2020 financial targets in the event of Humira's sales being challenged by the advent of biosimilars.
Competitor's counter strategy may hurt Imbruvica sales targets
AstraZeneca's acquisition of a 55% stake in Acerta Pharma is primarily towards acquiring Acalabrutinib, a drug aiming to treat relapsed chronic lymphocytic leukaemia (CLL). ABBV's Imbruvica is being developed to treat the same disease and initial test reports are in favour of its rival.
Acalabrutinib recorded a 95% success rate in relapsed chronic lymphocytic leukaemia (CLL) vs. Imbruvica's 58%, with lower side effects as compared to the ones resulting from Imbruvica consumption.
AstraZeneca could potentially pay up to $7 billion to acquire a 100% stake in Acerta Pharma, and in comparison, ABBV acquired Pharmacyclics primarily for Imbruvica at a price of c. $21 billion with forecast FY18 sales of c. $3.3 billion.
Stemcentrx acquisition
ABBV has acquired Stemcentrx to strengthen its oncology arm, which is also complementary to its growing hematologic oncology franchise and existing portfolio of solid tumor assets. The acquisition is expected to be revenue accretive in FY18 and EPS accretive in FY20. The lead drug Rova T is expected to hit the shelves in FY18 and deliver projected peak annual sales of $5 billion.
Investment opportunities for ABBV
Existence of a late stage pipeline fuelling possibility of long-term growth. All early stage products have the potential to dramatically re-state standard of care. Attractive return of capital philosophy, balanced between supporting growth and returning cash to shareholders. Magnitude of near-term late stage growth assets alone ensures substantial growth beyond 2020 (as shown by the image below.)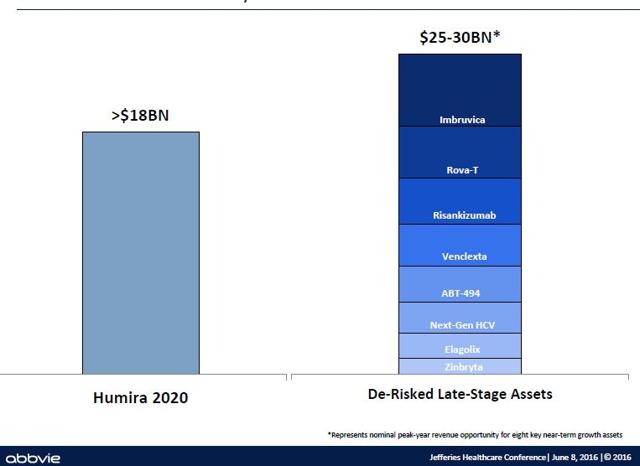 Click to enlarge
Source: Company presentation
Strategic R&D focus
Since ABBV's separation from Abbott (NYSE:ABT), the company has heightened its R&D budget to convert its product pipeline into real revenue opportunities, and the success of Humira is testimony of it. The R&D team has been built upon strong capabilities with the addition of new talent to its R&D organisation. Focus on R&D has allowed the company to de-risk its key late stage programs through numerous positive data readouts.
Impact of R&D on pipeline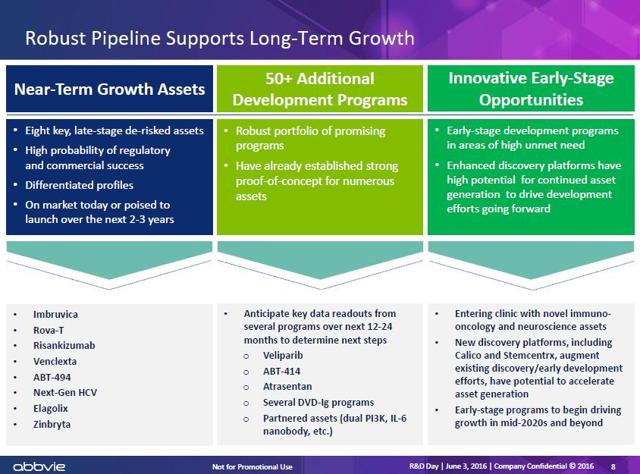 Click to enlarge
Strong shareholders' return
ABBV has purchased $6.3 billion of shares in 2015, and as per the share purchase program, another $3.5 billion are going to be bought back as per the last authorised share purchase plan.
Moreover, the company has continued to increase and pay dividends constantly to ensure consistent and growing return to its shareholders. The company has increased its dividend by 12% starting February 2016.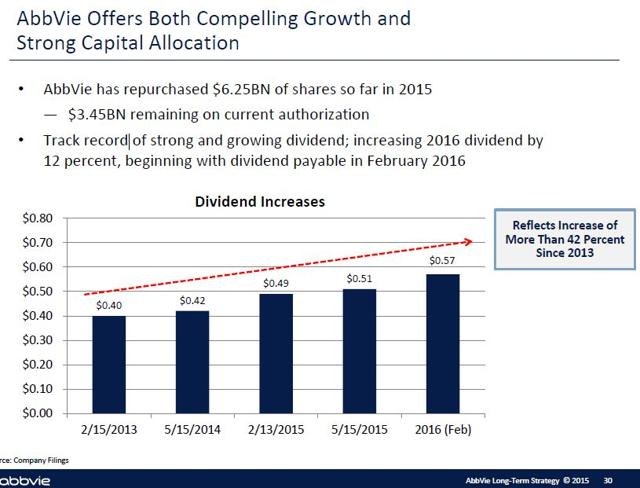 Click to enlarge
Strong exposure of sales in the US exposes the company to buyers with choices
FY15 saw ABBV record 59% of its revenue emanating from the US. This reduces its exposure to largely the US dollar and volatility of the forex market on a relative basis. While this is good for ABBV from the above-mentioned perspectives, it is bad because it results in the company always being exposed to a market where consumers are becoming increasingly selective owing to the options they are exposed to.
Closing thoughts
ABBV is at a point in its life where the company isn't afraid of facing the challenges. Every pharma and drug company lives with the risk of patent expirations and it losing that one drug that dominated its financial success. But, good pharma companies forecast this well in advance and develop a very strong product pipeline. I believe ABBV has certain very strong contenders to take Humira's place and rate the company a buy. I expect the market to reflect the intrinsic value of this stock in the next 2-3 years.
Disclosure: I/we have no positions in any stocks mentioned, and no plans to initiate any positions within the next 72 hours.
I wrote this article myself, and it expresses my own opinions. I am not receiving compensation for it (other than from Seeking Alpha). I have no business relationship with any company whose stock is mentioned in this article.