There are a lot of people dumping on Wal-Mart (NYSE: WMT) lately. Its long-standing opponents who call it an evil wage-suppressing, supplier-bullying, small-town killing behemoth, will never run out of ammunition. Just today the company announced it was automating a bunch of jobs. It has also fallen out of favor with the investor community. This, I suspect, may be in the midst of turning around.
The stock is up almost 13% since May 13 earnings but at $71 has still been a bummer for long term investors who got in at the all time high of $90 in January 2015. As I will show it has done in past corrections, the stock basically did nothing through January and February. The real pain was from August to November 2015 when the stock dropped by 21%, due to factors we will discuss. The pros and cons of the stock are well-known but let's just take a moment to reiterate them:
Return on Assets has been under 8% for 5 straight quarters and 9 out of the last 10, after oscillating between 8% and 9% for the 6 years before that.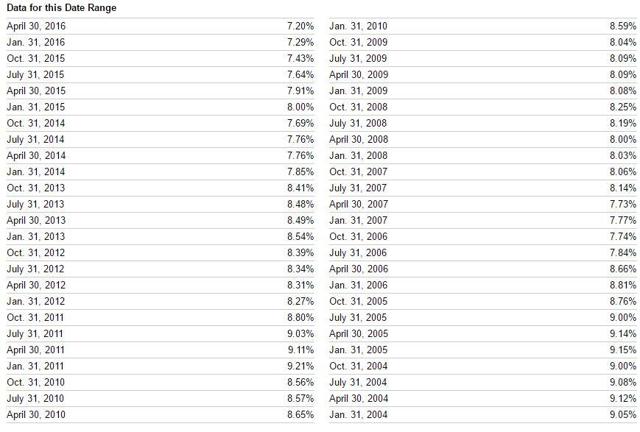 Click to enlarge
Source:ycharts.com
Return on Equity has decreased for 19 straight quarters.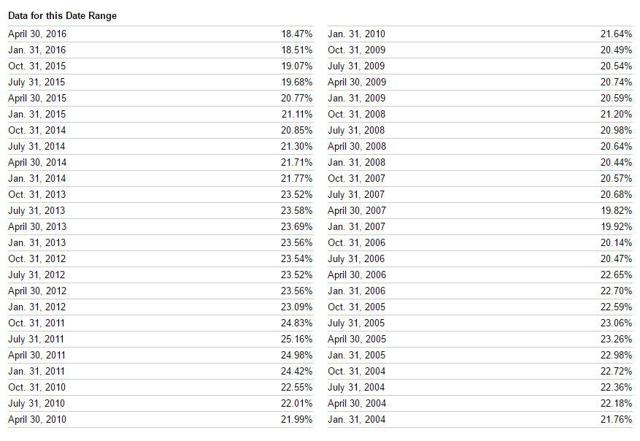 Click to enlarge
Source: ycharts.com
Competitive threat from Amazon, discussed further below.
On the positive side:
Dividends have increased 35% in 5 years, averaging a penny per year in the last three years.
Share count has been reduced by 4.5% in that period
Same Store sales have risen above 1% for the first time in three years. This metric might be as important as P/E in retail stocks.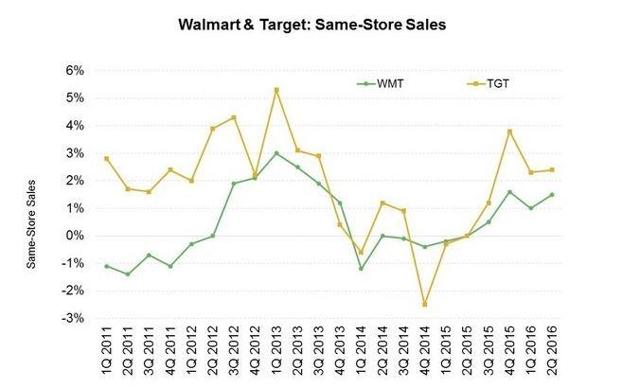 Click to enlarge
Source: yahoofinance.com
As many readers will now, one of the main reasons for Wal-Mart stock's slow decline is Amazon. Forget Target and Costco, which cater to totally different markets despite seeming to stretch over a similar amount of North American big box space. Wal-Mart is bigger then the four global competitors that follow it combined (Target, Costco, Tesco, and Carrefour). I do know that the company has tried to keep up that underdog from Bentonville ethos alive and well and are determined to meet Amazon every step of the way despite Amazon's refusal to take its foot off the gas for one second. Drones, a prime-style delivery service, and new private label product innovations are all in Wal-Mart's wheelhouse. They also are attempting to claw back some of the market share dollar stores have grabbed from them with their neighborhood market format.
In terms of generating cash to either return to shareholders in some form or invest in future strategy execution, Wal-Mart is trading at 7.8 price to cash flow with a 2.9 price to book and a 2.79% dividend. Amazon is trading at 30 times price to cash flow with a 23 price to book value and zero dividend. How much more growing can this growth stock do?
That is the irrational face value market perception comparison. The problem is that if we are talking apples to apples and this is a tortoise vs. hare race, Wal-Mart is clearly at a disadvantage. I thought its $7.5B of cash on the balance sheet was encouraging. Amazon has almost $13B. I thought the $43B of long term debt was manageable. Amazon has just under $9B. So clearly, Amazon is in a much better position to finance its future plans, has lower legacy costs, and will probably have an easier time raising debt or equity if it needs to. Amazon also usually ekes out quarterly profits of pennies per share and misses can been severely punished in the past. This is reflected in Amazon's Beta of 1.04 vs. Walmart's of 0.22.
People like to talk about the 46,000% return Amazon has generated since its IPO. Well, if you're getting in at 46,000, I commend you on your extreme bullishness. This stock has taken shorter term investors for a ride, in 2014 (-30%), 2015 (+100%), the first 6 weeks of 2016 (-18.5%),and since February 2015 (+50%). Wal-Mart, meanwhile, peaked at $69 in '99, and stayed in a range between around $45 and $60 for over 12 years before going on the run that led to its all time high from early 2011 to early 2015. Throughout 2008 and 2009 the stock barely moved, despite crazy volume.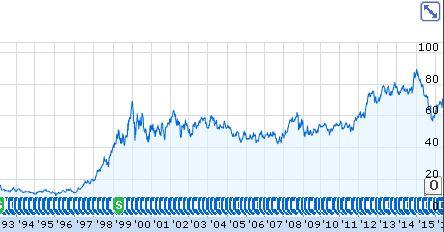 Source: googlefinance.com
The company touches a lot of raw nerves and is controversial. The Walton family's wealth is controversial. Their low-wage army is controversial (although they gave a bunch of them a raise). And they irked investors and small town residents this year by closing stores for the first time, stores which had previously decimated downtown commerce in these small communities. Plus they have tried to enter markets and failed (Germany) and everyone knows Sam's Club does not inspire the same loyalty or popularity as Costco. An academic study by Wayne Cascio in 2006 showed that Costco generates more profit per square foot despite its high wages because of lower employee turnover. That hasn't changed. It's true that there is nothing new on Wall Street.
Alas, portfolios are not popularity contests, and I think that this company can be counted on to generate a lot of cash over the next several years despite Amazon's aggressive moves. Dollar stores have taken their toll on Wal-Mart as well but it's hard to imagine them getting into stuff like clothing or automotive, and Wal-Mart is meeting them on their turf, as I mentioned. Wal-Mart is still a significant contributor to several other expensive blue chip companies' bottom lines like Coca Cola and P & G and this is an opportunity to gain exposure to those at a decent valuation as well.
Even though the market hasn't fallen dramatically, fear and malaise out there can be observed in gold and treasuries pushing up against new 52 week highs for several weeks and hitting them again today. So called "defensive" sectors, utilities and consumer staples are following close behind. I believe even if Wal-Mart takes longer to get its turnaround going, whether its 3, 6 or 9 months, it is reasonably priced right now for long term investors to start accumulating. Of course you missed the crash but the stock still trades for less than it did a year ago. Cash flow generation, investor friendly but conservative dividend and buyback policies and resilience through economic cycles are all reasons that I point too. Plus, you still have double digit returns of equity being generated.
Personally rather than putting out $7132 today for 100 shares I'd rather commit to picking it up for 12% off in the next three months. The September 16 $62.50 puts have a delta of -0.13 right now which means that buying them today for 60 cents will result in a gain of 13 cents for a 1 dollar decline in the value of the stock, all else being equal. Cash securing these means you earn $60 on $6250 for 3 months or 4% annualized. With an IV of 16% and 67 or so trading days until these expire, we know that the market is pricing in a $6 move over the next three months (11.61 over the next year). So we would be giving ourselves a 68% chance of success just keeping the money.

Click to enlarge
If the stock was surfing 52 week lows and volatility was really high then I would advocate selling closer to the money puts as there would be a lot better cash up front available. Unfortunately the market is not presenting such an opportunity right now and I think this represents the best way to get in. Nothing wrong with being patient and waiting to buy Wal-Mart where it was just one month ago.
Based on the chart, I think WMT goes sideways or up. I don't see another big drop in the cards. But even if there was, its not a bad time to start buying a company which still takes up a huge chunk of US and international retail activity every day, despite its many faults and controversial reputation.
Disclosure: I/we have no positions in any stocks mentioned, and no plans to initiate any positions within the next 72 hours.
I wrote this article myself, and it expresses my own opinions. I am not receiving compensation for it (other than from Seeking Alpha). I have no business relationship with any company whose stock is mentioned in this article.