Nevsun Resources Sweetens Reservoir Minerals Offer
First, I want to point out that Nevsun Resources (NYSEMKT:NSU) made a very generous offer to acquire Reservoir Minerals (OTCPK:RVRLF). As mentioned in previous coverage, Nevsun offered a total of $365 million, made up of both Nevsun shares and cash, plus it would provide a $44.7 million loan to Reservoir; the deal gave Reservoir shareholders a 124% premium to its stock price on March 2, 2016. Shareholders who bought Reservoir back in February are now up 300%.
So, I really can't wrap my head around Nevsun's recently increased offer to Reservoir, as it has agreed to pay an additional $2.0 per share, or $75 million, to get this deal done. I don't think it's a smart move. Instead, I would have walked away from this acquisition and taken the $20 million break fee instead. I'll discuss the issues below.
The Original Offer
To briefly recap, Nevsun wants to buy out Reservoir for its Timok project in Serbia. This project carries huge exploration upside and already carries attractive economics based on a preliminary economic assessment (PEA).
Below are the original terms of the deal: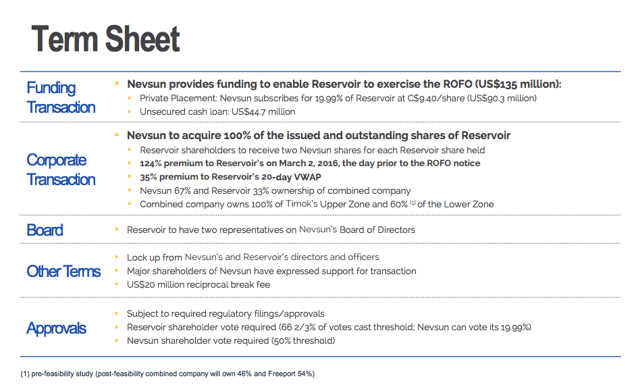 Click to enlarge
(Credit: Nevsun Resources)
According to the PEA on Timok, it carries a post-tax net present value of $946 million (8% discount, using current metals prices of $1,250 gold and $2.20/lb copper).
This makes the $365 million offer seem like a fair deal, especially since production won't begin for at least 3 years. The project also carries huge leverage to gold and copper prices: at $3 per pound copper and $1,300 gold, the post-tax net present value jumps to $1.59 billion, according to the PEA.
The deal would create a $1+ billion company with a strong balance sheet to develop and bring Timok to production, while also benefiting from the cash generating Bisha copper/zinc mine. It would hopefully create a more diversified company for Nevsun shareholders.
The Risks
However, it's not a perfect deal for Nevsun shareholders by any means. Preliminary economic assessments are just that - preliminary in nature - and the PEA on Timok contains mostly inferred resources, which are speculative in nature and may not even exist.
I don't doubt Timok's exploration upside. However, to put it simply, the project is still early stage and needs to be further developed, and quite frankly, a lot can go wrong between now and initial production. I've seen it happen too many times in the gold/copper mining industry. The risks are real with this project.
The project is also located in Serbia, which isn't the riskiest mining jurisdiction in the world, but certainly isn't the safest, either. The country ranks in the middle of the pack in the Fraser Institute's 2015 annual mining survey.
Why the Offer Was Increased
The increased offer comes after two dissident Reservoir shareholders - Jing Bao and Shandong Xiangguang (two Chinese companies) - offered an alternative financing proposal to Reservoir shareholders (which the Reservoir board actually rejected in favor of the Nevsun arrangement).
These two shareholders proposed a $50 million loan and a $80 million equity financing (at C$8 per share, much less than Nevsun's offer), so Reservoir shareholders would get to keep 100% ownership in Timok and not have to sell to Nevsun.
But as Nevsun pointed out in a press release, this deal would put Reservoir in a dangerous situation, as the loan is secured by the Timok project and defaulting on the loan would result in the shareholders obtaining full ownership of Timok.
These shareholders are simply being greedy in my opinion. The original offer was more than fair, but the shareholders went behind the Reservoir board of directors and proposed a less attractive offer that carries big risks for other Reservoir shareholders.
Following the additional $75 million payment to Reservoir shareholders, the new company would have $225 million in cash instead of $300 million.
Check out this ridiculous website started by one of the Reservoir shareholders mentioned above.
"The best and most profitable days [of Bisha] are behind it.

"Nevsun has US$330 million in cash* and a mine in Eritrea that in the last year the market has valued at various levels, so we'll use a value of US$150 million."
The shareholder actually values the Bisha mine at $150 million(!) even though this mine is producing over $100 million in operating cash flow per year and carries a current mine life out to 2025, and just completed a crucial zinc plant expansion. It also places no value on the enormous exploration upside of the Bisha district.
The website also valued Timok at $520 million based on the PEA (again, preliminary in nature) and claims that Reservoir shareholders would be "losing" $368 million by accepting Nevsun's offer.
Giving Timok a higher valuation than the Bisha mine is laughable, as Bisha is profitable and throwing off millions in free cash flow with a mine life of at least another 9 years, while Timok is a development stage project whose value is based off a PEA.
The only way Reservoir loses here is if shareholders don't accept Nevsun's offer - the share price would tank back down to the $5-$6 level in my opinion. This website is clearly a slap in the face to Nevsun shareholders and self-serving for these two dissident Reservoir shareholders.
The Bottom Line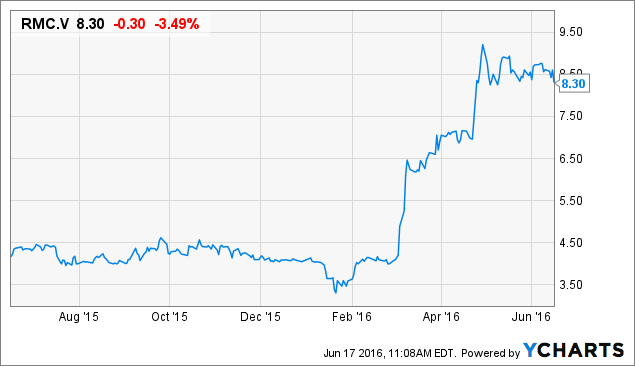 RMC data by YCharts
Nevsun made more than a fair offer to buy Reservoir Minerals. The original offer was done at a massive premium to the stock's closing price on March 2 and, in my opinion, possibly overvalues the Timok development project.
As you can see above, Reservoir shareholders have enjoyed huge gains over the past few months thanks to rising commodity prices and the takeover offer from Nevsun. Meanwhile, Nevsun's stock continues to lag, as it is down 10.32% over the past 3 months and down more than 6% on Friday following this news.
Nevsun has disappointed me here. Instead of using its massive cash hoard ($400+ million) to purchase a producing asset or another undervalued asset, I feel like it's given into these two greedy Reservoir shareholders and overpaying for Timok. Nevsun should have cancelled the deal and received its $20 million break-free. I'll continue to hold my Nevsun shares - it's the 3rd largest position in my portfolio - but I'm not happy with how this deal is playing out.
Disclosure: I am/we are long NSU.
I wrote this article myself, and it expresses my own opinions. I am not receiving compensation for it (other than from Seeking Alpha). I have no business relationship with any company whose stock is mentioned in this article.