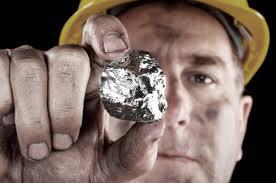 Stillwater Mining Co. (NYSE:SWC)
This article is an update of my preceding article about Stillwater on May 10, 2016.
On June 15, 2016, Stillwater mining participated in a company presentation at The RBC Global Mining & Materials Conference in Boston and issued a new presentation.
Production and Revenue snapshot
Q1'15 production results, on May 6, 2016. ( 5 last consecutive quarters).
Mined

K oz (2013)

Q1'16
Q4'15
Q3'15
Q2'15
Q1'15
Palladium
62.0
63.4
59.3
59.2
64.5
Platinum
18.9
18.9
17.7
17.6
19.2

Stillwater mine

80.9
82.3
77.0
76.8
83.7
Palladium
44.0
39.0
39.7
39.1
38.7
Platinum
12.4
11.1
11.4
11.1
10.9

East Boulder mine

56.4
50.1
51.1
50.2
49.6

Total mined

K oz

137.3
132.4
128.1
127.0
133.3

Recycled

K oz processed *

154.2
129.8
161.0
151.6
108.7

TOTAL

K oz

291.5
262.2
289.1
278.6
242.0
Average price per Oz (Pt,Pd)
612
673
693
842
871
* These numbers are including rhodium, which represents about 7% of the total processed. Ratio for the mix palladium, platinum is 3.39:1. (March 31, 2016)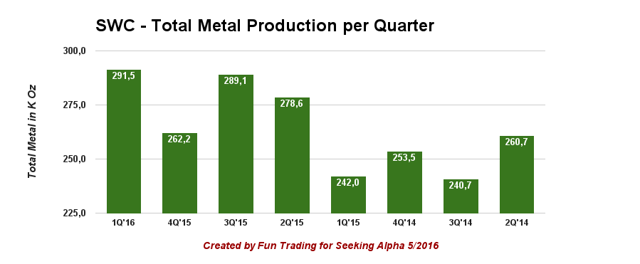 Click to enlarge

Click to enlarge
A quick review of the quarterly revenue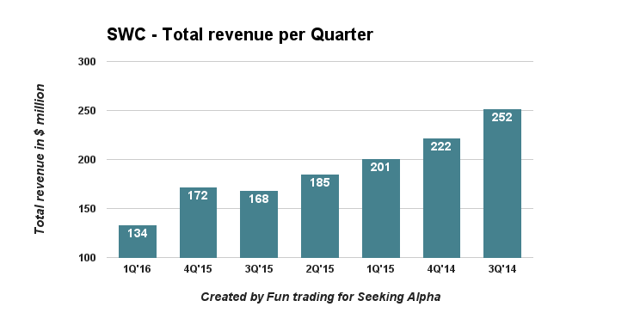 Click to enlarge
| | | | | | |
| --- | --- | --- | --- | --- | --- |
| | 1Q'16 | 4Q'15 | 3Q'15 | 2Q'15 | 1Q'15 |
| Total revenue (mln) | 133.6 | 172.0 | 168.4 | 185.4 | 200.5 |
| Total costs | 141.89 | 164.38 | 168.30 | 147.18 | 179.95 |
| Revenues - Costs | −8.3 | 7.6 | 0.1 | 38.2 | 20.6 |
| AISC | 613 | 613 | 677 | 785 | 763 |
| Price of Oz combined (Pt,Pl) | 612 | 673 | 693 | 842 | 871 |
The company presentation gives us a big opportunity to accurately review the different subjects that are essential to our understanding of the business model.
Basically, Stillwater mining is a very effective and unique platinum and palladium miner, located in the USA.
Total quarterly revenue comes from two distinct streams.
The mining segment comprising two mines called Stillwater Mining and East Boulder.
The PGM Recycle segment, which is a growing part of the business.
In short, SWC produces PGM and sells it. Thus, the price of the metal is paramount and will determine if the company is producing at a loss or at a profit.
Two main metals are produced: palladium and platinum. This is why SWC is indicating a price of Oz combined, which is calculated based on the actual platinum and palladium average spot price for the quarter.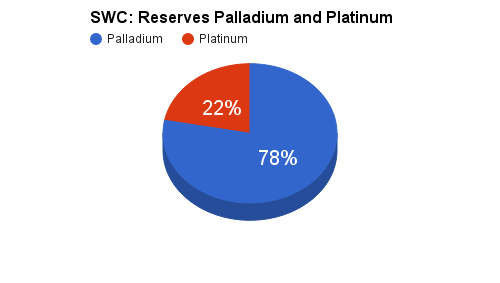 Average sale price (Pd,Pt) per mined Oz estimated for 2Q'16:
Metal
Sales Price estimated - S
Ratio - R (1Q'16)
R x S

Price sold/ Oz

(RxS)/R

Palladium - ("Pd")
568
3.387
1924
Platinum - ("Pt")
1,010
1
1010
4.387
2934
669
The basic price per Oz combined will be up approximately 9.3% quarter-over-quarter.
Three important topics were discussed in the recent presentation, and are significant for the future production and financial situation of the company. These three topics alone should be enough to push investors to invest long-term in this company.
1 - Key development: The Blitz project (updated as of May 16)
2 - The recycling segment and a new record production estimate for 2Q'16.
3 - The Altar mine in Argentina.
Full-year 2016 guidance was unchanged.
1- The promising Blitz project
The Blitz project is an extension of the Stillwater mine (See picture presentation page 5). This is an impressive area about 1.6 miles long and about 800 meters high.
First production is expected in 2018 and is estimated at 150K Oz to 200K Oz of PGM a year, when fully ramped up.
Based on the total production of PGM in 2015 (including Stillwater and East Boulder) at 520.8 K Oz, the Blitz project will increase total production by approximately 30% to 40%.
This new project will increase significantly the reserves P1 and P2, and will extend the LOM for many years. We learned also that the project is advancing at a record 98m/month in May 16.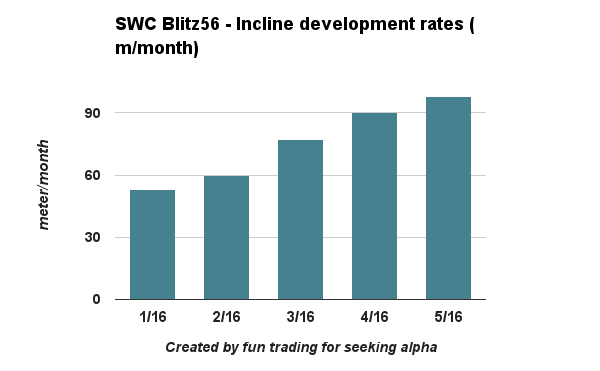 Note: May development rates in the Blitz 56 Incline increased by 69% compared to 2015 average and are still increasing.
Furthermore, at the Stillwater mine Stoping productivity has increased by 27.4% since the start of the year and Stillwater mine Stope Tons/employee hour for May 2016 was over 3.3 T/employee hour compared to 2.65 T/employee hour in January 2016.
The lower East Boulder project is also indicated and will add to production as well.
AISC (mining) for 1Q'16 was $613/Oz combined.
2 - The Recycling segment
SWC owns world-class processing facilities and recycling production is increasing. The company is indicating that the recycling production guidance for 2Q'16 will be approximately 164K Oz, which is another new record, up over 6% quarter-over-quarter.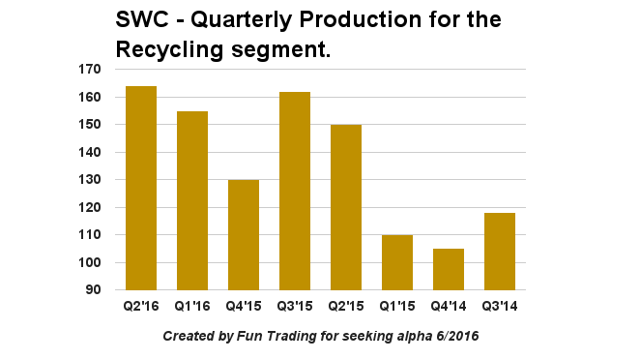 Click to enlarge
This Recycling segment has significant extra capacity providing ability to grow with minimal CapEx (See presentation page 6-10.)
3 - The Altar Project
This is a Cu/Au project in Argentina that I considered the biggest costly mistake that Frank McAllister, ex-CEO, made a few years back. However, the tide is now slowly turning.
Argentina changed its government recently, which is a positive, and the recent modest core program away from the main resource delivered encouraging results per the recent presentation.
The best course of action would be to sell the project to another miner who is already invested in Argentina, such as Goldcorp (NYSE:GG) who owns in part the recent Cerro Moro mine Located in northwestern Argentina, Yamana (NYSE:AUY) which owns the Gualcamayo mine in the San Juan district as well or even Barrick Gold (NYSE:ABX) who owns the Veladero mine (See Map presentation page 21.)
Michael McMullen, CEO, said in the last 1Q'16 conference call:
We are looking at all alternatives to see how we realize value for shareholders there. We have seen a change of government in Argentina, which I think has definitely enhanced the country as an investment destination. We have spent some money on this project this year, just done a modest drilling program there. Just to test some of the other exploration areas. And this project, I think at the appropriate time will allow us to realize some reasonable value for shareholders. It does contain just over 8 million tons of copper and 6 million ounces of gold and I think it provides a bit of optionality for our shareholders.
Conclusion:
I consider SWC as a perfect and secure long-term investment. The company has an excellent management team and a solid balance sheet with no net debt and a cash of $452.4 million. Furthermore, the future is really promising...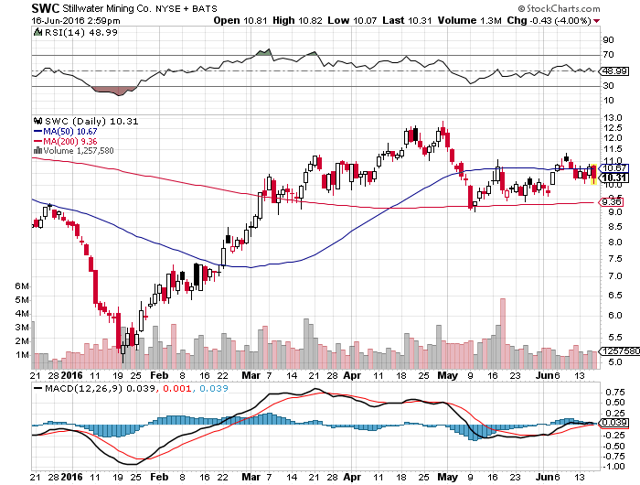 Click to enlarge
The only uncertainty is about the direction of the price of platinum and palladium. I recommend to read the CPM Group Precious metals outlook June 2016.
In the near term, platinum prices remain prone to further bouts of investor selloffs, which could push prices down to $950-$960 or even $930 toward the end of August.
Important Note: Do not forget to be one of my followers on SWC and get updated on the most recent SWC news (Production and earnings results).
Disclosure: I am/we are long SWC.
I wrote this article myself, and it expresses my own opinions. I am not receiving compensation for it (other than from Seeking Alpha). I have no business relationship with any company whose stock is mentioned in this article.