Oil prices have hit its one month low levels this week as both WTI (WTI) and Brent were trading at $46.64 and $47.84 respectively at the time of writing this article. The bearish trend in oil is because of the possibility of Britain leaving the European Union. Even the rate hike by Federal Reserve has strengthened the dollar and has further pushed the price downwards. As per a report published in Bloomberg, stocks and currencies of emerging markets witnessed their biggest four day declines as Brexit (British Exit from European Union) fears deepened. Amidst all these bearish trends, let us have a look at OPEC and the International Energy Agency (IEA) who came up with their respective oil market reports, maintaining their earlier stand that supply and demand will rebalance by the second half of this year.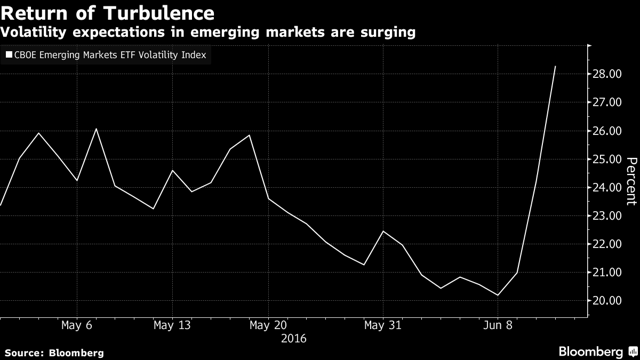 Click to enlarge
What OPEC has to say?
In its June, 2016- Monthly Oil Market Report, OPEC maintained its global oil demand growth forecast at 1.2 million barrels a day to an average of 94.18 million barrels a day. It said that India, with its robust vehicle sale, will drive the global demand this year. As per OPEC, OECD oil demand growth can increase further by 0.2 million barrels a day mostly because of retail price changes during the driving season and increase in heating demand from Northern Hemisphere. However, non - OPEC supply will continue to fall in the second half of the year and it will be almost 1 million barrels per day lesser than last year. The U.S oil output will reduce by 150 tb/day in 2H16 when compared to 1H16. While supply from developing countries will increase by 270 tb/ day in 2H16 when compared to 1H16, this increase in supply will be offset by decrease in OECD supply at 280 tb/ day during the same period. In short, OPEC expects the oversupply of oil to ease in 2H16.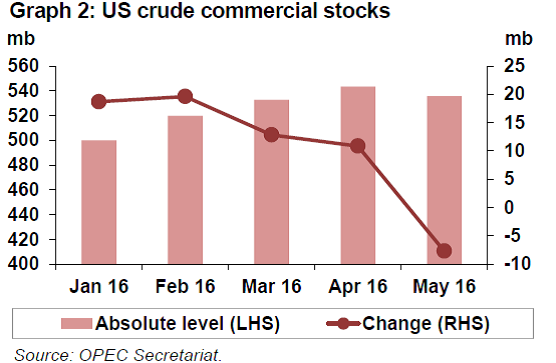 What IEA has to say?
Just like OPEC, even IEA mentions the effects of global supply cuts on supply- demand balancing process. As per IEA's Oil Market Report, around 0.8 mb/ day of oil was cut out from the global markets in May 2016 mostly because of supply outages of Nigeria, Canada and a consistent decline in US oil production. IEA states that the surplus of global oil supply over global oil demand in 1H16 will just be around 0.8 mb/day, not 1.5 mb/ day as earlier predicted. The group has even revised its global oil demand figure to 1.6 mb/ day from the earlier estimated 1.2 mb/ day for 1Q16 and increased its 2016 oil demand growth to 1.3 mb/day. The group also released its 2017 outlook where it predicts the global oil demand to grow by 1.3 mb/day to reach 97.4 mb/ day while non- OPEC supply growing by only 0.2 mb/day.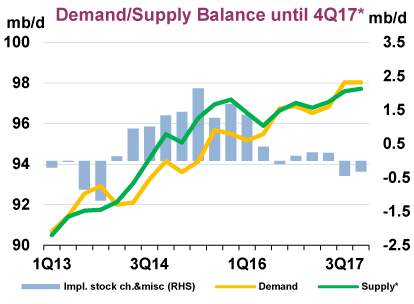 Takeaway
Although oil supplies from Canada will resume shortly, issues in Nigeria and Libya seem to be long standing and will take more time to resolve. Moreover, rising economic, political and social issues in Venezuela could affect operations of its oil industry in the coming time. All these factors will definitely support oil prices (NYSEARCA:USO) in the second half of this year. Moreover, IEA has admitted that less oil has been stock-piled than what it originally expected. This means that if oil demand continues to grow at 1.3 mb/day ( as predicted by both IEA and OPEC) and supplies continue to falter the way they are, the global stockpiles will shrink by second half of this year and this will increase the prices. I feel that the current drop in oil prices has more to do with market sentiments and this bearish trend will quickly fade away.
Disclosure: I/we have no positions in any stocks mentioned, and no plans to initiate any positions within the next 72 hours.
I wrote this article myself, and it expresses my own opinions. I am not receiving compensation for it (other than from Seeking Alpha). I have no business relationship with any company whose stock is mentioned in this article.