I've been looking at MTN Group (OTCPK:MTNOY), the South Africa-based multinational telecommunications service provider, for a long time now. Having been a customer of their service in different countries, I always knew of their fantastic growth perspectives but found the excellent outlook was priced in to a large extent. Due to the long lasting general economic difficulties in their strongest market South Africa and a hefty fine in their second biggest market Nigeria a couple of months ago, MTN has lost a big chunk of their market cap in recent quarters and I finally decided to have a really close look.

Click to enlargeSource: Reuters.
As you can see, MTN is trading at a level of around $8.50 and at the bottom of its 10-year trading range. MTN Group is a classic telecommunications business that operates mainly in Africa and the Middle East. Their most important markets are, as stated earlier, South Africa (28 million subscribers) and Nigeria (63 million subscribers). Their business model is simple: Build cell towers and get a lot of customers to use their network. Other important countries that MTN operates in are Iran (44 million subscribers), Ghana (14), Uganda (11), Cameroon (10) and Sudan (9). In total MTN has operations in 22 countries across Africa and the Middle East.
Telcos in Emerging Markets
In order to get an idea of valuations of Telecommunications Service Providers in Emerging Markets I've compiled the following table:

Click to enlarge
Three main observations:
This is a fantastically profitable industry (Vimpelcom (NYSE:VIP) seems to be the exemption). China Mobile (NYSE:CHL) and Vodacom (OTC:VODAF) are valued at more than $250 per customer, that's four times MTN's valuation on that metric. Turkcell (NYSE:TKC) and Mobile Telesystems (NYSE:MBT) are also slightly higher valued. Overall MTN is valued the lowest (apart from Vimpelcom) but among the most profitable. Leverage varies greatly with equity ratios between 64% and 12% MTN is comparatively cheap measured by P/E, P/S and market cap per customer
In the case of Vimpelcom there is apparently a reason to their low valuation. A very low profit margin (last 10 years average 3%) and an alarmingly low equity ratio of 12%. In the case of MTN however, these are both very solid, 18% profit margin and 50% equity ratio don't sound too bad at all.
As recently as early 2015 the stock was trading around $20 when two things played out that moved the stock price almost two-thirds down.
Nigerian Fine
As indicated above MTN was subject to a fine in Nigeria ($5.2 billion) after failing to deactivate millions of unregistered SIM cards which the Nigerian government deems a severe security threat. There are other explanations as to the motivation of the fine too, linking the fine to empty state coffers. The group's CEO resigned over the case which gives you an idea of the magnitude of the issue. 2015 has been a challenging year for MTN Nigeria overall and they lost some market share while slowly growing subscribers and registering 2.1% less sales.
Anyhow, MTN was able to negotiate the fine down to 1.7 billion US dollars (payable over three years) and the case is settled now. In order to be able to pay for the fine itself though, the Nigerian unit had to sell their entire tower network in Nigeria. Though not unusual in the industry, it is still a clear downside not to own the towers the business depends on, especially on an environment like Nigeria.
South African Economy
With a 30% depreciation of the South African Rand in just 18 months (making it a total of 50% over 5 years) the looming crisis of the South African economy made it into the global press earlier this year. The government cut down its 2016 growth expectation to only 0.9%. Widespread corruption and high credit cost make it ever more difficult for enterprises to do successful business in South Africa. MTN only grew revenue in South Africa by 2.9% in 2015 and is not much more confident for the next year.
Although as a stock holder I'm certainly not thrilled by the hefty Nigerian fine and continued troubles in one of MTN's core markets but I think that at 15-billion-dollar market cap MTN is a steal.
Why I think MTN is a solid Buy
Market Position
MTN operates in Emerging Markets (read growth) only and always aims for market leader position which, once obtained, leads to a virtuous circle as calls within the same network are heavily subsidised in these markets (so if friends and family already use MTN it makes a lot of sense for you to join that network too). To steal customers from MTN competitors need to either be very cheap or offer better coverage, both of which are very expensive to build up. MTN's market position is invaluable and might even trigger acquisition plans by an outsider. 30 or 40 billion would be an attractive price for 230 million subscribers in growing markets considering the time and financial resources needed to reach such a market position.
Mobile Data
Ever tried to get DSL in Nigeria, Uganda or Ghana? Even with deep pockets and an elephant's patience this can take month in the biggest cities if at all possible. When we read about the penetration of internet in Africa all these numbers are based on mobile broadband.
Although the growth of subscribers in Africa is already slowing (most countries have >100% penetration) and the existing talk time is unlikely to increase any further (or rather the revenue made with voice calls) data revenue increased across the board in 2015 and will be a reliable growth driver going forward (growth was 30% in 2015 for MTN).
Mobile Money
An incredibly high number of the Sub-Saharan Africa population don't have a traditional bank account. School fees, trash, water and electricity bills are universally paid cash. Transferring money cashless is something of a new idea to most Africans. MTN money is a service that enables one subscriber to send money to another one (or a company) who can then use it as credit or receive cash at a service point (MTN agent). MTN charges their subscribers a small fee for this service. The service is already widely available but has yet to contribute a noticeable revenue share (35 million subscribers across 15 countries both growing at >50% yearly). This however is expected to become the major way of banking and, even if MTN money won't be the service customers use in the end, their infrastructure is sure to be benefiting in one way or another.
Profitability
As we can see from the table introduced earlier MTN is one of the most profitable Telcos with an average net margin of 18.1% over the last 10 years. This was during a period in which revenues increased more than fivefold (in South African Rand). This chart shows the steadiness of growth and profit. Being able to sustain that high level of profitability while growing rapidly shows MTN is doing something right here. The outstanding combination of an established subscriber base in quickly growing markets and the possibility to grow revenue per customer dramatically while having very high entry barriers (who'd like to enter the African market starting from scratch?) makes me confident that MTN can keep growing long term both sales and profit.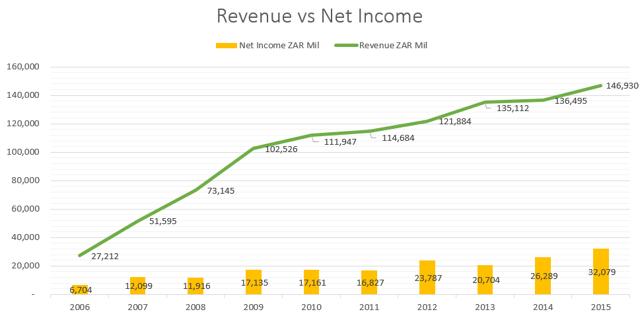 Click to enlarge
Dividend
MTN has a pay-out ratio of roughly 70% and has paid around $0.70 per share recently. This is a dividend yield of almost 10%. That's quite a compensation for waiting for the stock price to recover to old levels. Beware though of tax issues as there is a withholding tax in South Africa (similar to Russia for instance).
Valuation
At roughly 15-billion-dollar market capitalization last year's 2 billion net profit don't look too bad, especially since they didn't come as a surprise but rather as the logical continuation of a growth path both in revenue and income. Actually MTN's metrics can be best compared to Vodacom who are active in Africa as well and also based in South Africa. Being quite comparable regarding profitability (18% MTN, 15% Vodacom) and balance sheets (50% equity ratio MTN, 31% Vodacom), Vodacom is valued at more than three times revenue and almost 20 times last year's profit. Taking the last ten year's averages (trailing or Schiller's P/E) MTN is traded at a multiple of 12 and Vodacom at a multiple of 28. Interestingly, MTN even has much higher average capital expenditures (10 years again) of 20% compared to Vodacom's 13%. Probably a reason for their higher profitability and definitely a good sign for investors in MTN regarding future profits.
Conclusion
That investing in Africa is connected with lots of hazards and risks goes without saying. I'm convinced that MTN could fall significantly deeper than today's price in these nervous markets, especially since it already had some negative press. At the same time, I also think that I don't get the chance to invest in a proven winner in a growth industry in Emerging Markets at this valuation any day. A combination of closing the valuation gap to its peer group and generating a more positive news flow can, in my opinion, easily move the stock to levels between $20 and $30 within the next three years. Hence, I opened a long position in MTN and am prepared, fundamentals not shifting dramatically, to invest more should the opportunity arise.
Disclosure: I am/we are long MTNOY.
I wrote this article myself, and it expresses my own opinions. I am not receiving compensation for it (other than from Seeking Alpha). I have no business relationship with any company whose stock is mentioned in this article.
Editor's Note: This article discusses one or more securities that do not trade on a major U.S. exchange. Please be aware of the risks associated with these stocks.