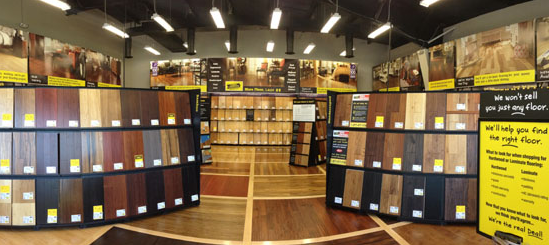 News broke last night that embattled flooring retailer Lumber Liquidators (NYSE:LL) had settled with the U.S. Consumer Product Safety Commission. This issue, of course, has been largely responsible for the epic decline in LL's shares over the past couple of years as the company has lots of problems, but the loss in traffic directly attributable to the now-infamous 60 Minutes story has been insurmountable. However, with the CPSC now off LL's back - and a largely favorable ruling - is the road clear for the company to move materially higher?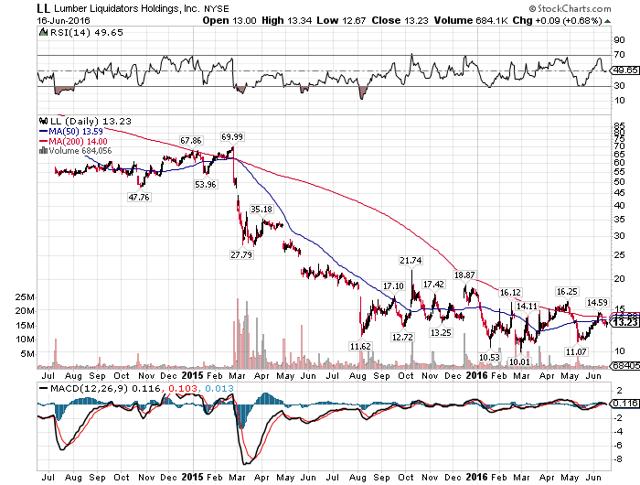 Click to enlarge
Lumber Liquidators' shares are up modestly off of the news of the settlement, but we've seen this movie before with LL; the company has received less-than-disastrous news before with respect to its myriad regulatory issues in the past couple of years surrounding its sourcing practices. But these things tend to result in a pop and then a loss of value back to where the rally started from. Will that happen again? Perhaps, but rather than trying to gamble on a short-term move, I think it is useful to examine LL's share price in light of its newly-issued settlement in concert with the issues we know it still has.
First off, the settlement is a sizable positive. For some time, I thought there was enough evidence to send LL to the penalty box with regulators including product recalls and potentially significant fines. It seems those things are not going to happen, and that means that the principal reason why I thought LL might actually go out of business in the short term has been alleviated. That's a big deal, and it changes the way I look at the stock. Before today, I still viewed LL as having a significant risk of insolvency depending upon legal action taken by regulators, but it certainly seems those fears have abated.
The CPSC didn't find unsafe levels of formaldehyde in LL's products - a huge win for the company - and the CPSC essentially told the company to simply keep doing what it is already doing in order to remedy whatever problems may have occurred from faulty flooring. This is really the best possible outcome the company could have asked for, and anyone that is long the stock should be quite pleased this hurdle has been cleared, because it is a big one.
But what does it mean for the stock? Is LL a buy now? In short, I certainly don't think so, because LL still has so many headwinds to profitability that while this staves off a potential bankruptcy situation, the company's fundamentals are still absolutely horrendous.
LL's earnings evaporated when the wheels came off in 2015, and since that time, the company has been burning cash and valuing the stock on anything but hope has been impossible. That's why I've been steadfast in my resolve that LL would perpetually head lower; there are no upside catalysts for this stock fundamentally. To be honest, I thought the up move in shares off of a settlement would be larger than it has turned out to be, but here we are; it seems investors may share some of my fears.
The biggest problem LL has now is that its massive loss of sales has caused it to become structurally unprofitable. By this, I mean that LL's current level of sales and the mix shift that has occurred due to the Chinese laminate situation have conspired to produce a level of gross margin dollars that is too low to pay for the company's operating and overhead expenses. In other words, LL will find it impossible to carry on with its current level of revenue and merchandise mix because its gross margins are lower than what it costs to run the business. That results in perpetually negative operating margins, and LL still has that problem today and will have it tomorrow; the settlement doesn't help.
But what if revenue recovers? What if consumers suddenly flock to stores because of the settlement news? I think that is a pretty far-fetched idea because LL's brand has been - in my view - irreparably damaged by the brand crisis it has experienced. And you don't have to take my word for it; LL's loss in traffic has been absolutely devastating and has continued right through the company's last quarterly report. But what's interesting is that analysts are far more bullish than I am on LL's revenue prospects, as seen in this chart: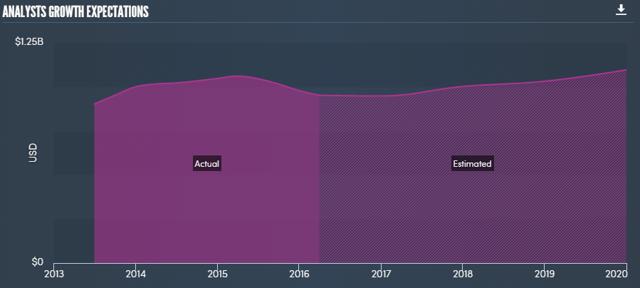 Click to enlarge
Source: Simply Wall Street
You can see where it all went wrong for LL in 2015, but what's interesting is that analysts are quite bullish on the company's revenue prospects. Why that is the case is beyond me because even when new stores are taken into account, sales growth in the mid-single digits in the out years assumes some level of comp store sales rebound. There is absolutely no evidence comps will rebound any time soon, and while I don't think comps will fall off a cliff forever, what is going to cause customers to suddenly run back to LL when it sells commodities they can get lots of other places? LL's reliance on Chinese laminates in the past worked until it didn't, and now, it has nothing to replace the lost sales and more importantly, margin dollars.
This chart gives us an idea of just how bad things have gotten for LL and how slow any potential recovery may be: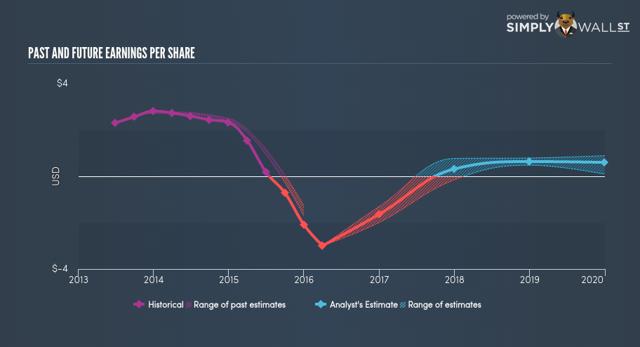 Click to enlarge
Source: Simply Wall St.
I think it is safe to say that LL will never again earn $3+. Those numbers were based upon a heavy mix of laminates the company can no longer sell as well as much higher revenue levels, and that means it would take an enormous increase in sales of other products that carry materially lower margins to reach the same level of profitability it once enjoyed. The odds of that occurring are stratospheric because the margin profile of the company's remaining products is nowhere close to as favorable. The only way to replicate the same level of earnings is with an enormous increase in volume, exactly the opposite of what LL has experienced.
You can see that the EPS recovery is expected to be very, very slow, and the magnitude is also much different than where LL came from. Even three years from now, analysts have LL hitting 60 cents in EPS, less than one-fifth of its prior levels. That means that even if LL hits that number, it is trading today at 23 times 2019 earnings. That's why I'm still bearish on LL; there are so many things that could wrong between now and then that paying that much for earnings that haven't happened yet sounds downright ludicrous to me.
And that's the problem with LL; fundamentally, it has way too many problems remaining. Is the CPSC news a big hurdle that LL can say it has cleared? Absolutely; it has likely taken bankruptcy off of the table. However, LL is still structurally unprofitable and that is what bulls don't seem to get; even with the settlement out of the way and the company cleared of wrongdoing, its business is still terrible. It has no way to replace the margin dollars it is losing from selling its Chinese laminates, and that means its margins will never again be as good as they were a couple of years ago. That means LL's EPS is probably capped long term at $1 or less, so you can decide what you want to pay for it, but for me, this should still be a single-digit stock. I think people have been buying it on the hope that the settlement would produce a huge pop, and while that may happen, this company has so many issues remaining, it is the furthest thing from a buy. I'd welcome a huge spike off of the settlement news because I can improve my cost basis on my short.
Disclosure: I am/we are short LL.
I wrote this article myself, and it expresses my own opinions. I am not receiving compensation for it (other than from Seeking Alpha). I have no business relationship with any company whose stock is mentioned in this article.