Stewardship Financial Corporation (NASDAQ:SSFN) is a one-bank holding company for Atlantic Stewardship Bank. The company was incorporated in 1995 and performs commercial lending services out of eleven branches located in the state of New Jersey.
Investment Thesis
Stewardship Financial Corporation is a growing bank selling at an attractive price. Over the past few years, the company has continued to grow its assets, book value, and bottom-line at an attractive rate. Furthermore, the company has recently eliminated its preferred stock and raised its dividend. In addition, capital ratios such as the ROA and ROE are continuing to improve, while the efficiency ratio continues to decrease. Despite the notable improvements since the sub-prime fallout, the company is trading well below TBV. As a more so 'hidden' bank, the company is attractively priced for alpha generation due to the discount to TBV and continual top and bottom-line improvements.
Historical Improvements Should Not Be Ignored
Five years ago, Stewardship Financial Corporation had 6.08% of nonperforming loans to total loans and subsequently was taking heavy provisions for loan losses. These nonperforming loans to total loans not only dampened the overall stock price of Stewardship Financial Corporation, but also resulted in historical low net income available for common holders.

Click to enlarge
Source: 2015 Annual Report
Since 2011, the company has decreased their nonperforming loans to total loans from 6.08%, to a low of 0.36% today. Not only has this resulted in the improvement of capital ratios, but the company's bottom-line has grown at an astounding 97.06% annualized rate in the past five years and a 55.87% rate YOY.
Net interest income over the past five years has been decreasing, with the past two years remaining flat. However, the company has finally started to grow its assets, total loans, and total deposits.

Click to enlarge
Source: 2015 Annual Report
As the overall economy improves and Stewardship Financial Corporation continues to develop its franchise value, there should be a decent asset, loan, and deposit growth going forward. Incremental total asset growth will not only help grow the bank's book value, but will also translate into an increase in the net interest income.

Click to enlarge
Source: 2015 Annual Report
In the past five years, Stewardship Financial Corporation has also increased its ROA and ROE from basement level lows to attractive rates today. Furthermore, with higher-end risk-based capital ratios, the company is well capitalized.
Finally, the company's book value has started to increase in the past three years.

Click to enlarge
Source: 2015 Annual Report
With the tangible book value hitting a high of 8.05/share in the most recent quarter and a share price of $6.14/share, the company is trading well below its tangible book value; with potential for very real mean reversion back to TBV.
What is most interesting is when you look at Stewardship Financial Corporation's historical price chart.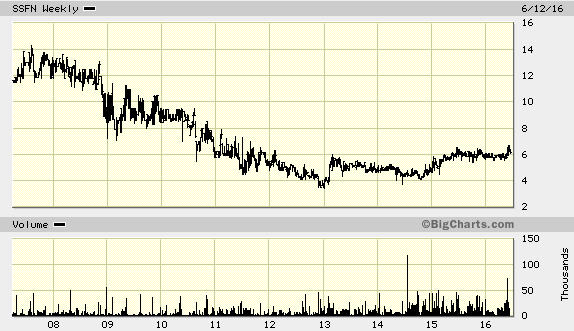 Back in 2011, Stewardship Financial Corporation was trading for around the same price as the company is trading for today. However, in the fiscal year of 2011, the company had a book value, ROE, ROA and nonperforming loans to total loans of $7.28/share, 0.29%, 0.10%, and 6.08% respectively. Moreover, the company was in a downward spiral with little hopes of asset and NIM growth.
Today, the company is in a sound financial position, the risk of loan losses is on the lower end of the spectrum and the company is rapidly expanding its profitability ratios. Ask yourself; should a company that is aggressively expanding its bottom-line and in a post-turnaround mode be selling below tangible book value?
Share Structure is improving
On August 28th, 2015, the company completed a private placement of $16.6 million in aggregate principal of a fixed rate subordinated note with an interest rate of 6.75%. The company used the proceeds from the subordinated note to pay repurchase, from the US Treasury, all 15,000 shares of the corporations Senior Non-Cumulative Perpetual Preferred stock, Series B. The aggregated price was $15 million.
There are a few things to note. First, the cost of the subordinated note increased the interest expense by 19.3% YOY. Furthermore, there is an added $405,000 interest expense going forward that should be modeled out. However, despite the increase in the interest expense, the preferred stock did not have a fixed interest rate and was going to increase to a 9% rate after March 1st, 2016. Thus, there was a short-term increase in the interest expense, however, the new rate more than offsets the expected increase in the preferred rate.
The expected increase in the preferred stock's dividend could be thought of as a common stock overhang. Furthermore, having preferred stock in the overall share structure of a company is another overhang in and of itself. Given that the company has solved this issue, there is not only a better share structure but the expected increase in the interest rate has been effectively eliminated.
Building Local Franchise Value through Tithing Policy
One of the biggest challenges for local community banks is growing their asset and deposit base. It can be a challenge given the highly competitive atmosphere and much larger banks coming into the picture. However, I think a lot of investors forget that community banks can build out franchise value in their local communities they serve.
Stewardship Financial Corporation has built out a valuable franchise through their Tithing Policy. In this policy, the bank tithes 10% of pre-tax income to local Christian and civic organizations in the communities where the bank competes. The company has done this for the past three decades in which over $8.8 million has been given out.
I have only started to dive head-first into local community banks, but this is the only bank thus far, that I have found, which has a Tithing Policy. Before you go jumping to conclusions on how that money should line the pockets of shareholders instead of going to non-profit organizations, there are a few things to note.
First, this policy helps to increase the banks awareness in the local community. As more community members are affected by this policy, more individuals will become aware of the bank, thus growing its franchise value. Here is the banks YouTube channel, in which there are a few videos of customers talking about the benefits of the Tithing Policy.
Secondly, this policy has been in effect for over three decades. This goes to show that the company has the ability to pay a historical built in expense, with an ability to set it apart from other local, regional and national competitors.
Valuation
Stewardship Financial Corporation is undervalued on an absolute and relative basis.

Click to enlarge
Source: Created By CompleteBankData
Stewardship Financial Corporation is not only undervalued to its local peers, but it outperforms the majority its peers based upon the ROE, ROA, NIM, and dividend yield. However, the only overhang, and could be rationalized for the bank selling below its local peers, is its higher-end efficiency ratio.
What is interesting is that Stewardship Financial Corporation has continued to reduce its efficiency ratio from the high of 86.21% in 1Q'14 to the current low of 74.90% today.

Click to enlarge
Source: CompleteBankData Performance Statistics
If the company continues to lower its efficiency ratio, the discount to TBV should start to close. In addition, if the company continues to grow its bottom-line at the rate it has in the past, a dividend raise may be warranted. Further, if the company raises the dividend, again, that may act as the catalyst the company needs to trade near TBV.

Source: Created By CompleteBankData
The price target is based upon the median upside to the P/TBV and P/E of SSFN's local peers. We believe that if SSFN continues to outperform its peers, combined with the ability to lower its efficiency ratio over time, the gap in P/TBV and P/E should close.
In addition, it can be argued that SSFN has a more attractive risk/reward standpoint than some of its more 'stronger' peers. First, the current valuation does not reflect an improvement from a worst case scenario to an improving and normalized scenario. Secondly, the largest gains usually are derived from value discounts (negative outlook to positive), rather from positive to more positive.
Risks
An unfavorable shift in interest rates. However, the company has a favorable loan book with adjusted rates.
A reversion in credit quality; currently the company has $10.1 million in loans that are modified as troubled debt restructurings.
Increasing regulations could result in higher fixed costs.
Conclusion
The price target of $8.75-$9.56/share is derived by applying the median peer P/TBV ratio of 0.97x and P/E of 14.45x. This is conservative for it disregards the expected incremental bottom-line increases, better share structure and the potential for further efficiency ratio improvements.
Disclosure: I/we have no positions in any stocks mentioned, and no plans to initiate any positions within the next 72 hours.
I wrote this article myself, and it expresses my own opinions. I am not receiving compensation for it (other than from Seeking Alpha). I have no business relationship with any company whose stock is mentioned in this article.
Editor's Note: This article covers one or more stocks trading at less than $1 per share and/or with less than a $100 million market cap. Please be aware of the risks associated with these stocks.