Wal-Mart (NYSE:WMT) is in a great position for BTS (Back-To-School) shopping. While BTS advertisements have been an annoyance since mass advertising was introduced (perhaps a slight exaggeration?), they may sound much sweeter to investors in Wal-Mart. While my portfolio holds both WMT and Target (NYSE:TGT), there is no doubt that I see WMT as the one declaring great growth in the BTS category over Q2 and Q3 of 2016.
Outlook on Wal-Mart and Target
I see both of these retail giants as great investments and I have some dry powder available so I can double down on either if prices slide. Dry powder would be a larger portion of my portfolio, but I'm currently doing some channel trading on preferred shares. If a large decline in share price appears, it'll be worth leaving the channel trading routine to buy those shares.
This is a Really Terrible Argument
No author would ever introduce their argument that way, right? Sometimes a great deal of emphasis needs to be drawn the fairly simple investment implications because they get overlooked. The problem with a great deal of analysis today is the necessity of spreadsheet models. As an analyst that emphasizes coverage on mortgage REITs, the importance of spreadsheets is not lost on me. However, the estimates for sales at the retail giants is largely tied up in the spreadsheets across several investment banking firms and each will be making small adjustments to try to nail down their predictions.
The simple case for Wal-Mart announcing great performance on BTS sales comes down to Target. TGT and WMT are the kings of retail, but TGT had that stupid fiasco with the bathroom policy. In the long term, I don't believe it will hurt them. In the long term, I think may actually help Target because the low share price is allowing them to be very effective in repurchasing shares and driving up earnings and operating cash flows per share.
The reason this policy comes back into place is because the majority of the people that will be raging about the policy appear to be people with young children. BTS shopping is irrelevant for everyone that does not have young children, so the demographics are a major factor here. I expect this issue to be blown over within a year, but for one selling season it could push parents away from Target for their BTS shopping. Since Wal-Mart is the other king of retail, it seems like they are by far the strongest candidate to grab some of Target's market share in that area.
Going Online
Online sales for BTS shopping should increase substantially; Amazon (NASDAQ:AMZN) is certainly a strong contender to grab some of the opportunity. It would be unwise to assume Wal-Mart's website won't bring in some customers though. Remember that Wal-Mart's real core competency for decades was inventory management. They became huge because they knew how to buy goods at a low price, keep overhead costs low, and provide customers with a low price on the inventory. Take a look at Wal-Mart's page for BTS shopping: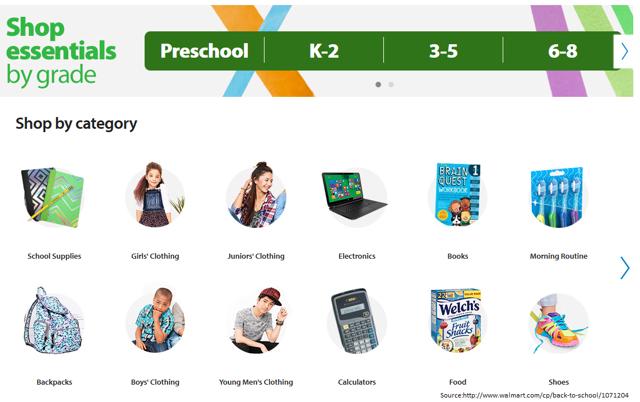 Click to enlarge
It wasn't hard to find. If you Google "Wal-Mart back to school" you'll see it as the first link (and it isn't a sponsored link). This is an effectively organized system to allow a customer to find whatever goods they may want for the next school year.
Plan to Add Sales
Wal-Mart announced their plan to add between $45 billion and $60 billion in sales over the next 3 years. Some reports list the range as $50 billion to $60 billion. Keep in mind that this is a company with GAAP revenues of $482 million for the last complete fiscal year and $499 million for the year with constant currencies. This implies a growth rate of around 3.3% per year depending on currency impacts.
That may sound pretty hard to achieve but if prices increase slightly with inflation (say 1% to 1.5%) and population growth drives increased consumption (say another 1% to 1.5% per year), the remaining growth doesn't sound like it would be too aggressive. For the last fiscal year in constant currencies Wal-Mart saw total revenue growth at 2.8%.
Growing their impact in the online sales area may be one of the ways for Wal-Mart to cover the difference between what would be expected simply due to inflation and consumption compared to their goal for growth in sales.
Conclusion
Wal-Mart is in a great position to grow their sales and take advantage of a shift in consumer sentiment that may disadvantage Target in the BTS shopping category. I don't foresee a long term shift in consumer shopping that would do severe damage to Target, but Wal-Mart seems like the best candidate to pick up some sales over the next two quarters due to consumer aggravation with Target.
For Wal-Mart to hit their goals for growth in sales, expanding their online presence seems like one of the most likely paths. Their website can be easily found and the categories provide a reasonable option for consumers to quickly identify the items they need (or want) for the next school year.
Disclosure: I am/we are long WMT, TGT.
I wrote this article myself, and it expresses my own opinions. I am not receiving compensation for it (other than from Seeking Alpha). I have no business relationship with any company whose stock is mentioned in this article.
Additional disclosure: Information in this article represents the opinion of the analyst. All statements are represented as opinions, rather than facts, and should not be construed as advice to buy or sell a security. This article is prepared solely for publication on Seeking Alpha and any reproduction of it on other sites is unauthorized. Ratings of "outperform" and "underperform" reflect the analyst's estimation of a divergence between the market value for a security and the price that would be appropriate given the potential for risks and returns relative to other securities. The analyst does not know your particular objectives for returns or constraints upon investing. All investors are encouraged to do their own research before making any investment decision. Information is regularly obtained from Yahoo Finance, Google Finance, and SEC Database. If Yahoo, Google, or the SEC database contained faulty or old information it could be incorporated into my analysis.