The banking system in Europe is troubled with the possibility of one or more major bank failures looming. Like the rest of the world, EU banks faced widespread insolvency during the 2008-09 Credit Crisis. Numerous direct and indirect bailout measures, including partial nationalization, had to be done to keep many of the largest banks afloat. Looking at their price charts today indicates that although most EU banks remained in business, they never really recovered.
A new banking crisis emerged late in 2015 that was localized to Europe itself (for more about that see here). The situation spiraled down until mid-February, when stock prices in most markets began a significant recovery (thanks to substantial central bank stimulus in the EU, Japan, and China). The banking problem has resurfaced again and a Brexit vote to leave the EU may actually push some banks over the edge this time around.
The EU banking system is by no means uniformly weak. Scandinavian banks are relatively strong and are all outperforming the Bank Index of the STOXX Europe 600. This doesn't mean they are making investors money, since the EU bank index is down 25% year-to-date in 2016 and is one of the weakest industry performers globally. Spanish bank stock prices are also holding up better than the index. French bank stock prices are moving along with the index or doing better. The UK, which is supposed to be suffering because of a possible Brexit vote to leave the EU is mixed. Two banks - Barclays (NYSE:BCS) and Royal Bank of Scotland - are doing worse than the STOXX bank index and two - HSBC (NYSE:HSBC) and Lloyds Banking Group (NYSE:LYG) - are doing better.
Below are the four largest UK banks compared to the STOXX 600 Europe bank index (SX7P). The black line is the banking index. Above it is Lloyds Banking Group and HSBC, the blue and yellow lines respectively. Below it is Barclays and the Royal Bank of Scotland, the orange and red lines respectively.
Major UK Banks Compared to STOXX Europe 600 Bank Index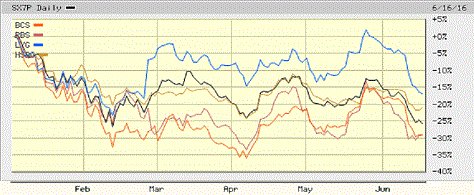 So, where are the banks that are doing so badly that they are dragging down the European bank index? Many of them are found in Italy. There is an ongoing banking crisis there, which began in 2015 with the discovery of problems of a huge capital hole in Banca Popolare Di Vicenze, a bank that was riddled with bad loans and whose former chairmen is under criminal investigation. UniCredit (IT:UCG) (OTC:UNCFY), Italy's only globally significant financial institution, has substantial exposure to Banca Popolare and might be forced to raise capital to save itself because of this. Doing so will not be easy, since the Italian banking system officially has €360 billion in nonperforming loans, or a fifth of the country's GDP, and investors aren't anxious to commit funds to it.
The stock market is clearly signaling its opinion of the future of Italy's banks. After significant price depreciation in 2016, three of its largest banks are essentially penny stocks. UniCredit is currently trading for a little over €2. Intesa Sanpaolo (IT-ISP)(OTCPK:ISNPY) is trading a little under €2 and Banca Monte dei Paschi di Siena (IT-BMPS)(OTCPK:BMDPY) is trading around 50 cents. When a company's stock price falls into the penny range, the market is telling investors that it no longer considers it a viable institution. In the chart below, the black line is the banking index, the blue line Intesa Sanpaolo, the yellow line UniCredit and the red line is Monte dei Paschi.
Italy's Banks Compared to STOXX Europe 600 Bank Index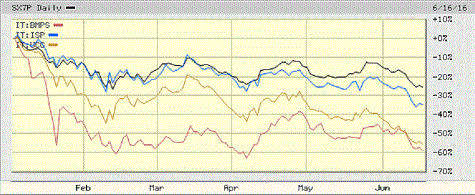 If it were only Italy's banks that were a problem, there might be some way of ringfencing them to prevent one or more bank failures there from seriously impacting that highly integrated European banking system. Unfortunately, this is not the case. Two other major banks - Deutsche Bank (NYSE:DB) in Germany and Credit Suisse (NYSE:CS) in Switzerland (not part of the EU) - also appear to be in serious trouble. Both are trading below their Credit Crisis lows in 2008-09 as are UniCredit and Monte dei Paschi in Italy. DB and CS are at least trading above $10, though.
Deutsche Bank is believed to be as much as 40 times leveraged (more than Lehman Brothers before it failed and almost brought the entire global financial system down with it), seems to have an unending number of payouts for lawsuits and needs to raise capital. The capital markets are unlikely to be interested, though, because its core business is declining. Like Deutsche Bank, Credit Suisse reported a full-year loss for 2015. Credit Suisse has suffered substantial losses from its trading operations. The Swiss central bank has stated that it needs to raise 10 billion Swiss francs in capital to be able to withstand losses in ordinary circumstances. In the chart below, Deutsche Bank is the yellow line and Credit Suisse is the blue line. The black line is the EU bank index.
Deutsche Bank and Credit Suisse Compared to STOXX Europe Bank Index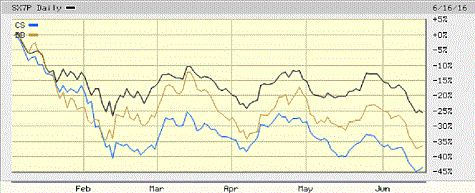 The weakest European banks are in such poor shape that any number of occurrences could push them over the edge. A Brexit vote on June 23rd favoring the UK leaving the EU is only one such possible event. It wouldn't mean that banks would fail the next day, several weeks to months later would be more likely. Sudden failures, and there really would be nothing "sudden" about it, of Credit Suisse, Deutsche Bank, Monte dei Paschi, Intesa SanPaolo, or UniCredit is a real possibility. All of these banks are "too big to fail", however. The EU banking authorities would have to take decisive action to prevent contagion and would certainly arrange bailouts, although the parties paying for those bailouts may not be the same as they were in the 2008-09 crisis. Unless investors trade on the short side, they should avoid EU banks for the foreseeable future.
Disclosure: I/we have no positions in any stocks mentioned, and no plans to initiate any positions within the next 72 hours.
I wrote this article myself, and it expresses my own opinions. I am not receiving compensation for it (other than from Seeking Alpha). I have no business relationship with any company whose stock is mentioned in this article.
Editor's Note: This article discusses one or more securities that do not trade on a major U.S. exchange. Please be aware of the risks associated with these stocks.