The Macao gambling market is going through some difficult times. A slowdown in economic growth, a crackdown on corruption, and other stifling regulations caused gaming revenues to decline 34% in 2015 to a five year low. However there are signs that the Macao market is bottoming, and while growth will be sluggish in the short-term, the structural growth story for Macao gambling remains in tact. We believe Melco Crown Entertainment (NASDAQ:MPEL) is undervalued based on the attractive long-term story. Its stock price has declined 40% since last August on falling revenues and smaller profit margins, and trades near its 52-week low. But things seem to be turning around. Revenue for the latest quarter was up 4.7% (albeit against an easy comp), and sales for the last twelve months grew 1.2%. Investors should not expect anything spectacular out of MPEL in the short-run, but we believe they will be rewarded for their patience over time.
Figure 1: 1-Year Price Graph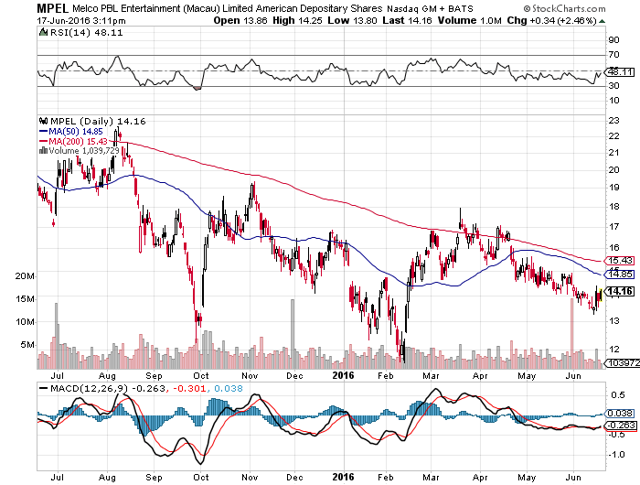 Click to enlarge
Source: stockcharts.com
Macao is the world's largest gaming market, but penetration is low due to the sheer size of China's population. According to Morningstar, market penetration was 1.4% in 2014, compared to 12% in Las Vegas. The rise of China's massive middle class will drive long-term gaming growth, and new infrastructure investments will make it easier for patrons to access Macao. A bridge connecting Hong Kong, Zhuhai, and Macao, and a new light rail system are nearing completion. As one of only six casino operators licensed to do business in Macao, the company has a durable competitive advantage. Macao is the only place in China where gaming is legal, and all signs point to the industry remaining an oligopoly for the foreseeable future. The Chinese government is unlikely to issue a seventh license or legalize gambling in another city. These high entry barriers allow incumbents to earn attractive returns on capital, despite the capital-intensive nature of the industry. MPEL is poised to reap the rewards of long-term visitor growth as its casino assets cater to a wide range of customers, from mass-market patrons to upper-market VIP players. But what really drives the investment case is the potential for margin expansion. Thanks to high operating leverage, earnings grow faster than sales when demand is strong. MPEL is currently less profitable than its peers, which we attribute to lack of scale. Melco Crown has a 5-year median operating margin of 12.4%, compared to 24.6% for Sands China, 23.5% for Wynn Macao, and 20.4% for MGM China. Despite recent difficulties, MPEL continues to reinvest in its business and expand its gaming infrastructure. This reaffirms the long-term growth story and positions the firm to realize greater economies of scale.
An investment in MPEL carries significant risk, and the regulation-heavy nature of the Chinese gambling industry creates a lot of uncertainty. While we think it is unlikely, the firm may not be able to renew its license when it expires in 2022. However, we can envision a scenario in which regulators shorten the duration of casino licenses, and more frequent renewals would be costly. Other rules related to gaming taxes, visa restrictions, smoking bans, table allocations, travel restrictions, embezzlement, and a continued crackdown on corruption are a threat. A protracted slowdown in the Chinese economy would hurt industry revenues, as would the legalization of gambling in neighboring Asian countries. MPEL's high operating and financial leverage magnifies these risks.
Despite these headwinds, we think the long-term growth story is still in tact. MPEL's formidable competitive advantages should allow for sustainable economic profits, and margins have room to expand. It is difficult to image a scenario where earnings five years from now will not be significantly higher than they are today. If investors can stomach the choppy waters they will ride the wave on the horizon.
Disclosure: I/we have no positions in any stocks mentioned, but may initiate a long position in MPEL over the next 72 hours.
I wrote this article myself, and it expresses my own opinions. I am not receiving compensation for it (other than from Seeking Alpha). I have no business relationship with any company whose stock is mentioned in this article.