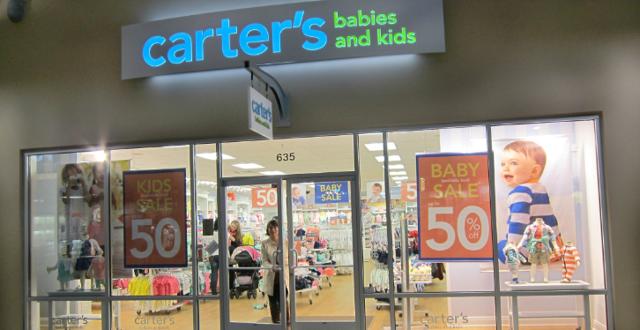 Click to enlarge
I wrote an article back in May where I made the long case for children's apparel retailer Carter's (NYSE:CRI). I lauded the company's ability to grow revenue as part of why I was bullish, but I also called out margins. I think CRI has some untapped operating margin potential that current estimates aren't taking into account. In an effort to make my views clear, I'll look deeper into the company's margins in order to showcase the biggest reason why I think CRI is a good buy even near its highs.
I'll be using data from Morningstar and the charts are mine.
As I detailed in the linked article, CRI has a few levers to pull, but none of them are bigger than its ability to grow operating margins. The two main line items that make up operating margins - product margins and SG&A costs - have moved around some for CRI in recent years. But what I'm really excited about for CRI is that it is making investments now that will bear fruit beginning next year and beyond that will help expand operating margins irrespective of any product margin gains that are made in the interim. That's a powerful story and CRI looks poised for some significant earnings gains.
But first things first; let's take a look at the first component, gross margins. This chart shows us a decade's worth of gross margin data from CRI to give us some historical context for where it has come from.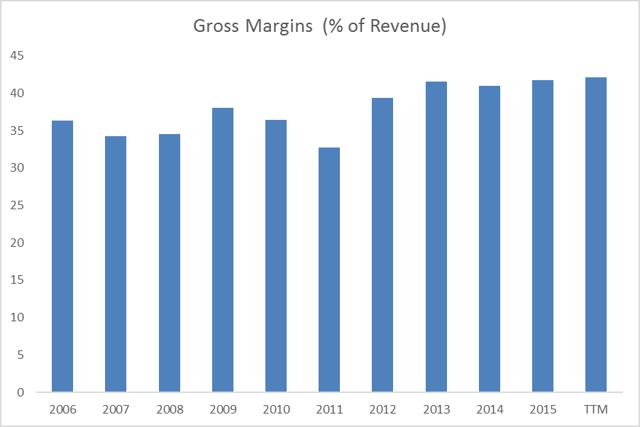 Click to enlarge
First, CRI's gross margins are pretty strong at about 40%. That's a solid level to start from in terms of operating margin potential so CRI gets a gold star there. In addition, we can see the longer term trend is for improving margins. This is what you'd expect from a growing, thriving chain like CRI and it is exactly what we have. As retailers get bigger, they can begin to see some leverage on things like distribution expenses, and as stores mature and produce higher levels of sales, additional leverage is gained on expenses that are rolled into gross margin. Of course, pricing power matters a lot and CRI has obviously maintained its pricing discipline over the long term; this chart would look a lot different if it hadn't.
So there's no doubt we have a strong foundation built on high and growing gross margins, but what about SG&A costs?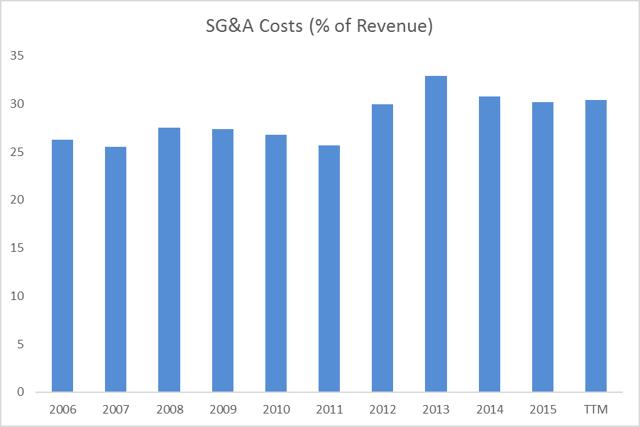 Click to enlarge
We can see the trend is much less favorable here as Carter's has been making those investments I mentioned. Of late, the cost of building out the web business isn't helping, but the good news is that the web business is absorbing some of the lost sales the stores are ceding. The comp decline at the company's physical stores wasn't devastating, but the web business is growing by leaps and bounds. The problem is that it is still a small percentage of revenue and that means SG&A costs will be elevated until CRI figures out the right mix of sales and costs to run the legacy and web businesses together. We are starting to see the costs level out and tick down, but there is much work left to do.
And that brings us to operating margins, which I've defined here as simply the spread between gross margins and SG&A costs. That is the purest form of profitability one could ask for when reviewing a retailer as it encompasses profits gained from selling things and the costs to do so without any sort of accounting gimmicks or earnings management.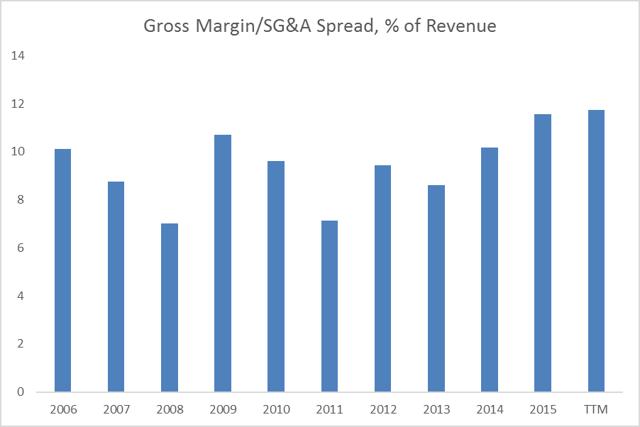 Click to enlarge
CRI's operating margins have been tremendous in the past couple of years, rising from 7.1% five years ago to nearly 12% over the TTM. Keep in mind that I expressed that my long-term bullishness was based upon the company's ability to continue to grow this number in more than one way. Gross margins are still ticking up, and given that total sales are still strong and CRI just increased guidance, there is no reason to think we'll suddenly see weakness in product margin. Thus, we should continue to see moderate growth in operating margin levels from gross margins.
But what really has me excited is that CRI's SG&A costs are still elevated. And while that has made progress slower in recent years, once CRI right-sizes the stores against the web business and gets those costs right, SG&A expenses should move down, potentially materially. That will pave the way for further gains like what we've seen the last two years and further, that implies we could see operating margins in the 14% to 16% area before too long. Another 200 to 400 bps' worth of operating margins is worth a gargantuan amount of earnings and that is why I like CRI here.
CRI has a couple of ways to grow earnings but its margins are the bulk of the potential. Given CRI's long history of growing margins and the fact that its investments are artificially compressing operating margins at present, there is huge potential here. CRI's ultimate operating margin level is probably 200 to 400 bps higher than where they sit today, and for me, that's more than enough to own the stock for many years.
Disclosure: I am/we are long CRI.
I wrote this article myself, and it expresses my own opinions. I am not receiving compensation for it (other than from Seeking Alpha). I have no business relationship with any company whose stock is mentioned in this article.