Activision Blizzard (NASDAQ:ATVI) has had a solid run from the sell-off earlier this year. Q1 2016 showed a move towards digital games, as digital revenue accounted for 64% of ATVI's revenue stream, a YoY increase of 13.9%. The rise in digitization of its sales helped ATVI improve its net margins to an impressive 19.1% in the trailing twelve months and a very high return on invested capital of 12.8%. This digitization of sales was a huge reason why ATVI was able to report such impressive numbers in a very tough Q1 for most other companies in the S&P 500. Going forward into 2016, look for the King Digital Entertainment acquisition to start driving ATVI's top and bottom-line growth through the roof.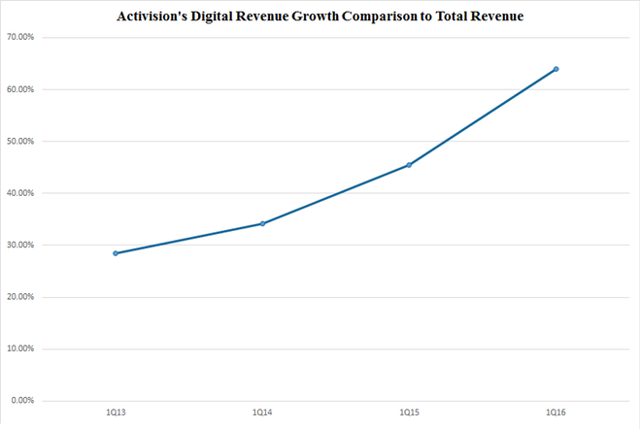 Click to enlarge
King acquisition will be a long-term driver of growth
There is no question that ATVI is force to be reckoned with in the PC gaming industry, but the mobile gaming segment is expected to be one of the fastest growing segments looking into the future. The acquisition of King makes ATVI the market leader in mobile gaming, and boosts ATVI's monthly active users from 80 million to 500 million. Mobile gaming is projected to grow by a whopping 50% between now and 2019. ATVI truly is a multi-platform business and with a strong PC, console and now mobile gaming presence, we can expect to see huge revenue boosts in the long-term, as long-term growth opportunities exist to a diverse range of audiences including markets that haven't been fully capitalized on yet such as the Asian market. According to the King presentation non-GAAP revenues and ESP are estimated to increase by 30% by the conclusion of 2016. The acquisition also gives ATVI all its valuable employee resources, its customer base, and debtholders. With mobile gaming expected to grow by $48 billion by 2020, the King acquisition bought ATVI a front row seat to huge long-term growth, and we will see this boost ATVI's top and bottom-line over the next few years. With only one month being accounted for King's mobile business contributed 23% of ATVI's revenue. Shareholders may be in for a pleasant surprise in quarters reported later this year, as the synergies of the King acquisition continue to be unlocked by ATVI's terrific management team that is determined to drive free cash flow through the roof while the next blockbuster comes out King's pipeline. ATVI already has a fantastic free cash flow margin of 75%, with operating cash flow 3.1x its net income. There's no question that the King acquisition will improve these metrics and it looks like it was acquired at a huge discount to intrinsic value considering the growth potential and the true value of the IP, employees and customer base.
Potential risks to the success of the King acquisition may lie in the fact that the casual gaming division could continue to be weak. Mobile games like Candy Crush are considered casual games, and if it experiences weakness like ATVI saw in Skylanders or Guitar Hero last year, then we may see growth dampened for the short-term. ATVI must keep Candy Crush's active monthly users up by offering innovative new ways to keep them engaged. ATVI has the ability to do this, especially considering its very impressive track record of retaining users over the long run, like in World of Warcraft, which is over ten years old but still has millions of paying subscribers.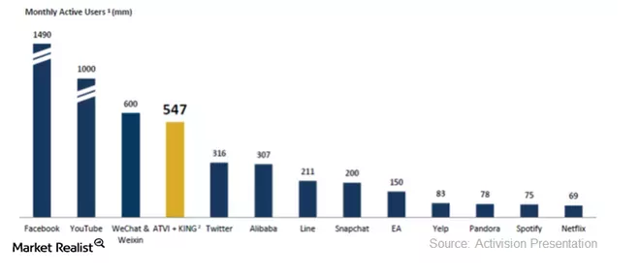 Click to enlarge
Valuation
ATVI currently trades at a 34.24 P/E with a 3.5 P/B and a 6.0 P/S, all of which are much higher than their five year historical average values of 19.6, 1.7 and 3.6 respectively. There is no question that there is a huge premium on the stock right now because of the incredible value that ATVI unlocks by driving margins through digitization and striving for the best titles across all platforms. While these reasons are already priced into this premium, I believe the King acquisition is not fully realized yet and if there is another sell-off later this year, then you should jump on ATVI on the way down because King will give the firm a huge boost to revenues later this year and for the long run. I would hold off on buying shares now however, considering the huge volatility of the markets and the fact that shares are fair valued after the recent rally to $38. Keep this name on your radar, as you do not want to miss out on the next time this King goes on sale.
Disclosure: I/we have no positions in any stocks mentioned, and no plans to initiate any positions within the next 72 hours.
I wrote this article myself, and it expresses my own opinions. I am not receiving compensation for it (other than from Seeking Alpha). I have no business relationship with any company whose stock is mentioned in this article.