Freeport-McMoRan (NYSE:FCX) is a mining company that bought oil assets. The vast majority of revenues and earnings are, at least theoretically, coming from the sales of oil and copper with a smaller allocation coming from gold and natural gas. The incredibly irony of this situation is that Freeport-McMoRan's share price seems to be nearly immune to those factors now.
A Trip Back in Time
There was a point when I was using my models to predict the movements in Freeport-McMoRan by watching share prices relative to the underlying commodities. I built a model to track the changes in expected EBITDA based on a change in the commodity prices and then correlated it with the price of Freeport-McMoRan. The correlation was extremely high, though on occasion Freeport-McMoRan moved first.
The following chart demonstrates the previous correlation by showing EBITDA projections and share prices relative to their starting values.

Click to enlarge
That chart comes from a piece I prepared in June 2015 to give readers a warning that the share price was becoming unstable.
If that chart doesn't convince you that the company would trade with the value of the assets it produced, take a look at the line chart I built that factored in some fixed charges as a reduction in EBITDA: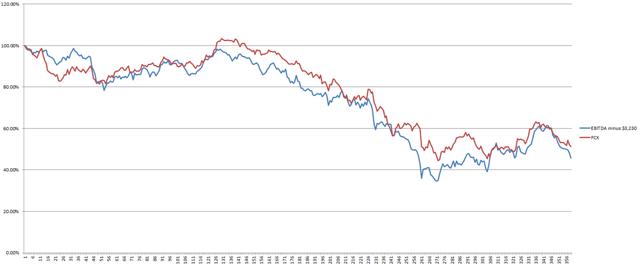 Click to enlarge
How strongly correlated are those lines? I'd say the connection was extremely strong. That connection completely broke down over the winter and by the time the market was rallying there was little correlation left between FCX and the commodities.
Who Cares About Commodities? Freeport-McMoRan's Share Price Does Not.
The major inputs into that model were ETFs filled with futures contracts on the underlying commodities or ETNs tracking the futures contracts. For instance, the PowerShares DB Oil Fund ETF (NYSEARCA:DBO) tracks the price of oil and the iPath DJ-UBS Copper Total Return Sub Index ETN (NYSEARCA:JJC) tracks the price of copper. Since these instruments were designed to track the change in the future price of the asset, they would be one of the most logical ways to find the markets current estimate of where future prices will be in the future.
Take a look at the correlation on FCX with DBO and JJC over the last six months: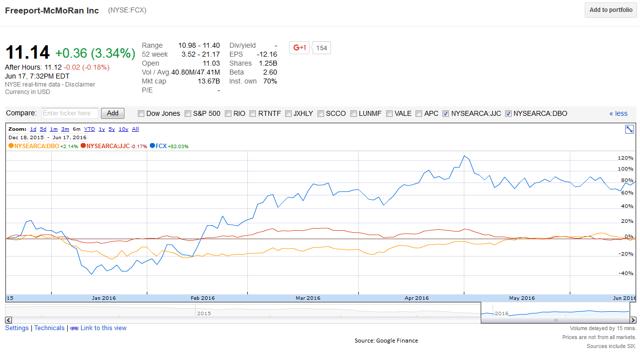 Click to enlarge
Absent the impact of cost reductions and some very material asset sales, the reasonable level of projected earnings for Freeport-McMoRan should not be changing significantly over the last six months. From January through April the weakness in DBO (representing oil) would have signaled slightly weaker earnings. However, at the end of 6 months we see copper down by less than 1%, oil up by just over 2%, and Freeport-McMoRan up by over 82%.
Okay, My Bad
I'll admit that I was apparently wrong on FCX tracking the underlying commodities. I thought investors would care about things like EBITDA and operating cash flows. My entire thesis on how to value the company relied upon the value of the commodities being important. In this case it appears Freeport-McMoRan could see relatively flat sales, flat earnings, flat operating cash flows (major cash inflows are from selling ownership in assets) and still rise 80% in price.
Implications for Investors
The dramatic separation of Freeport-McMoRan from the underlying assets should be a warning to investors that if they are using FCX in their portfolio as a proxy for exposure to natural resources (like copper and oil), their exposure became completely detached from the commodities they were initially tracking.
I'm concerned about the share price of Freeport-McMoRan because it no longer tracks any reasonable estimation of the earnings or free cash flows the company will produce. The investment case for buying at these levels can no longer be made on the premise of valuing future cash flows. That'll make the work of every analyst much harder, unless they are content to simply flip a coin. Keep in mind that since FCX rallies even without gains in copper or oil, seeing a substantially higher price for commodities does not necessarily mean anything for the common share price. When correlation drops to near 0%, gains and losses in one category cease to be a valid predictor of changes in the other category.
Over the long term high prices for commodities would suggest strong earnings and future dividends while low prices for commodities could eventually lead to bankruptcy. In the shorter term, it appears hope and fear in the market have completely outpaced copper and oil in establishing a fair valuation for Freeport-McMoRan.
Disclosure: I/we have no positions in any stocks mentioned, and no plans to initiate any positions within the next 72 hours.
I wrote this article myself, and it expresses my own opinions. I am not receiving compensation for it (other than from Seeking Alpha). I have no business relationship with any company whose stock is mentioned in this article.
Additional disclosure: Information in this article represents the opinion of the analyst. All statements are represented as opinions, rather than facts, and should not be construed as advice to buy or sell a security. This article is prepared solely for publication on Seeking Alpha and any reproduction of it on other sites is unauthorized. Ratings of "outperform" and "underperform" reflect the analyst's estimation of a divergence between the market value for a security and the price that would be appropriate given the potential for risks and returns relative to other securities. The analyst does not know your particular objectives for returns or constraints upon investing. All investors are encouraged to do their own research before making any investment decision. Information is regularly obtained from Yahoo Finance, Google Finance, and SEC Database. If Yahoo, Google, or the SEC database contained faulty or old information it could be incorporated into my analysis.