LNG prices, and as a result many domestic gas (NYSEARCA:UNG) producers, suffered significant headwinds in 2015 from nuclear restarts and economic weakness in the primary Asian market. Imports plummeted in Japan and South Korea, while rising imports from Europe and Egypt helped to offset the declines. As we move through 2016, 2017, and 2018, headwinds from nuclear restarts will tail off, and we will likely see incremental growth from the major Southeast Asian importing regions rather than outright declines. Despite the short-term and mid-term pain for many LNG and gas producers, I see it as one of the most important commodities to watch in my lifetime.

Click to enlarge
Source: IGU LNG Report 2016
Ample oncoming capacity exists to prevent any meaningful supply deficit from occurring, and the story of 2015 will likely be the story of 2016 as new capacity ramps up through the year. Numerous project exists in the Asia Pacific, and North America continues its trajectory to become a major exporter of LNG over the next decade. All exporters are finding themselves competing for market share.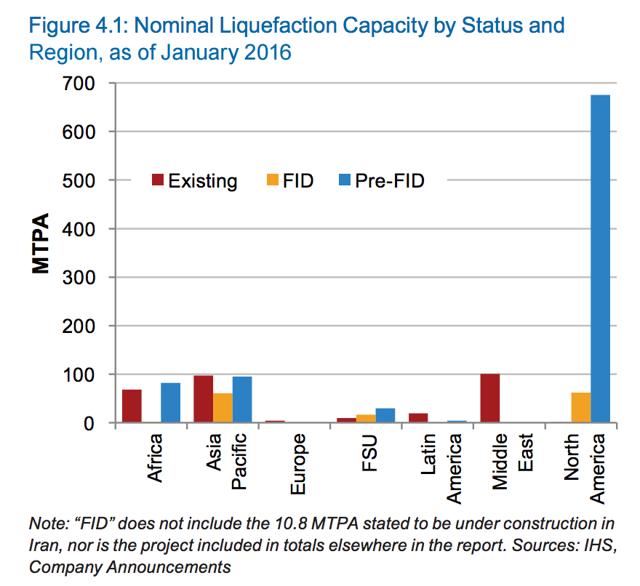 Click to enlarge
Combined Cycle Natural Gas
Combined cycle natural gas plants are extremely cost effective. Purely on a cost basis, they can beat conventional coal, nuclear, solar, and wind. The benefits of natural gas-fired plants are numerous. NG plants provide baseload power that grids need, are extremely energy dense by land area, and have little issues in the way of safety or land. Most of all, they are cheap and utilize well-accepted technology.
Combined cycle NG power generation gains its dominance from its extremely high efficiency. Efficiencies can be as high as 55% versus 33-40% for the best conventional power plants. The primary gas cycle combusts NG and the exhaust gasses drive a turbine. Once the gasses have run through the main turbine, the heat from the gasses is run through a secondary conventional water cycle. To be sure, the same technology can be applied to distillate and other fuels. However, the abundance of gas and increasing the diversity of supply makes it the most attractive option.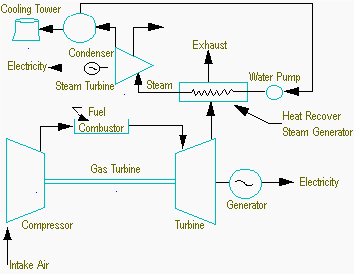 Source: Electrical Engineering Portal
Cost Of Energy
Lifetime Cost Of Energy (LCOE) is an estimation of the cost to build and operate a power plant over an assumed operating life and duty. The primary inputs into the LCOE calculation are:
Capital expense, Fuel costs, Fixed and variable operations and maintenance, Financing, and An assumed utilization rate.
For the purposes of this article, I will utilize the numbers excluding subsidies. While it is unfair to compare dispatchable (i.e base load) power generation methods with non-dispatchable methods (i.e wind, solar, etc.), this article will compare them directly as a purely economic argument.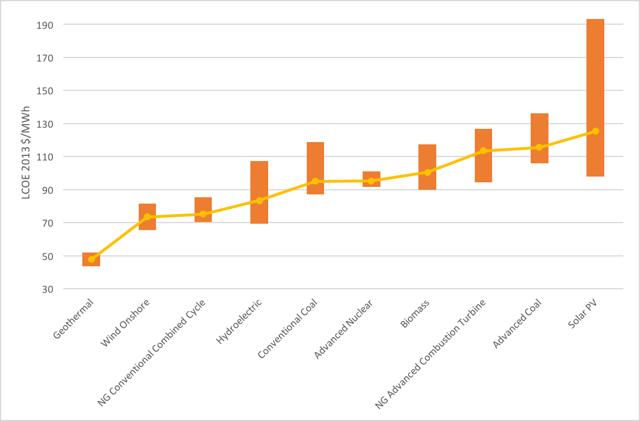 Click to enlarge
Data Source: EIA
Shift To Gas
The secondary benefit of dramatically decreased carbon emissions will improve its political acceptance. Even conventional gas plants reduce the emission of greenhouse gasses by over 40% by switching to NG burners. There is a reason we are seeing a shift of focus from many oil and gas majors to natural gas production. At the much forgotten Paris agreement in December, countries agreed to various half-measures that all but assured a rise in gas consumption worldwide. The best summary came from the New Yorker.
"Rather than reaching a binding agreement, with economic incentives for good behavior and sanctions for scofflaws, the delegates settled for a what a skeptic might describe as a common expression of good intention". I would add that it damages the hopes of rising from poverty for many of the world's poor, while creating a tailwind for the gas industry for the next few decades. There may be a good reason we are seeing so many oil and, more specifically, gas companies standing behind a greener future - it ensures the survivability of their growing gas businesses.
As gas prices remain low, LNG costs fall, and the number of countries exporting LNG continue to grow, there is no doubt we will see a shift of primary generation from gas. Worldwide abundance and the development of LNG will drastically reduce the country risk solicited from importing natural gas. Interconnected systems in Europe, North America, Asia and the Middle East allow gas to be imported or exported from areas of abundance to scarcity. We are also seeing an increasing amount of electricity exportation to arbitrage low and high electricity prices.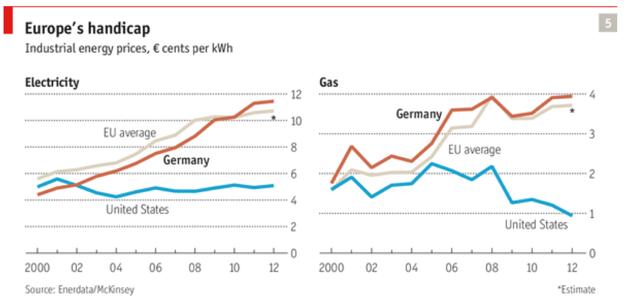 Click to enlarge
Source: The Economist
Rising Imports Of LNG
As time moves forward, and long-term plans take into account the availability of both domestic gas and LNG importation, we will see a rising confidence in NG supply. As a result, the percentage of the world's primary energy produced from NG will grow. LNG imports are growing on a weekly basis, slowly chipping away at the supply glut that exists. Over the next 4-5 years, we are going to see many LNG plants begin production, reducing costs and increasing supply diversity. The USA, Canada, and Australia are planning to increase exports, and thus, the world will have more supply available from countries with strong economic and political backgrounds. This dramatically reduces the perceived risk of constructing gas fired power plants and importing gas from abroad.
LNG Weakness in 2015 and 2016 is Temporary
LNG will remain bearish for the next several years. However, the number of countries importing LNG, and global regasification capacity continues to grow, showing a strategic shift to gas imports. Low prices will hamper supply once the glut ceases, resulting in a bull market for the commodity. Alternative gas supplies could become a problem for importers.

Click to enlarge
Source: IGU LNG Report 2016
Boom To Bust
LNG is a resource that exemplifies an industry exposed to boom and bust. However, the value it provides for cost-effective energy efficiency and decreased pollution make it a strategic resource for many countries. LNG construction takes years, taking account for approvals, the process can take nearly a decade. As uncertainty rises, projects are halted quickly due to the massive capital upfront costs required for liquefaction. This will inevitably lead to a supply shortage while costs remain low and suppliers chase market share, followed by skyrocketing prices as shortages develop. LNG pricing is currently at numbers that is hardly a windfall for many producers; however, those low prices were formed from a rapid demand hit in rich Asian countries through 2015. I see the market moving into a balance through to 2018/2019 as demand for LNG and NG grows at a rate that significantly outpaces economic growth.
Takeaway
Decreased dependence on Russian and Middle Eastern supplies could bolster European and Asian countries as they fight for increased energy independence from powerful regimes. Furthermore, high energy prices in South Korea, Japan, and Europe make LNG import and natural gas plants an attractive alternative to renewables which bring with it a technological limit due to storage technology. LNG producers are currently fighting for market share in an unfriendly market. Consumers have been looking to work together to remove oil linked contracts that force them to pay more than the spot market currently suggests. However, this is a short-term outcome. Companies such as Cheniere Energy (NYSEMKT:LNG) and Woodside Petroleum (OTCPK:WOPEY, OTCPK:WOPEF) provide fantastic exposure to LNG prices with long-term contracts that guarantee good EBITDA numbers.
LNG is likely to become one of, if not the, most prominent energy sources through the next 5-10 years. Low prices have caused a glut of supply projects to be reduced or cancelled, and will result in a shortage by the end of the decade. The time for investing in LNG may not be today, but the market will continue to watch for the time to pounce. As with uranium, another strategic resource, long-term LNG contracts will be the source to watch for price direction.
Afterword - If you found this article interesting and would like future updates, head to the top of the page next to my name and hit follow. It is free, and allows me to continue to reach a broader audience and keep writing. Thanks for reading.
Disclosure: I/we have no positions in any stocks mentioned, but may initiate a long position in WPL.AX, LNG over the next 72 hours.
I wrote this article myself, and it expresses my own opinions. I am not receiving compensation for it (other than from Seeking Alpha). I have no business relationship with any company whose stock is mentioned in this article.